Seattle Storm hires Dan Hughes as head coach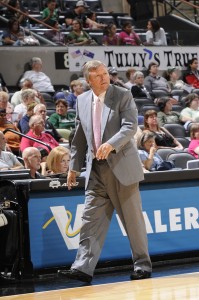 Nearly two months after firing Jenny Boucek, the Seattle Storm hired Dan Hughes as the franchise's head coach, bypassing Gary Kloppenburg who served as the team's interim coach for eight regular season games. The Storm went 15-19 this season and qualified for postseason play but fell in the first round to Phoenix.
Hughes retired from coaching after the 2016 season and 11 years as the head coach and general manager for San Antonio Stars. In his last season in San Antonio the team went 7-27.  He briefly stepped aside from coaching San Antonio during the 2010 season when Sandy Brondello took over the position while he remained general manager. He returned to the sidelines the following year.
"We are thrilled to welcome Dan to the Seattle Storm organization," said president and general manager Alisha Valavanis in a release. "Dan is one of the most well-respected coaches in our league.  His experience in the WNBA and as a leader in USA Basketball is a wonderful match for our developing team."
Hughes spent 2017 as an analyst with ESPN, Fox Sports and the University of Oklahoma. His career record 237-287 (.452). He won the league's Coach of the Year Award in 2001 and 2007. He will be the sixth head coach in franchise history, following Lin Dunn (2000-02), Anne Donovan (2003-07), Brian Agler (2008-14), Boucek (2015-17), and interim head coach Kloppenburg.
"In conversations with Alisha and the Storm ownership group, it quickly became evident that this was a good fit," said Hughes. "Beyond the incredible talent Seattle has on its roster, I am very excited to have the loyal fan base supporting us. In watching the team over the years, coaching against Storm teams, it's been clear that the fans in Seattle create an advantageous home court at KeyArena and have been a huge part of the evolution of their storied success."
Dan Hughes' overall record with San Antonio
Season
Regular Season
W
L
%
Playoff results
2005
7th
7
27
.206
Did not qualify
2006
6th
13
21
.382
Did not qualify
2007
2nd
20
14
.588
Won Conference Semifinals (Sacramento, 2–1)
Lost Conference Finals (Phoenix, 0–2)
2008
1st
24
10
.706
Won Conference Semifinals (Sacramento, 2–1)
Won Conference Finals (Los Angeles, 2–1)
Lost WNBA Finals (Detroit, 0–3)
2009
4th
15
19
.441
Lost Conference Semifinals (Phoenix, 1–2)
2011
4th
18
16
.529
Lost Conference Semifinals (Minnesota, 1–2)
2012
3rd
21
13
.618
Lost Conference Semifinals (Los Angeles, 0–2)
2013
5th
12
22
.353
Did not qualify
2014
3rd
16
18
.471
Lost Conference Semifinals (Minnesota, 0–2)
2015
6th
8
26
.235
Did not qualify
2016
6th
7
27
.206
Did not qualify