Sport Tours International/Hoopfeed NCAA DI Top 25 Poll for Nov. 28, 2017: Louisville moves to No. 2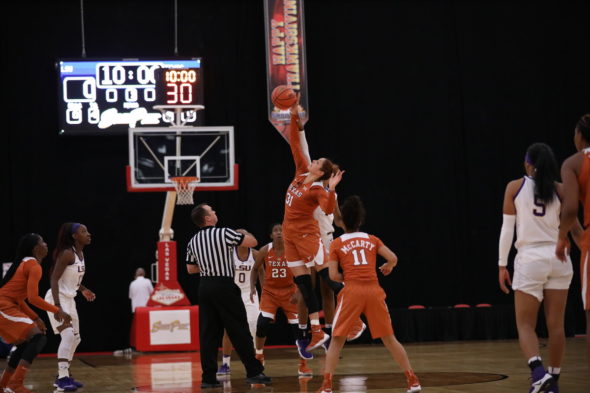 Connecticut remains at the top of the Sport Tours International/Hoopfeed poll this week with unanimous first-place votes. The undefeated Huskies continued to steamroll opponents, taking down UCLA and Michigan State last week.
Louisville moved up one place to the No. 2 spot in the poll. Last week the Cardinals routed Murray State 115-51 with four reserve players posting career highs in points and the team setting a single-game scoring record. Louisville's bench players accounted for 76 points in the lopsided victory.
Notre Dame also made some positive moves in the poll, landing at No. 3 after advancing three spots. The Fighting Irish had a great Thanksgiving holiday, running through the Gulf Coast Showcase with triumphs over East Tennessee State, South Florida and last week's No. 2 team, South Carolina. Notre Dame guard Jackie Young, the tournament MVP, earned the ACC Player of the Week award on Monday.
No. 4 Texas also enjoyed a successful holiday with back-to-back wins at the South Point Thanksgiving Shootout in Las Vegas. The Longhorns defeated two Power Five institutions, LSU and Washington. Two Texas players made the All-Tournament Team: forward/center Jatarie White and guard Brooke McCarty.
No. 5 Mississippi State advanced two places. Last week, the Bulldogs defeated last week's No. 22, Arizona State, the Ivy League's Columbia and mid-major power Green Bay.
After losing to Notre Dame, South Carolina fell three places to tie at No. 5 with Mississippi State. Before they fell, the Gamecocks defeated Rutgers and St. John's.
No. 7 UCLA began the week on a rough note with a tough 78-60 loss to UConn last Tuesday night and fell two spots in the poll. However, the Bruins arrived in Las Vegas for the South Point Shootout rejuvenated and knocked off Kansas State and Creighton. Senior forward Monique Billings and junior guard Kennedy Burke scored in double digits in both games and made the All-Tournament Team.
Ohio State jumped up one spot to No. 8. The Buckeyes recovered from an early season loss to Louisville and their string of six straight wins since included Thanksgiving holiday wins over Memphis, Florida Gulf Coast and Stanford. Senior guard Kelsey Mitchell became the NCAA's all-time leader in made 3-point field goals in the win over FGCU.
Baylor and West Virginia complete the top ten with WVU advancing a place to land at the tenth position.
Oregon State fell five spots to No. 20 after losing to Duke on Saturday in Durham. Arizona State dropped out of the top 25. The Sun Devils suffered two losses last week, first to Mississippi State and then to Green Bay.
Michigan entered the poll at No. 24 and finished the week with wins over Oakland and Ohio.
Other teams that received votes: New Mexico, Green Bay, NC State, Oklahoma, Michigan State, Southern California, Buffalo, Central Michigan, Minnesota, and Western Kentucky.
The STI/Hoopfeed Poll is conducted weekly throughout the regular season using a panel of media members and other women's basketball professionals. Total points are based on 25 points for first place through one point for 25th.
Sport Tours International/Hoopfeed NCAA DI Top 25 Poll for Nov. 28, 2017
| | | | |
| --- | --- | --- | --- |
| Rank | Team | Last week | Change |
| 1 | Connecticut (5-0) | 1 | 0 |
| 2 | Louisville  (6-0) | 3 | +1 |
| 3 | Notre Dame (6-0) | 6 | +3 |
| 4 | Texas (5-0) | 4 | 0 |
| 5 (tie) | Mississippi State  (6-0) | 7 | +2 |
| 5 | South Carolina (6-1) | 2 | -3 |
| 7 | UCLA (5-1) | 5 | -2 |
| 8 | Ohio State (7-1) | 9 | +1 |
| 9 | Baylor (5-1) | 8 | -1 |
| 10 | West Virginia (6-0) | 11 | +1 |
| 11 | Oregon (5-1) | 10 | -1 |
| 12 | Florida State (6-0) | 12 | 0 |
| 13 | Tennessee (6-0) | 13 | 0 |
| 14 | Maryland (5-2) | 14 | 0 |
| 15 | Duke (5-1) | 17 | +2 |
| 16 | Stanford (4-3) | 16 | 0 |
| 17 | South Florida (6-1) | 18 | +1 |
| 18 | Texas A&M (4-1) | 19 | +1 |
| 19 | Kentucky (6-0) | 20 | +1 |
| 20 | Oregon State (3-2) | 15 | -5 |
| 21 | Missouri (5-1) | 23 | +2 |
| 22 | California (3-2) | 21 | -1 |
| 23 | Villanova (5-0) | 24 | +1 |
| 24 | Michigan (4-1) | NR | |
| 25 | Marquette (2-2) | 25 | 0 |
Amanda Butler
Lisa Bodine
Joan Bonvicini
Cindy Brunson
Cheryl Coward
Kevin Danna
Kris Gardiner
Mel Greenberg
Chasity Melvin
Lee Michaelson
Viet Nguyen
Ben Parker
Michael Roberson
LaChina Robinson
Yvonne Sanchez
Brenda VanLengen