Around the SEC: Where Do Teams Stand Before Conference Play Begins?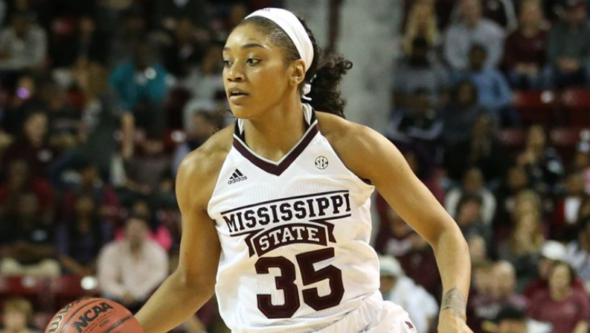 Throughout the 2017-2018 season, the 14 teams that consist of the Southeastern Conference have tested what works for them against non-conference foes. The time has come for them to face fellow SEC opponents.
In the preseason polls, South Carolina was predicted to be the SEC Champions for the third year in a row, with Mississippi State finishing second and Missouri in third.
13 teams currently have a .500 record or better. Others must find a competitive team identity and rhythm to sustain a winning record against fellow SEC teams, earning a postseason experience. Mississippi State and Tennessee stand as the only undefeated teams.
Alabama:
Current Record: 9-3
Last Year's SEC Record: 5-11 (12th)
Predicted to finish: 9th
Senior guards Hannah Cook and Meiosha Knight plus forward Ashley William serve as the team's big three, and when they are all active and alert, they can help the Crimson Tide roll. In order to improve from last season's 5-11 record, the Tide must continue sharing the ball, defending the floor and have team consistency.
There are high expectations with a healthy team under head coach Kristy Curry. They can be optimistic on their season, as the tight-knit Alabama team have begun to find their identity with SEC play around the corner.  Under Curry, they are slowly challenging themselves every step of the way. From the '15-'16 season to '16-'17, Alabama finished the season at the WNIT First Round to the WNIT Quarterfinals in the postseason.
Their biggest tests this year were against Utah and SMU, where they seemed to be able to figure out what's wrong with their performances and clean up their messes just in time to capture the win.
First SEC Matchup: At Missouri, Dec. 31 – 2 p.m. C.T.
Arkansas:
Current Record: 8-4
Last Year's SEC Record: 2-14 (14th)
Predicted to finish: 14th
New head coach Mike Neighbors takes over at his alma mater and looks to build success in conference play this December. As the season continues, Arkansas show poise and pacing in their eight wins this so far.
Neighbor has begun shifting the Razorbacks into conference competitors showing his veteran skills in being patient as the young team needs time to remodel and solidify their identity. He will be put to the test as the Razorbacks are predicted to finish last in the SEC. While Neighbors gets situated to the team, junior guard Malica Monk starts to signal the silver lining, as Monk lead the Razorbacks to seven of their 12 games ahead of SEC play.
It will be tough to compete against solid teams in the top tier of the SEC, but as their young team finds pace and style of place, veteran coaching can only lead them into as much success as Neighbors can.
First SEC Matchup: At Ole Miss, Dec. 31 – 2 p.m. C.T.
Auburn:
Current Record:8-3
Last Year's SEC Record: 7-9 (9th)
Predicted to finish: 11th
Freshman forward Unique Thompson has already laid the foundation of her emphasis at Auburn at the position. Awarded Player of the Week for her back-to-back doubles against Louisiana Lafayette and Southern, Thompson is beginning to shake her beginner's doubt off and move forward as a center piece in the Tiger's lineup. Thompson shares the floor with junior guard Jeniah McKay who contributes 15 points per game.
Head coach Terri Williams-Flournoy has added a new sense of intensity to their game this season hoping to find continuous consistency in the SEC season. Auburn is 11th in the conference's coaches' preseason poll, but Thompson's success can alter Auburn's fate in the SEC.
First SEC Matchup: Florida, Dec, 31 – 4 p.m. C.T.
Florida:
Current Record: 8-5
Last Year's SEC Record: 5-11 (11th)
Predicted to finish: 13th
The Gators are led by senior guard Dyandria Anderson and senior forward Haley Lorenzen. The duo juggles back and forth of high scoring games, but never behind one another. Under new coaching management, Cameron Newbauer anticipates the responsibilities of being a top contender in the SEC, and made Florida becoming a competitive team this season his top priority.
In their most notable test, the Gators were overpowered by Ohio State in a 102-77 blowout on Dec. 6, even while at their best shooting percentages. They also fell to Florida State in an 84-54 blowout in November.
The team will have to improve in overall efficiency and defending the ball. They are currently 13th in defending the three ball. This needs to change, as one main weapon of many SEC teams is success beyond the arc.
Florida must meld together to find their own pacing and style of play under Newbauer for the SEC season, and find shooting strengths in their lineup.
First SEC Matchup: At Auburn, Dec. 31, 4 p.m. C.T.
Georgia:
Current Record: 11-1
Last Year's SEC Record: 7-9 (8th)
Predicted to finish: 8th
Georgia is on their best Bulldog behavior in the season so far. With only one loss, the good balance of success all over the floor is changing how Georgia plays the game. Led by senior forward Mackenzie Engram and redshirt sophomore guard Taja Cole, who is also a defensive specialty, add-ons and transfers have made the difference this season.
Coach Joni Taylor has been a part of the Georgia picture for six seasons, and now with many weapons to attack with, the future is bright for Taylor and her team.
A big loss against Texas at home in the middle of the season didn't slow down their progression, winning four straight since. A test of character came earlier in the season with a key 64-61 win against Virginia. Those out of conference matchups allowed Georgia to understand what needs to be enhanced to stay afloat against SEC teams.
First SEC Matchup: At Mississippi State, Dec. 31 6 p.m. C.T.
Kentucky:
Current Record: 8-5
Last Year's SEC Record: 11-5 (4th)
Predicted to finish: 6th
The Wildcats are chasing their ninth consecutive 20-win season this season. Success in the conference play will be key to reaching the milestone. Kentucky has had longevity in producing high quality WNBA draft players, with forward/center Evelyn Akhator and guard Makayla Epps leaving for the pros after last year's postseason run.
Now, Kentucky is led by guard duo Maci Morris and Taylor Murray, juniors who continue to keep the Wildcats in range of their competitors. The two cannot produce enough to win as Kentucky has lost five of their last six matchups. Big scoring nights for Murray end up with her producing an average of 20 points, but offensive efficiency and rhythm lack throughout the young team.
Out-of-conference losses against Baylor (90-63), Miami (65-54) and Louisville (87-63) show that the duo can only do so much, and without the team's collective scoring, the Wildcats may fall below their predicted sixth seed in SEC conference play.
Kentucky must find out how the stop the ball against defenders, limit turnoverss and give teammates a chance on the team's successful bouts in close games.
First SEC Matchup: At Tennessee Dec. 31, 12 p.m. C.T.
LSU:
Current Record: 8-3
Last Year's SEC Record: 8-8 (7th)
Predicted to finish: 7th
The Tigers are having a great start of the season at 7-3, and guards Chloe Jackson and Raigyne Louis continue to shine in their wins. Lone senior Louis leads with a high shooting percentage, contributing two 23-point performances in the season. She continues to set an example of a leading point guard while keeping the Tigers ahead. The tag team have been team leaders in the great start, and now, they must up the ante to continue flourishing during SEC games.
LSU needs to practice more fluid ball movement to help aid their guards. They continue to light up the perimeter shooting and seize opportunities of having elite guards who share the ball well. With only scoring an average of 63 points per game, the Tigers must improve their scoring efficiency to compete with other teams in the SEC. Nine of the 14 teams score more than 70 points per game.
The underwhelming 63 points spell trouble for LSU, but if they can focus on aiding Jackson and Louis more throughout the floor, they can elevate from sitting dead last in scoring offenses in the SEC. Head coach Nikki Fargas and staff must strategize ways to implement more offensive answers through conference play.
First SEC matchup: At Vanderbilt, Dec. 31, 3 p.m. C.T.
Ole Miss:
Current Record: 9-3
Last Year's SEC Record: 6-10 (10th)
Predicted to finish: 13th
The Rebels are tacked to finish second to last in the conference's coaches' preseason poll, but that was before freshman forward Promise Taylor was implemented into Ole Miss' lineup. Taylor, who was named Freshman of the Week for her November 14 and December 5 performances, shows a bright, promising future for Ole Miss' performance in the paint in upcoming conference play.
With junior guards Madinah Muhammad and Alissa Alston along with Taylor, the trio in sync could be a force for Ole Miss. The Rebels have a good chance of finishing higher than 13th in the SEC this season.
Two of their three losses are from their visits to the West Coast, where they traveled to face Oregon and Portland State that led to back-to-back losses. This encouraged a new sense of offensive rhythm and spreading. Losses seem to turn into learning moments for head coach Matt Insell as they enter SEC play. They must gather more players to score and defend the ball, all while producing more points together as a team.
First SEC Matchup: At Arkansas Dec. 31, 2 p.m. C.T.
Missouri:
Current Record: 12-1
Last Year's SEC Record: 11-5 (3rd)
Predicted to finish: 3rd
After suffering a shocking loss to Western Kentucky in their season opener, the Missouri Tigers have been rolling through competition. A fierce and dominant competitor, tough senior guard Sophie Cunningham is ready to contribute to the Tigers' 11-game winning streak to 12 and more during the SEC conference play.
Missouri has had relative success during their past year with five consecutive winning seasons. Each year, Missouri ventures further and further into the postseason with the first goal of capturing the SEC Championship.
With Mississippi State at the second seed and South Carolina as the reigning champions, it will be a tough task to get through the SEC unscathed, but as adversity builds for Missouri, Cunningham and Smith continue to knock down surrounding obstacles.
At full throttle, Missouri has an excellent chance to finish at their predicted third seed finish in the SEC, but with Preseason All-SEC Cunningham gunning for the main prize of Missouri becoming a championship team, more can be accomplished.
Mississippi State:
Current Record: 13-0
Last Year's SEC Record: 13-3 (2nd)
Predicted to finish: 2nd
Last's year national champion runner up proved they were one of the top teams in the SEC and in the country. Mississippi State has much to look forward to as time ticks to SEC play. Undefeated and with no sign of their dominance waning, Mississippi State's senior guards Victoria Vivians and Morgan William continue to shine in their wins.
William has one of the best turnover margins in the nation, going forward as the facilitator and one of the silent shooters in the league. Vivians has showed growth and leadership throughout the season, shelling out an average of 24 points per game this season as the team enters SEC play undefeated.
Junior forward Teiara McCowan has showed improvement and growth throughout the 13 games. McCowan earned SEC Weekly Honors of Player of the Week twice, accredited to her 30-point games and serving a staple of Mississippi State's defense and in the paint performance.
As conference play comes around, Mississippi State must continue their forceful impact on both sides of the ball and get more than just the starting five apart of the game. With a young bench, Mississippi State's depth on the floor could be a lethal weapon to their high caliber and intense playing.
Head coach Vic Schaefer knows the Bulldogs are no longer the underdog this time around, and with the help of graduate assistant and former player Dominique Dillingham, the team's new faces and blossomed players can keep the Bulldogs in winning season mode with a great shot at a SEC Championship.
South Carolina:
Current Record: 11-1
Last Year's SEC Record: 14-2 (1st)
Predicted to finish: SEC Champions
The South Carolina Gamecocks were easily pinned as the favorites for the SEC Champions in the preseason, and rightfully so. Head coach Dawn Staley and the Gamecocks lead the SEC in field goal percentage, signaling a fluid and consistent offense. For their defense, they lead the SEC in blocks and steals per game.
South Carolina's only loss comes from one of the best basketball programs in the nation, Notre Dame. Big wins against Maryland, and Duke have helped keep the Gamecocks in great condition to prep for repeating as SEC and national champions.
Senior guard A'ja Wilson has been dominant more than ever, with an emphasis of scoring. Wilson averages a double-double per game. Teammates Lindsay Spann and Alexis Jennings are behind Wilson averaging 12 points per game and help balance the Gamecocks' offense in the paint and their perimeter shooting, as Spann and Bianca Jackson regulate South Carolina's long-distance shooting.
With junior guard Bianca Cuevas-Moore out for the rest of the season, Tennessee transfer Te'a Cooper's activation on the team is needed more than ever before. Staley and Gamecocks coaching staff have contacted NCAA Committee to allow Cooper to play, which would be another outstanding addition to the team.
The Gamecocks likelihood of repeating for another SEC Championship is likely. Staley and the team have tough teams to face before raising the SEC Championship trophy for the second year in a row, but it is doable with their existing athleticism and leadership.
Tennessee:
Current Record: 12-0
Last Year's SEC Record: 10-6 (5th)
Predicted to finish: 5th
Tennessee has gone back to their classic practice of power, precision and hard work that the late and legendary Pat Summitt brought to Rocky Top. This time it's led by head coach Holly Warlick with a trio of leaders hungry to begin a new dynasty.
Preseason All-SEC Mercedes Russell and has collected six double-doubles this season, serving as the usual scorer and team leader of the Lady Volunteers. This isn't the first time Tennessee will be entering the SEC play with a sense of identity and cutthroat competitiveness. A leading scorer last season, senior guard and forward Jaime Nared has become a dominant inside scorer with Russell.
Tennessee has earned an undefeated record and top-10 ranking by knocking off Texas, Marquette and with an 83-71 win against Stanford that knocked the Cardinal out of the top 25 and sealed their undefeated conference play.
The Lady Vols must limit turnovers and improve on their three-point percentage to add on to their successful lineup. Tennessee currently leads the SEC in points per game with 89 and rebounds per game at 46 so far in the season. With a balanced team on both sides of the ball, the Lady Vols could easily become a threat to the top half of the preseason SEC rankings.
It wouldn't be surprising to see the Vols shine in conference play, bringing back the unique flavor and style of superior women's basketball to Rocky Top for the nation to recognize once again.
First SEC Matchup: At Kentucky, Dec. 31, 12 p.m. C.T.
Texas A&M:
Current Record: 10-3
Last Year's SEC Record: 9-7 (6th)
Predicted to finish: 4th
With key losses against West Virginia and Oregon, the Aggies will have to learn from those defeats and fix their mistakes. The losses show the weaknesses in the Aggies' performance in the paint, as Oregon silenced their forward Jasmine Lumpkin, a critical key in their win.
Finishing sixth last season and predicted to finish fourth this season in the SEC, the difference in the roster for the Aggies is freshman guard Chennedy Carter.
She leads the team with a 42 percent shooting percentage and earned the SEC Freshman of the Week award on December 19. Senior center Khaalia Hillsman will have to continue to lead the Aggies as she and fellow seniors Lumpkin and Lulu McKinney enter their final seasons.
Head coach Gary Blair's excellent leadership skills will keep Texas A&M in range of their preseason poll ranking and it can be accomplished as the Aggies improve in the paint and show better ball movement.
Vanderbilt:
Current Record: 3-10
Last Year's SEC Record: 4-12 (13th)
Predicted to finish: 10th
Entering the season on a four-game losing streak, Vanderbilt will have much to figure out as they venture through conference play to the SEC Conference Tournament in March.
Senior guards Rachel Bell, Christa Reed, and freshman Chelsie Hall must improve as team leaders and exhibit more self-confidence to finish at tenth or higher. The trio must take a chance at getting all three shooters in a rhythm at the same time to produce a flowing offense for the Commodores to deliver and capture wins in the SEC.
Vanderbilt showed improvement in close losses to Wisconsin in overtime and in-range losses to George Washington and Syracuse. Vanderbilt will need to improve with consistency in shooting.
On New Year's Eve, 14 teams will begin their quest of the SEC Championship. The fight for the SEC title for women's basketball will begin in at 12 p.m. C.T. in SEC backyards and end in Nashville for the conference tournament February 28 – March 4, 2018 at Bridgestone Arena.