Emily Clemens has a banner night, leads Western Illinois over No. 18 Stanford, 71-64, first-ever win over a ranked team for WIU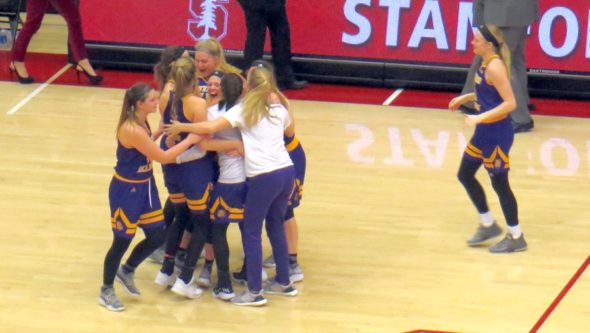 12-18-17 JD Gravina Postgame Interview
STANFORD, Calif. – Western Illinois (10-2) arrived at Stanford (6-5) as the underdog in a contest against the No. 18 team in the nation per last week's polls. Heading into the game, WIU was 0-21 all-time against ranked opponents.
However, the visiting Leathernecks left the Bay area with a historic win made even sweeter with a milestone reached by senior point guard Emily Clemens. In the 71-64 victory, the first-ever triumph over a ranked opponent by WIU, Clemens broke the program's all-time career assists record. She entered the game just two shy of the record of 543 and tied that mark by the end of the first quarter. When asked about the record, she was quick to give credit to her teammates.
"I think that's just a tribute to the girls I'm surrounded by," said Clemens. "We play a fast-paced, spot-up-at-the-three kind of offense, so that's just my job to facilitate the offense and distribute the ball. Credit to them because they're the ones knocking the shots down, I just do my best to get them open."
She was not paying attention to how close she was to reaching the record but expressed happiness that did it in a historic game.
"This win means a lot personally and within our program," she continued.
WIU had a few disadvantages before their first-ever game against Stanford even began. Only nine players suited up for the contest and eight played. Half of Stanford's squad is 6-1 or taller while WIU had no players over 6-1 and only three that are at least six feet tall.
However, that didn't' stop the smaller team from Macomb, Illinois from scrambling to overcome an early 4-0 deficit and go on a 21-10 run to finish out the first quarter.
The tables turned in the second quarter as the Cardinal started the period on a 7-0 run to tie the game up. Stanford got a balanced effort to close out the period with junior forward Alanna Smith, junior guard Alexa Romano, sophomore guard Anna Wilson, and freshman forward Maya Dodson contributing points.
WIU only managed to score three points in the second period compared to 19 by the Cardinal. As a result, Stanford went into halftime with a 33-24 lead.
Things began to get dicey for the Cardinal in the third period as WIU outscored them 21-14 to enter last quarter only down by two, 47-45. Senior guard Morgan Blumer led the way along with Clemens to stymie Stanford in the third quarter.
Clemens continued to be dominant in the last ten minutes along with senior forward Olivia Braun. WIU outscored Stanford 26-17 in the last ten minutes. It was a two-point game as late as 3:02 when the Leathernecks led 57-55. Stanford responded with a frantic yet futile effort to make three-point shots. WIU answered with a 14-9 run to end the game.
"I think it's dream come true for a coach and I think for the players as well," said WIU head coach JD Gravina about the win. "It's a real honor to be here but at the same time you want to show up and compete. We talked a little about treating it as an NCAA-caliber game."
He praised his team for coming back from a deficit to overtake Stanford down the stretch.
"We really did a good job coming back," he commented. "I said if you're open, you have to shoot it."
Stanford head coach Tara VanDerveerr expressed dismay at her team's performance.
"I'm very disappointed," were her first words in the postgame presser." "We only played one good quarter of defense," she continued. "We weren't aggressive. They were more aggressive than we were."
She praised the play of Clemens and mentioned the guard's defense as a problem for Stanford: "Their point guard did a great for them."
Other issues she mentioned about the loss: "Not being able to hit free throws, not being able to finish at the rim. I thought we got a lot of good looks, but just didn't knock shots down."
Stanford has the big task of hosting top ten team Tennessee on Thursday. They are still without the services of leading scorer, senior guard Brittany McPhee, out with a foot injury. There is no timetable on her return. In addition, sophomore guard DiJonai Carrington was also out with an injury.
Clemens finished with a season-high 26 points plus four rebounds, four assists and five steals. Junior guard Taylor Higginbotham added a double-double of 17 points plus 10 rebounds. Braun and Blumer added 12 points each. Braun pulled down seven rebounds and Blumer grabbed six.
Smith led Stanford with 18 points and 15 rebounds. Freshman guard Kiana Williams scored 17 points while Wilson contributed 13 points plus six rebounds.
Stanford senior forward Kaylee Johnson pulled down 18 rebounds. She fouled out with 15 seconds left in the game.
The last time Stanford lost a non-conference contest at home to an unranked team was last season, Nov. 19, 2016 to Gonzaga. WIU, on a five-game winning streak, continues their road trip to face Gonzaga on Thursday.
Notes
It was the first time in program history that the Leathernecks defeated two Power-5 teams in one season (won 77-67 at Illinois, Nov. 21, 2017).
For WIU, 10-2 is the second-best start in program history.
Stanford's defeat was only the 11th loss in the last 11 years inside Maples Pavilion.
By the Numbers