Mississippi State honors Morgan William, cruises to 86-48 win over Little Rock to remain unbeaten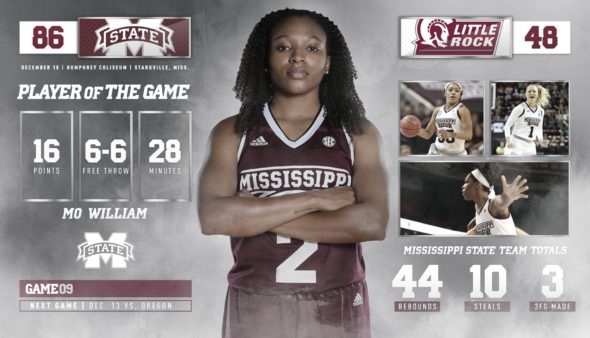 STARKVILLE, Miss. – Mississippi State improved to 9-0 with an 86-48 win over Little Rock Sunday afternoon. Tight defense and a productive offense kept the Bulldogs on cruise control while reaching the win.
"I'm really proud of our second half," head coach Vic Schaefer said. "We weren't pleased with a number of things [in the first half], a lot of things were concerning."
The Bulldogs started the game with a 6-0 run. It didn't take long for their run to set them apart from their opponent, ending the first quarter leading 17-10.
On "Itty Bitty Day," which honored new graduate and leading point guard Morgan William, the 5'5" star led the team with season-high 16 points. William said it was an honor to have a day dedicated to her but mostly importantly, take her chance to showcase her offensive talents.
Opponents continuously look over William as she aids Mississippi State's spacing, tempo and crucial perimeter ball movement for the Bulldogs. While opponents focus their defenses on other guards, they suffer by leaving William open to put points up.
"I think the first couple of games I was just content on passing the ball," William said on her breakout performance. "Teams stopped guarding me and I had to knock down shots. I'm still facilitating, but finding a shot. If they leave me open, I need to knock down shots."
With a promise to improve her Oklahoma State final stat line last Sunday, junior center Teaira McCowan showed grit and determination to succeed, finishing with a double-double of 13 points and 11 rebounds in 16 minutes in the follow up performance.
"[I] posted with technique," McCowan said on her changes. "I think I've been posting too hard or being too physical. I had to post and get in my position where I wanted to be in the post."
McCowan helped control the paint, where the Bulldogs cashed in 50 of their 85 points. Senior guard Victoria Vivians displayed leadership and dominance again with her second-straight and fifth double-double of the season. She grabbed ten rebounds and scored 12 points in the win.
Big opening halves propelled the Bulldogs over the Trojans. With their backs against the wall with a Mississippi State's 43-28 lead from halftime, Little Rock couldn't find any consistency on the floor. The Bulldogs outscored them 25-2 in the third quarter.
Arkansas transfer, guard Jordan Danberry, earned her first start for her Mississippi State career. Danberry showed why she's one of the Bulldogs, debuting with hunger and competitiveness, two of many strong suits Mississippi State possesses. Her intensity and determination to win shows her likelihood of longevity in the roster.
"I think she fits in," Schaefer said on Danberry's performance. "She was a bull in a china cabinet today, 'cause she was so excited to play today. She's going to come in and take it to a whole 'nother level. We're really excited to have her."
"I think I did alright for a first game back," Danberry said. "I could have rebounded the ball a bit more and played better defensive but overall I did okay."
Danberry finished her debut with two points and a steal in her 13-minute debut. While Mississippi State starters rested throughout the fourth quarter, the bench players had an opportunity to run the floor. Led by junior guard Jazzmun Holmes, the bench rotation seemed to take the floor well. They notched a quarter-tying 18 points together in the final quarter, collecting 31 points in the win.
Monique Townson and Kyra Collier had 11 points each for Little Rock. Collier also pulled down five rebounds. Teal Battle added 10 points. The Trojans drop to 3-6 on the season, and now prepare for an away battle at Kansas State on December 16.
Mississippi State now must prepare for their challenge against the No. 9 Oregon Ducks on December 13.
"We're going to find out how good we are when we play Oregon," Schaefer said. "Y'all make sure you put it in your papers- it's Wednesday night on SEC Network. I don't want anybody watching it on TV, I want people in The Hump. I want 8, 9,000 people here. It should be a heck of a game."