Social media recap: The Force is with Cal during Star Wars-themed doubleheader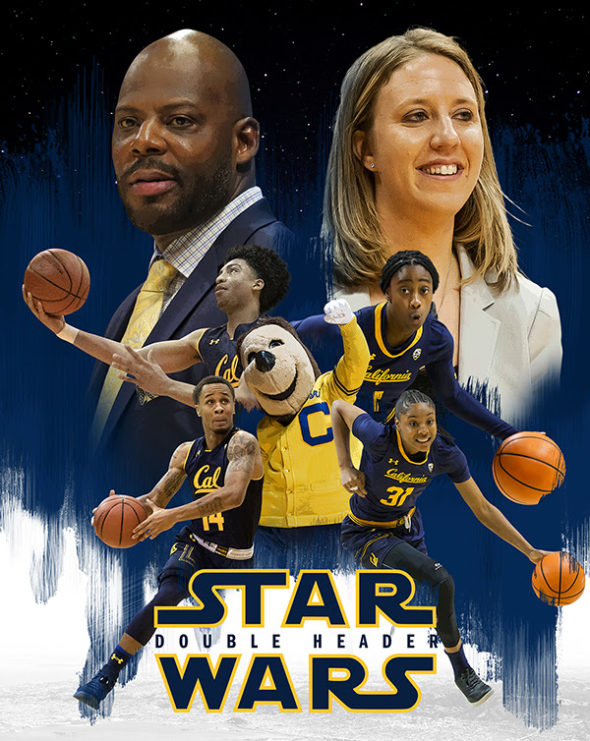 "Star Wars: The Last Jedi" official trailer
Cal routed BYU Saturday evening 70-45 led by senior guard/forward Mikayla Cowling (21 points/8 rebounds) but for Golden Bears fans who are Star Wars fanatics, the victory had to compete with another event as the most exciting thing of the evening.
The game was part of a Star Wars-themed doubleheader with the men's squad. The men played Cal State Fullerton Titans first. Interesting note: the associate head coach for the Titans is John Smith, the father of Cal freshman point guard Kianna Smith, Her older brother, Jamal, is the starting point guard for CS Fullerton. The men's game went to overtime with Cal earning the win, 95-89.
Before the women's game, Cowling was honored for reaching 1,000 career points, adding to the celebratory mood. From the pregame announcements sent to fans, to the in-game graphics, the night was a treat for Star Wars aficionados, especially given the premiere of the "The Last Jedi" last night, the latest film in the Star Wars space opera sequel trilogy.
Fans received free Star Wars-themed posters, the Jumbotron featured players doing impressions of Star Wars characters during timeouts and cosplayers dressed as the movie's characters threw out free t-shirts with movie tickets inside. Here is a social media recap:
Your Star Wars Day Starting 5:
? @Dboogie_1
? @DonColeman_
?@nick_ham21
? @jsway41
? @JustMarcusLee pic.twitter.com/WM9NGY6Px2

— Cal Basketball (@CalMBBall) December 16, 2017
At the end of regulation– Cal 80, Titans 80.

It's going to be a thriller today, Jedis. pic.twitter.com/JNvC3ZbPQc

— Cal Basketball (@CalMBBall) December 16, 2017
The force is with us.

Final from Haas. pic.twitter.com/TF0seQbZMC

— Cal Basketball (@CalMBBall) December 16, 2017
We have a treat for you!

Star Wars characters in Haas for the @CalWBBall game. Keep an eye out in the concourse and grab a ? pic.twitter.com/pkNeTMg2AY

— Cal Athletics (@CalAthletics) December 17, 2017
Today's starters vs BYU ??#GoBears pic.twitter.com/xqJubRkp3t

— Cal Basketball (@CalWBBall) December 17, 2017
1Q | Teams when they see our bigs down low like:

Bears lead 17-5. pic.twitter.com/YKAMWlU7yu

— Cal Basketball (@CalWBBall) December 17, 2017
2Q | Jumper from Brown and we're feeling THIS good.

Bears up 28-9. pic.twitter.com/rQ2RwKn5zk

— Cal Basketball (@CalWBBall) December 17, 2017
If you are not at the CalWBB game, you are missing out on players doing hilarious Yoda imitations.

— Shannon (@SGC72) December 17, 2017
Us when people try to say they have a better squad then we do:

Bears lead 47-23 with less than 5 minutes to play in the quarter. pic.twitter.com/KkM0ieLtOP

— Cal Basketball (@CalWBBall) December 17, 2017
How we feel about @MC_numma3 whenever she makes a 3:

Just her fourth 3 of the night, season-high 18 points on the night. Bears lead 63-35. pic.twitter.com/VdpNUvVvDF

— Cal Basketball (@CalWBBall) December 17, 2017
Season high 21 points for @MC_numma3 as the force is with the Bears tonight in a win against BYU. pic.twitter.com/msDpkJ8iEi

— Cal Basketball (@CalWBBall) December 17, 2017
The force was strong with @CalWBBall ? pic.twitter.com/9LfxjuNbzk

— Cal Athletics (@CalAthletics) December 17, 2017