Sport Tours International/Hoopfeed NCAA DI Top 25 Poll for Dec. 12, 2017: Tennessee rises to No. 6; Oklahoma State enters at No. 25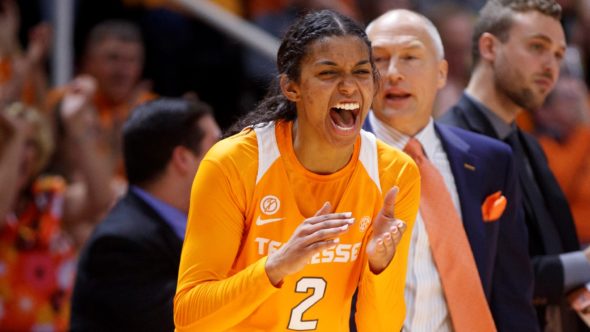 Tennessee enters the top 10 of the Sport Tours International/Hoopfeed poll this week. The undefeated Lady Vols jumped five places after a banner week that including toppling last week's No. 3 team, Texas.
Sitting at No. 6 in a tie with Baylor, Tennessee earned the 82-75 victory Sunday in Knoxville, the same day that the program honored three of its national championship squads.
With two victories last week, Tennessee garnered the NCAA's Team of the Week honor. Texas fell five places to No. 8.
Connecticut remained at the top of the rankings with unanimous No. 1 votes. The remainder of the top five: Louisville, Notre Dame, Mississippi State and South Carolina. Oregon and West Virginia rounded out the top 10 at No. 9 and No. 10, respectively.
UCLA also suffered a tumble in the poll falling five places to No. 12. The Bruins lost a road game to the Oklahoma State Cowgirls on Friday, 87-72. For their efforts, the Cowgirls entered the poll at No. 25.
South Florida also had a tough week with a hard-fought 79-74 loss to Oklahoma. As a result, the Bulls dropped five spots to No. 21.
Kentucky fell out of the poll. Last week the Wildcats were at No. 20, but two straight road losses put them out of the top 25. Kentucky fell to Florida Gulf Coast and Miami last weekend.
Other teams that received votes: Rutgers, Kentucky, Iowa, New Mexico, Syracuse, Georgia Tech, Arizona State and Oklahoma.
The STI/Hoopfeed Poll is conducted weekly throughout the regular season using a panel of media members and other women's basketball professionals. Total points are based on 25 points for first place through one point for 25th.
Sport Tours International/Hoopfeed NCAA DI Top 25 Poll for Dec 12, 2017
| | | | |
| --- | --- | --- | --- |
| Rank | School | Last week | Change |
| 1 | Connecticut (8-0) | 1 | 0 |
| 2 | Louisville (12-0)* | 3 | 1 |
| 3 | Notre Dame (9-1) | 2 | -1 |
| 4 | Mississippi State (9-0) | 6 | 2 |
| 5 | South Carolina (9-1) | 5 | 0 |
| 6 – tie | Tennessee (10-0) | 11 | 5 |
| 6 | Baylor (8-1) | 8 | 1 |
| 8 | Texas (7-1)* | 3 | -5 |
| 9 | Oregon (8-1) | 9 | 0 |
| 10 | West Virginia (9-0) | 10 | 0 |
| 11 | Florida State (10-0) | 12 | 1 |
| 12 | UCLA (7-2) | 7 | -5 |
| 13 | Ohio State (9-2) | 13 | 0 |
| 14 | Duke (8-2) | 15 | 1 |
| 15 | Maryland (9-2) | 14 | -1 |
| 16 | Missouri (9-1) | 17 | 1 |
| 17 | Oregon State (6-2) | 19 | 2 |
| 18 | Stanford (5-4) | 18 | 0 |
| 19 | Villanova (9-0) | 22 | 3 |
| 20 | Texas A&M (8-2) | 21 | 1 |
| 21 | South Florida (7-2) | 16 | -5 |
| 22 | Green Bay (8-1) | 24 | 2 |
| 23 | California (7-2) | 23 | 0 |
| 24 | Michigan (8-2) | 25 | 1 |
| 25 | Oklahoma State (7-2) | NR | N/A |
*Louisville and Texas were tied last week
Voting Panel
Amanda Butler
Lisa Bodine
Joan Bonvicini
Cindy Brunson
Cheryl Coward
Kevin Danna
Kris Gardiner
Mel Greenberg
Chasity Melvin
Lee Michaelson
Viet Nguyen
Ben Parker
Michael Roberson
LaChina Robinson
Yvonne Sanchez
Brenda VanLengen