WCC commissioner Lynn Holzman named the NCAA vice president of women's basketball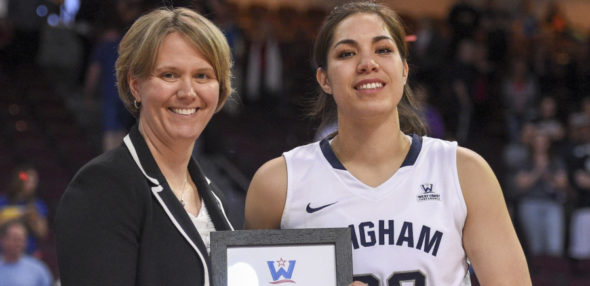 West Coast Conference commissioner and veteran collegiate sports administrator Lynn Holzman has been named the NCAA vice president of women's basketball. She returns to the NCAA national office in Indianapolis where she previously worked for 16 years.
Holzman will serve in the position previously held by Anucha Browne, who departed the NCAA in October to become chief strategy and engagement officer at UNICEF USA. Holzman will start in her new role Feb. 1.
"I am honored and humbled to be appointed as the vice president of NCAA women's basketball," Holzman said. "To lead and serve the collegiate women's basketball community while positively contributing at the national level to the overall mission of college athletics is an exciting opportunity. Women's basketball is thriving and positioned to continue its growth and advance as a premier NCAA sport."
"The personal experience of having been a women's basketball student-athlete transformed my life, and I am thrilled to be able to give back to the sport by serving in this position. Finally, I would like to express my sincere gratitude to the West Coast Conference for the opportunity to serve as commissioner and work closely with 10 institutions that embrace the holistic development of the student-athletes while providing an environment for academic and athletic excellence."
Previous administrator roles
WCC Commissioner since 2014
Involved in NCAA governance, serving as a member of the Division I Council and the Division I Men's Basketball Oversight Committee
NCAA director of academic and membership affairs from 2001 to 2012
Worked closely with NCAA members and supported the Women's Basketball Coaches Association, the Division I Women's Basketball Issues Committee and the Committee on Women's Athletics
Former board member and now president-elect for Women Leaders in College Sports (formerly the National Association of Collegiate Women Athletics Administrators).
Education
Bachelor of Science degree, Kansas State, where she was captain of the women's basketball team and a three-time Academic All-Big Eight Team member
Master of Arts degree from North Carolina and a Master of Business Administration from Purdue.
WCC commissioner @LynnHolzman opened media day noting @BYUwbb's Cassie Broadhead is the only WCC POY to return since @Sloot22 #WCChoops pic.twitter.com/INwXCnm2do

— Hoopfeed.com ? (@hoopfeed) October 18, 2017