Mississippi State bests in-state rival Ole Miss 76-45, remains perfect in SEC play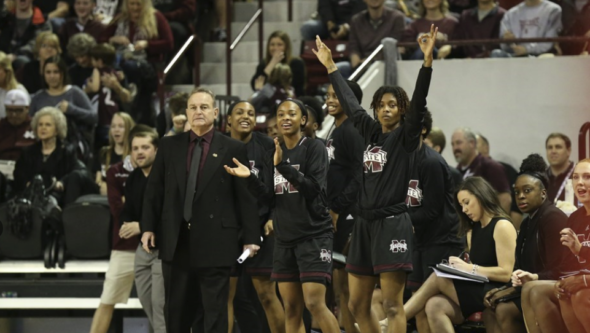 STARKVILLE, Miss. – Mississippi State Bulldogs' fans drenched the Humphrey Coliseum in all-Black as they hosted their in-state rivals, the Ole Miss Rebels, Thursday night and watched their team earn a 76-45 win to remain undefeated.
"Electric from the get go. For a late tip, to have 7,100 is really special." Mississippi State head coach Vic Schaefer said. "I think we showed toughness in things we haven't done before."
The blazing home crowd electrified Mississippi State to hit the floor running, with quick perimeter shooting from guard Blair Schaefer and in-the-paint shots from center Teaira McCowan dashing to a 14-2 lead in the first quarter. Nine straight empty possession set Ole Miss back early on and gave a chance for Mississippi State starters to rest.
Schaefer attemped to put his forthcoming starters in the rhythm. The bench players took the floor, which diminished Mississippi State team stats in the dominant first quarter. The team cohesion seemed to dissipate as Ole Miss began to assemble around the holes. Sloppy rookie mistakes took Mississippi State's shooting from 60 percent to 30 in two, four-minute scoring droughts, and the Rebels outscored the Bulldogs 13-12 to end the half with the Bulldogs leading 34-22.
The third quarter began in Ole Miss' favor. Mississippi State's energy dwindled, favoring Ole Miss' tasks of bringing down the big dogs as a once 19-point lead diminished to seven points. Empty possessions for Ole Miss held them back from taking advantage of Mississippi State's lackluster performance.
Ole Miss also runs a four-guard lineup. Poor shooting is what muffles the success in the team arrangement. The Rebels finished 27 percent from the floor, falling 29 points short of their usual 74 average game points. The Rebels are missing their key perimeter shooter senior guard Shandricka Sessoms, out with a ACL tear from their matchup against Middle Tennessee.
"We are missing that other perimeter shooter," Ole Miss head coach Matt Insell said. "We're missing our best shooter, scorer, rebounder and defensive player. We needed her to take pressure off of [Madinah] Muhammad."
Mississippi State's four-guard lineup pushed the Rebels' defense into man-to-man coverage, but inside work from McCowan outlasted Ole Miss. No one could guard McCowan. Mississippi State easily found McCowan and also added 40 points in the paint.
"She'll be a top two pick [in the WNBA] next year," Insell said. "She's one of the best players in college basketball."
The team concocted ways to disrupt the screens Ole Miss set. A Bulldog guard took a Rebel defender off of McCowan. Once a Mississippi State guard faked a drive to the basket, they dished it back to McCowan for a wide-open layup. This trick helped Mississippi State collect 18 assists as guards Schaefer and Morgan William tied for a team-high of six. McCowan exploded for her 13th double-double on the season, earning 25 points and 11 rebounds. She added four monster blocks to secure her dominance on the floor.
"You can play through [McCowan], you can play to her," Schaefer said on having center as an asset. "It's great having someone who can block shots and help play defense. She has learned how to be coached more. We're giving her confidence and she's realizing how great she really is. Her hard work is flourishing."
In desperate need of defensive dependency, Insell called freshman forward Promise Taylor to check in early in the first quarter. Taylor exhibited a bright future for the Rebels, as she still drove the ball where Mccowan had her favorite places to defend, swat and deny. Taylor finished with four points, six rebounds and three blocks in her 22 minute performance. Insell said that the team's youth showed.
"We gotta grow up a little bit," Insell said on the Rebels' problems. "We are a lot younger than [Mississippi] State, and they've got a lot more experience. They play like that. "
Mississippi State seniors continue to control guard play around McCowan. Along with six assists,Schaefer added 14 points and four rebounds in 26 minutes. Victoria Vivians secured 15 points,one assist and eight rebounds in 25 minutes.
"I'm not worried today about," Schaefer said on the team's fouls and turnovers. "We didn't quite have the chemistry, and maybe we give Ole Miss credit for that. I'm excited that our game plan and did things a little differently. I thought our kids were good tonight executing it."
Ole Miss is still ahead of Mississippi State in the rivalry series history, leading 63-31. The teams will meet in Oxford on January 28 to settle the regular season in-state series.
With the win, Mississippi State is the only undefeated team in the SEC with 18 total wins and four in the conference. They look to January 14, where they will host the Alabama Crimson Tide. They will then head to Rocky Top in an anticipated, top-tier SEC match up with Tennessee on January 21. Ole Miss prepares for January 18 when they will host Missouri.