SEC leader Mississippi State reaches program history and honors Victoria Vivians while routing Florida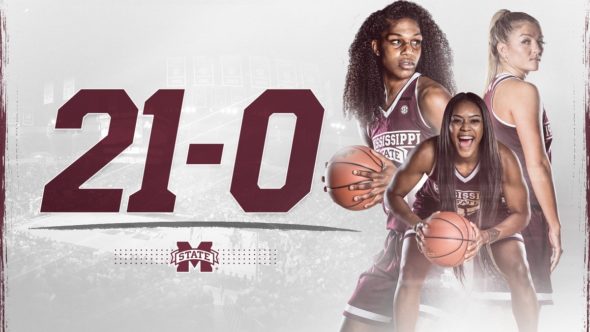 STARKVILLE, Miss. – The Mississippi State Bulldogs (21-0, 7-0) remain one of the two undefeated teams in the nation after a 90-53 win over their conference opponent the Florida Gators (10-11, 2-6) on a special night for the Bulldogs.
"There might have been some weight on their shoulders to set the record for most consecutive wins on the season," head coach Vic Schaefer said on the team's performance. "I thought the second half defensively we were really good."
The game against Florida marked Senior Night for Victoria Vivians, one of the state of Mississippi's most beloved athletes who carries a confidence that drives her and teammates to be one of the nation's best teams.
In honor of her Homecoming Queen victory last fall, fans could get in free for the matchup against Florida if they sported a crown of their own. Throughout The Hump, bejeweled crowns for Carthage, Mississippi's beloved hometown hero shined and glistened as she helped the Bulldogs reach another win.
Blair Schaefer took advantage early of Florida's crowding defense on other players, draining corner threes to help the Bulldogs top the Gators in the first quarter. She finished 5-of-8 beyond the arc with 15 points and two assists on the night.
"I'm pleased with what she's doing," Schafer said. "She's shooting the ball at a high level right now."
Vivians continues to shape guard play for the Bulldogs with grit and confidence. She has successfully built a diverse shot selection while greeting her opponent with an obstructing defense and actively spreading the floor for her and surrounding teammates. This helped the Bulldogs jump to a 20-13 lead in the first quarter.
An awkward transition from the first to the second quarter nearly cost Mississippi State a comfortable lead over Florida after a combination of turnovers and shooting an uncharacteristic 37 percent from the field. The Gators took the opportunity to only trail 22-20 with 5:41 remaining until halftime. Vivians gave a timeout talk to rally the five on the floor, closing out the first half at 35-23.
"I said 'We haven't scored in five minutes…we need to stop and go get a bucket," Vivians said, while wearing a tiara of her own postgame. "In the past we would've kept throwing it up, but I feel like the team calmed down, took shots and got a win."
This led to a third quarter performance that showed the Bulldogs at their best, securing 31 points against Florida and limiting them to 14.
"They picked it up defensively," Florida head coach Cameron Newbauer said. "You have to work so hard to get shots and that wears you down."
A dominating second half performance from Mississippi State solidified a 90-53 win over Florida, keeping them in first place in the SEC with seven straight wins and a 21-0 season start. This is the best start in school history for the Bulldogs, one more over last season's 20-0 start before a visit to South Carolina on January 23, 2017.
"I think you get it out of the way," Schaefer said on his team reaching a milestone. "It's out of the way. It's done and now we're focusing on Mississippi on Sunday."
Vivians ended with 17 points, two rebounds and two steals. Forward Teaira McCowan continues to show her maturity and talent throughout the season. She was hesitant against Florida in the first half, but a change in post play led her to 23 points and eight rebounds, snapping her four-straight games with a double-double.
"Coming into halftime coach [Schaefer] told me he was going to put me on the right," McCowan said. "He told me to go to work and that's what I did."
McCowan was also celebrated tonight for reaching her 1,000th point in the fourth quarter and being the 26th player in Mississippi State history to do so.
"I didn't know I was close [to my 1000th point], so that surprised me." McCowan said.
As Florida fell to Mississippi State, Gator junior guard Funda Nakkasoglu lead the team with 19 points. She took advantage of the awkward stage for Mississippi State counting for 13 points Florida produced in the first half.
As Mississippi State continues to play with confidence, chemistry and hunger, Schaefer and the Bulldogs must continue this style of play to venture into the postseason. Their flexibility on offense and executing one of nation's best defense has granted the Bulldogs their enormous milestone of 21 straight victories.
"I like what we're doing offensively," Schaefer said on flexibility. "All these kids can make shots. I like Chloe [Bibby] on the floor. I like [Vivians] being moved to the four if I need to put her there."
Mississippi State will hit the road to visit their rival Ole Miss on January 28 that will air on ESPNU at 2 p.m. CT. Florida hosts Georgia at the same time on Sunday in a game that will air on SECN+.