Ashland sweeps DII WBCA honors: Robyn Fralick is the Coach of the Year, Jodi Johnson is Player of the Year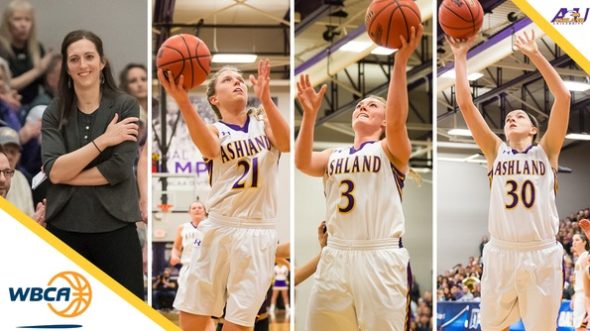 The Women's Basketball Coaches Association (WBCA) announced that Robyn Fralick of Ashland University is the 2018 United States Marine Corps/WBCA NCAA Division II National Coach of the Year. This is the second-straight year that Fralick has won the honor. She will be presented with the Pat Summitt Trophy during the 2018 WBCA Convention, held in conjunction with the Final Four in Columbus, Ohio. Ashland finished the season as the top-ranked team in the country in the WBCA NCAA Division II Top 25 Coaches' Poll for a record 40th time.
"For the second straight season, the WBCA is proud to name Robyn Fralick as the 2018 United States Marine Corps/WBCA NCAA Division II National Coach of the Year," said Danielle Donehew, executive director of the WBCA. "Robyn was selected as the winner by her peers after leading her team to an exceptional season. Her 102-2 record over the last two seasons is remarkable. The WBCA recognizes and applauds her leadership example that can be seen in her student-athletes, institution and community."
Fralick led her team to their second-straight undefeated season heading into the Elite Eight at 34-0. In addition, Ashland won their third-straight GLIAC Tournament Title this season. Under Fralick, the Eagles have earned a 71-game winning streak, the fifth longest in NCAA basketball history (men or women at any level).
Ashland sophomore guard Jodi Johnson was named the 2018 WBCA NCAA Division II Player of the Year. On the court, Johnson led Ashland to its second-straight undefeated regular season. She averaged 19.3 points per game on 62.2 percent shooting from the field.
The WBCA also announced the DII All-Americans.
The 2018 WBCA NCAA Division II Coaches' All-Americans
| | | | |
| --- | --- | --- | --- |
| Name | Institution | Year | Position |
| Alisha Breen | Montana State University-Billings | Senior | Forward |
| Tess Bruffey | Lubbock Christian University | Senior | Forward |
| Jodi Johnson | Ashland University | Sophomore | Guard |
| Jessica Kelliher | Lewis University | Junior | Center |
| Laney Lewis | Ursuline College | Senior | Guard, Forward |
| Kelly Martin | Stonehill College | Senior | Guard |
| Haris Price | Carson-Newman University | Junior | Guard |
| Paige Redmond | University of Central Missouri | Junior | Guard |
| Chelsey Shumpert | Union University | Grad Student | Guard |
| Laina Snyder | Ashland University | Senior | Forward |