Déjà vu for Mississippi State as the Bulldogs down Louisville in OT and advance to national championship game
FINAL INFOGRAPHIC | @Teaira_15 set a Final Four record with 25 rebounds in tonight's WIN!#HailState? pic.twitter.com/NXIYKsErdo

— Mississippi State WBK (@HailStateWBK) March 31, 2018
COLUMBUS, Ohio – For the second season in a row, Mississippi State (37-1) enters the national championship game after an overtime contest in the semifinals. Last year the Bulldogs took down a previously undefeated UConn. This season it was a 73-63 victory against Louisville (36-3) propelled by a record-breaking rebounding performance from junior center Teaira McCowan and the sharp shooting of senior guard Roshunda Johnson.
"Wow, so proud of my team today, as I have been all year," MSU head coach Vic Schaefer said postgame. "We talk about when things get a little bit tough and too tough for most people, when it gets really, really hard, that's when it gets about right for us."
Both teams came into the Final Four as No. 1 seeds. However, in a night where both semifinals went into extra periods in front of 19,564 fans at Nationwide Arena in downtown Columbus, MSU emerged as one of the two teams that will play in the championship Sunday night.
The game got off to a sluggish start with both teams looking stiff and nervous. Louisville earned a 6-0 lead before MSU could get their offense going. However, once the Bulldogs got started, they caught up quickly to the Cardinals with senior guard Victoria Vivians providing most of the points. Vivians' job was made easier with the rebounding action of McCowan who had seven in the first 10 minutes, well on her way to setting a Final Four rebounding record. MSU entered the second quarter with a 13-11 lead.
Louisville fought back in the next 10 minutes to outscore MSU 19-18 with most of their offense coming from points by freshman guard Dana Evans and sophomore guard Jazmine Jones. It was a back and forth contest in the second period. Vivians made a layup at the halftime buzzer to give MSU a 31-30 lead heading into the break.
Halftime Team Comparison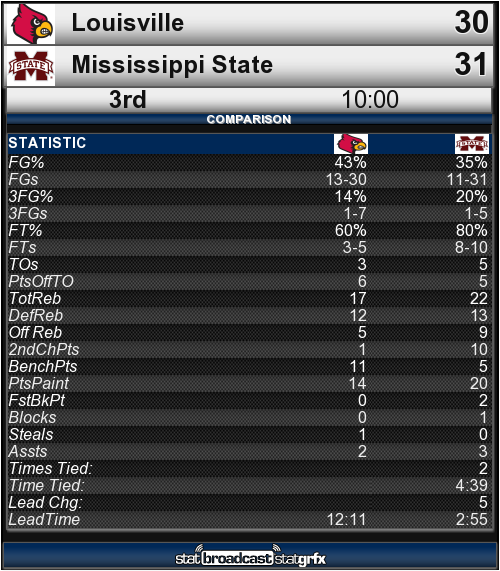 Louisville continued to outperform MSU offensively in the third quarter taking the lead with 3:12 left in the period, 40-39.
There were seven lead changes in the third period with most of them coming in the last two and half minutes. A barrage of three-pointers occurred in that time span as the teams were shooting fast and furious as the time ran out in the quarter.
With two seconds on the clock, Louisville junior guard Asia Durr nailed a trey to give the Cardinals a 48-46 advantage heading into the last ten minutes.
The three-point fest continued into the fourth quarter with senior forward Myisha Hines-Allen draining one at 9:20. Durr followed with a jumper and the Cardinals had a seven-point lead early in the fourth period, 53-46.
MSU was undaunted and retaliated with four straight layups to take the lead again, 54-53. As time ran out in regulation, the teams traded baskets again but Louisville was ahead by three with 11 seconds left in the game. After a timeout, the Bulldogs perfectly executed a play that used three-point sharpshooter senior guard Blair Schaefer as a decoy aided by a screen from McCowan to get Johnson open for a trey and she connected, tying the game up and sending it into overtime.
"I was looking from the opposite side," said Schaefer recounting Johnson's dagger. "I was saying to myself, this is looking good. And then it went in and I was screaming. I was so happy."
Coach Schaefer described the sequence of that last shot in his postgame presser.
"You're down three with, I don't know, 11 or 12 seconds left and not much — you're going to have to do something right, and a lot of people are going to have to do it right.  I thought we executed really well on a sideline out of bounds play.  We put Blair in and ran her out, and the whole team seemed to run with her as a decoy.  We put Ro out on the back side, and Tea really set a tremendous screen for her, but you've still got to make the shot.  I thought, obviously, when you're in that position, there's a lot of things you've got to do well in that spot."
As the huge crowd went crazy, it was a déjà vu moment for the Bulldogs as yet again, their fate in the Final Four was going to be decided in overtime.
MSU ran Louisville ragged in those extra five minutes with a dominating effort to outscore their opponent 14-4. Vivians hit a three-pointer to begin the offensive onslaught for the Bulldogs.
Junior guard Jordan Danberry also played a key role as she made a crucial steal with 22.8 secs left when Louisville was trying to make a comeback attempt.
McCowan was superb on the boards in overtime collecting seven rebounds in five minutes. She finished with an astounding 25 rebounds to go along with 21 points and three blocks. She set a new rebounding record for the Final Four, breaking Charlotte Smith's mark set in 1994, two years before McCowan was born.
In addition, McCowan played the entire 45 minutes.
"This one — what do you say about Tea?" Schaefer said about the 6-7 post. "Twenty-five and 21? She's done it all year against the best teams in the country, the best coaches in the country.  She did it tonight on the best stage you can do it on."
Vivians led all scorers with 25 points plus four rebounds. She expressed that her team was confident heading into overtime.
"If it's overtime, we say it's our time, it's our game," Vivians said. "I feel like everybody just locked in, locked down, and they knew what it was time to do and we came out with the win."
Senior guard Morgan Williams and Danberry were also in double figures with 10 points each. Danberry also had four rebounds and three steals.
Durr paced Louisville with 18 points. Jones contributed 15 points and nine rebounds. Hines-Allen added 11 points and four rebounds.
MSU will play Notre Dame for the championship on Sunday at 6 p.m. ET. The game will be televised on ESPN with a radio broadcast on Westwood One.
Notes
The game was the sixth national semifinal to go into overtime and eighth in women's Final Four history.
Mississippi State is the seventh program to play in back-to-back NCAA titles games.
Mississippi State is now 20-10 all-time in the NCAA Tournament, including 14-4 under head coach Vic Shaefer.
McCowan posted just the third 20-20 game in NCAA women's Final Four history and first since Sylvia Fowles had 23 points and 20 rebounds vs. Tennessee in the 2008 national semifinal. The only other 20-20 game belongs to North Carolina's Charlotte Smith who had 20 points and 23 rebounds in the 1994 NCAA title game.
Final Team Comparison