Stanford and Florida Gulf Coast set to battle for trip to Sweet 16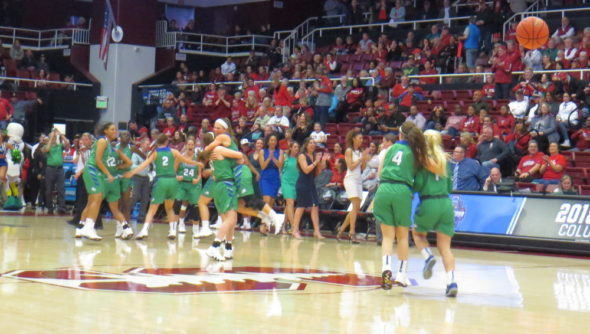 No. 12 FGCU (31-4) vs No. 4 Stanford (23-10)
Monday, March 19, 6 p.m. PT
Maples Pavilion • Stanford, Calif.
TV: ESPN2/ESPN3, Audio: GoStanford.com
STANFORD, Calif. – Stanford and Florida Gulf Coast are set to battle for a chance to advance to the Sweet 16. After dispatching their opponents on Saturday in the first round of the NCAA tournament, No. 4 seed Stanford and No. 12 seed FGCU have had to recalibrate for their meeting Monday night.
Led by senior guard China Dow who finished with 21 points, Atlantic Sun member FGCU dispatched No. 5 seed Missouri with efficiency, mixing stellar defense, three-point shots and points in the paint to send their SEC opponent packing back to the Midwest.
Stanford exacted revenge on No.13 Gonzaga. The Zags handed the Cardinal a home loss last season, a 68-63 defeat on Nov. 18, 2016.
"You know, obviously everyone knows, we lost last year to this team, and I think our team took it very personally," Stanford head coach Tara VanDerveer said after her team beat Gonzaga Saturday, 82-68.
Freshman guard Kiana Williams came up big for the Cardinal leading the team with 21 points while junior forward Alanna Smith was right behind her with 20 points of her own plus six rebounds.
"We are playing one of the most stories programs in women's college basketball history tomorrow with an opportunity to make the Sweet 16," FGCU head coach Karl Smesko said about facing Stanford in the round of 32 on Sunday afternoon. "We enjoyed the way we played yesterday against Missouri, but we have started our preparation to give a great effort and hopefully come out victorious against Stanford."
This will be the second all-time meeting between the two programs. Stanford earned an 83-59 win over FGCU on Nov. 27, 2013 in Puerto Vallarta, Mexico. The victory marked VanDerveer's 900th career win.
Former Stanford great Chiney Ogwumike went 11-for-13 from the field for 27 points, while adding 13 rebounds in that game.
"We got beat by double figures in that game, but I actually thought we played really well against them," Smesko said of that matchup. "We had no chance against Chiney Ogwumike, who just crushed us inside. There were times we were literally putting three people on her, and she still got every rebound. She was amazing."
"Obviously, this is a different game with different personnel. Stanford runs a different offense than they did at that point. We are going to have to play as a team defensively and make shots and try and make as many plays as we can. I don't think there's much to be gained from that game."
Stanford is 85-29 all-time in the NCAA Tournament. The Cardinal are playing in the Lexington Region for the third straight season.
Tara VanDerveer leads all coaches in NCAA Tournament appearances with 33.
Stanford is giving up 55.1 points on 32.7 percent shooting at home all season, including 22.1 percent from behind the arc.
FGCU has made 414 3-pointers over 35 games this year, which is the most in ASUN and program history -11 shy of breaking Sacramento State's Division-I record of 422 set in 2014-15.
FGCU is ranked among the nation's top 10 teams in six categories – 3-point field goals attempted (2nd, 1,143), 3-point field goals made (1st, 414), 3-point field goals per game (2nd, 11.8), turnover margin (8th, 6.97), scoring margin (6th, 18.8) and win-loss percentage (7th, 88.6).