Mississippi State sends seniors off with heartfelt banquet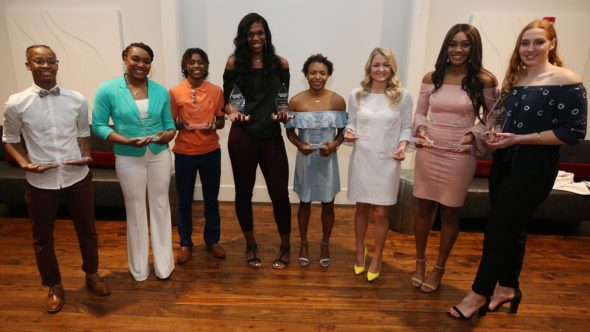 STARKVILLE, Miss. – Mississippi State's women basketball program celebrated their record-breaking 2017-2018 year with a banquet that served as a farewell to their historic senior class. Almost 500 fans, family and friends celebrated the greatest team in the history of MSU.
From Marci Hopps, the athletic trainer who helped keep all five starters be healthy enough to take the court each game, to Miguel Negron, the athletic academic adviser who helped the team maintain a 3.4 GPA, each piece of MSU's puzzle was recognized for helping the team dominate this season.
During the banquet, assistant coach Dionnah Jackson-Durrett acknowledged the team's efforts on and off the court. Jackson-Durrett also celebrated giving birth to a baby girl during the season.
Through held back tears, laughter and inside jokes from the team, seniors Blair Schaefer, Roshunda Johnson, Victoria Vivians and Morgan William gave their personalized thank yous. After the awards were given, the seniors were given a moment to recount their favorite moments and goodbyes to the Starkville community.
Schaefer, who won awards for Miss Hustle and Miss Defense with junior center Teaira McCowan, talked about her moments of doubt, frustration and more important hard work and dedication to the program. She mentioned that it was all worth it with her teammates but also under her head coach father. She gave a huge thank you to the marketing team who helped transform attendance from 1,000 fans per game to five-straight sold out games to end her senior season.
"Thinking back at my four years here at Mississippi State and this season in particular bring moments of gratitude, appreciation and thankfulness," Schaefer said. "I have so much to be thankful for. I have been surrounded by a university that has embraced women's basketball like no other university in the nation."
Oklahoma State transfer Johnson took a trip down memory lane of her three years at MSU. She had a huge thank you to staff and her family that helped with her son, Malachi Ready, when she was focused on basketball and contributing to the team.
"Once I got pregnant, I had thoughts of leaving Mississippi State," Johnson recalled. "But, because of the family I have at Mississippi State I knew I couldn't give up on you guys, the university or my teammates. Thank you for taking my son under your wings and understanding everything that's happened during my time at Mississippi State."
The legendary queen bee Vivians gave a fiesty speech that entertained and touched the hearts of banquet attendees. As the third MSU player to be drafted to the WNBA, Vivians had much to be thankful for.
Entering as the best scorer in Mississippi girl's high school basketball and leaving as Mississippi State's second all-time scoring with 2,527 points, coach Vic Schaefer refers to Vivians as the missing piece to the championship vision.
"People doubted you and laughed in your face for coming here, look at us now." Vivians said to Schaefer. "I don't think they're laughing anymore. For that, I thank you."
William humbly thanked the fans for their support and believing in her. William will forever be ingrained into Mississippi State's history, not just for her productivity in every game this season, but for her shot seen around the world.
Her buzzer beater took UConn out of the 2017 NCAA Tournament and snapped their 111-game winning streak. The shot advanced Mississippi State to the National Championship game for the first time in school history.
"Wherever life takes me I'm going to try to make you all proud." William said. "You all have helped me prepare for life after college and I truly appreciate that."
Following up the seniors, coach Schaefer gave a teary-eyed speech reflecting on the season and also the senior's impact. Every time his voice cracked and cracked, he reassured the audience with "I'm good, I'm good," and "Nope, not this time" keeping the warm laughter running as he visited memories of the season.
"I will always be there for you, 24-7, 365, I just want thank you for being great. Thank you seniors."
Schaefer ended on the note that the remaining members of the team must step up and claim their own legendary stories, make their own history, and rewrite the tale of Mississippi State women's basketball.
"We sat here last year and wondered what we we're going to do," Schaefer reminisced. "We went and did something about it. Now, this will be the challenge for this [upcoming] team. No seniors. [They need to] go own it and live it. Now we're here again."
The commencing ceremonies aren't over for the team yet. During Super Bulldog Weekend, the spring celebration weekend in Starkville, the team will be honored with a parade in downtown Starkville in celebration of their year on Friday. Following the parade, Coach Schaefer will also throw the first pitch of the Mississippi State/Arkansas baseball game at 6 p.m. CT.
Team Awards
Team Academic Award: Jordan Danberry
Rookie Award: Chloe Bibby
Newcomer Award: Jordan Danberry
Most Improved- Roshunda Johnson
6th Player Award- Jazzmun Holmes
Miss Hustle- Blair Schaefer
Miss Offense – Victoria Vivians
Miss Defense – Blair Schaefer, Teaira McCowan
Tommy & Teri Nusz Most Outstanding Bulldog – Morgan William
Most Outstanding Player- Victoria Vivians, Teaira McCowan
Career Milestones: McCowan – 1,017 rebounds; Morgan William – 656 assists, 1,400 career points; Victoria Vivians: 2,575 points, 783 rebounds