Veteran official Sally Bell retires, served as women's basketball coordinator of officials for several conferences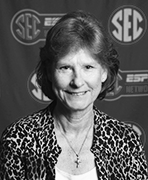 Several conferences announced Monday that Sally Bell, a widely respected referee who serves as the coordinator of women's basketball officials for multiple leagues, is retiring from her posts. She spent 33 years as a women's basketball official. She coordinated referees for the ASUN, SEC, Ohio Valley, Southland, Sun Belt and SWAC.
"I am thankful for the opportunity to have served the great sport of basketball for over 40 years, especially as an official and coordinator," said Bell in a statement She thanked the commissioners of the conferences as well as her fellow references. "I was blessed with some memorable experiences but more importantly developed meaningful and lifelong friendships," Bell continued. "I am humbled to have played a small role in the game. While I am retiring I will be a fan of the sport for life and look forward to seeing the next generation of officials excel."
Bell is a member of the 2017 class of the Women's Basketball Hall of Fame. She began officiating high school basketball in 1975. She migrated to NAIA and NJCAA games in 1979. She began officiating NCAA Division I and II games in 1981. She will continue with her scheduled camps this spring and summer.
"Sally Bell has been an effective and tireless leader of the SEC Women's Basketball Officiating Program, and she worked hard to ensure that the level of officiating in the SEC matches the excellence that is expected for the premier women's basketball conference in America," said SEC Commissioner Greg Sankey. "We will miss her work, but she has established a solid foundation that ensures a strong program moving forward."
Bell's Accomplishments and Events Officiated
15 NCAA Division I Women's Final Fours (13 consecutive from 1992 through 2004)
ASUN's 2015 Nan and Dock Sisk Career Service Award
1996 Olympic Games in Atlanta
The1991 Naismith Women's Basketball Official of the Year
The 1989 Junior World Championships in Spain
1990 World Championships in Malaysia
1994 Goodwill Games in Russia
1993 World University Games