Statistically, 2018 Final Four in Columbus was a success story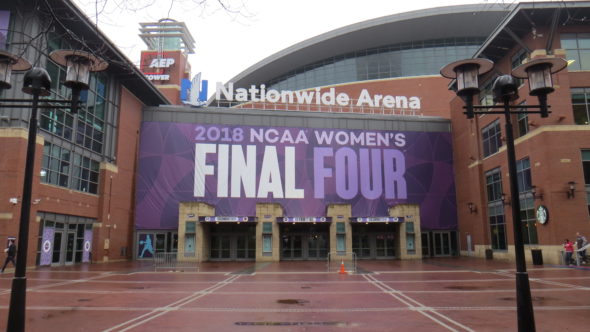 Today, the NCAA released some statistics and insights about the 2018 Final Four held in Columbus, OH and about the NCAA tournament in general. Figures indicate that the event was a ratings and local fan success.
"This year's women's Final Four was a remarkable event for the entire women's basketball community, and especially for college basketball fans," said Lynn Holzman, NCAA vice president of women's basketball. "I am proud of my home state of Ohio for its support of women's basketball and grateful to the Columbus Local Organizing Committee for its partnership in making this experience special for our student-athletes and coaches."
Here are some notes from the NCAA report followed by an NCAA-provided infographic summarizing the insights.
The 2018 Women's Final Four at Nationwide Arena saw a total attendance of 39,123, surpassing fan turnout from Dallas in 2017. The national championship game had 19,559 attendees, also up from the previous year.
Both semifinal games went to overtime — a first for the Women's Final Four — and 2018 national champion Notre Dame won both of its games on buzzer-beating shots delivered by junior guard Arike Ogunbowale.
The 2018 Division I women's basketball tournament attracted 252,110 fans, an increase of more than 25,000 from the previous year and marking the highest combined total attendance since 2004 and 10th-highest combined attendance in tournament history.
The four regional sites hosted 50,848 fans, a 35 percent increase from the 2017 tournament.
The national championship game between Notre Dame and Mississippi State peaked at a 3.0 overnight rating. The championship game averaged a total of 3.5 million viewers across television and digital.
The semifinal overnight ratings peaked at 1.6 for the Louisville vs. Mississippi State semifinal (with an estimated average 1.52 million viewers) and 2.1 for the UConn vs. Notre Dame game, averaging a live audience of 2.31 million. Overall with digital streaming, the semifinals averaged 1.9 million viewers.
Ratings in local broadcast markets soared. Columbus averaged an 8.5 market rating for the championship game, the highest rating on record in that market for a women's basketball tournament game.
Hartford-New Haven was the top local market for the UConn-Notre Dame semifinal, averaging a 16.7 rating, an increase from last year's Women's Final Four semifinal featuring UConn vs. Mississippi State.
The entire Women's Final Four averaged 2.54 million television and digital viewers over three games.
On social media, according to Nielsen Social Top Five ratings, the 2018 national championship game was the No. 1 sporting event during the broadcast window, garnering more than 1.1 million social interactions.
Tourney Town presented by Capital One, the official fan fest of the Women's Final Four, recorded 23,770 attendees, the fourth-highest on record.
The NCAA Bounce, sponsored by Buick, had approximately 2,250 youth participants. Last year's Bounce in Dallas was rained out, but this turnout surpassed previous host communities.