USA Basketball Women's National Team Roster Set For China Exhibition Game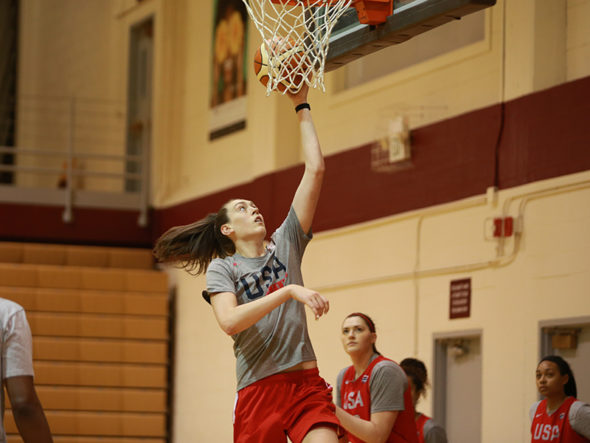 After two days of training for 19 members of the 2018-20 USA Basketball Women's National Team athlete pool, a roster of 13 has been announced for the USA's April 26 exhibition game against China at KeyArena, 7 p.m. PT (10 p.m. ET). The game will be streamed live online at usab.com/live, and on the USA Basketball Facebook and YouTube channels.
The team for the exhibition game was chosen by the USA Basketball Women's National Team Selection Committee.
The roster:
Seimone Augustus (Minnesota Lynx)
Sue Bird (Seattle Storm)
Layshia Clarendon (Atlanta Dream)
Elena Delle Donne (Washington Mystics)
Skylar Diggins-Smith (Dallas Wings)
Stefanie Dolson (Chicago Sky)
Sylvia Fowles (Minnesota Lynx
Tiffany Hayes (Atlanta Dream)
Jewell Loyd (Seattle Storm)
Kelsey Mitchell (Indiana Fever)
Breanna Stewart (Seattle Storm)
Diana Taurasi (Phoenix Mercury)
Elizabeth Williams (Atlanta Dream)
Many players in the pool were unable to participate in the Seattle camp due to previous commitments.
"These are hard decisions to be made, when you have to send such good players home," said Dawn Staley, USA National Team and University of South Carolina head coach. "But, their sacrifice will one day pay off, hopefully in the near future for them. The 13 players that were assembled to compete against China will give us an opportunity to see some of our experienced players back together again, along with some of the younger, inexperienced players. It'll give them some experience playing international basketball at a high level alongside Olympians. You can't take for granted playing China. We're going to play to win the basketball game, but we're also going to utilize some players so we can see them play in a game like this.
"This is a game in which we only could pick a certain amount of players. So, it'll be a game in which we are looking at different players at different positions. What it means is that they made the cut this particular time, but there will be other opportunities for the entire pool of players to prove themselves over again. I'm just happy that the players were able to come and we had the chance to work with them. That's what makes our national team great – the sacrifices that everybody gives to be a part of the preparation of winning a World Cup."
The Seattle training was the the third in the USA's preparations for the 2018 FIBA World Cup, which will be held Sept. 22-30 in Tenerife, Spain. Following the game against China, members of the USA National Team pool will break for the summer and gather again in September for final preparations in defense of the FIBA World Cup gold medal.
USA Basketball Women's National Team director Carol Callan serves as chair of the USA National Team Player Selection Committee. In addition to Callan, the USA Basketball Women's National Team Player The selection committee includes New York Liberty head coach Katie Smith, Connecticut Sun head coach Curt Miller, and Los Angeles Sparks general manager Penny Toler. University of Connecticut head coach Geno Auriemma, who coached USA teams to gold medals at the past two Olympics and FIBA World Cups, serves as a special advisor.