Washington State names Kamie Ethridge head coach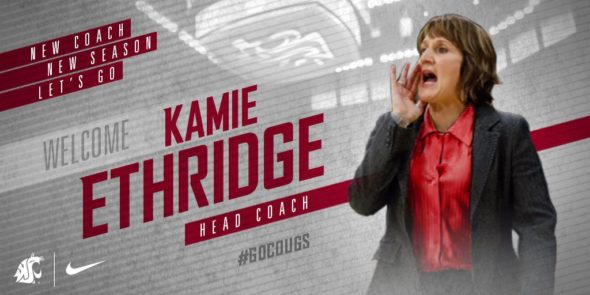 Approximately a month after firing June Daugherty, Washington State announced that Northern Colorado head coach Kamie Ethridge will be taking over the program. She will be formally introduced at a press conference Tuesday, April 17 at 2 p.m. PT.
The Cougars finished the season with a 10-20 overall record going 3-14 in Pac-12 play. They fell to USC in the first round of the Pac-12 tournament on March 1 capping a seven-game losing streak. The team was without Daugherty who stepped away from coaching for medical reasons on January 24 while her husband took over the program. She did not return to the sideline after taking the leave.
The team also endured tragedy as strength and conditioning director David Lang passed away suddenly on the day before the Cougars' last regular season home game. The game was canceled.
Ethridge began her head coaching career in late April 2014 when Northern Colorado hired her after she spent 18 years as an associate head coach at Kansas State. The Bears went 26-7 under Ethridge this past season and earned an automatic berth to the NCAA tournament after winning the Big Sky tournament championship, the first-ever time the team won the title game. They lost to Michigan in the first round. It was the first time Northern Colorado had ever competed in the NCAA tournament.
Prior to Kansas State, Ethridge spent five seasons with Vanderbilt as an assistant coach from 1991-96.
She played at Texas and was a member of the 1986 title game squad and was awarded the MVP award. She was also a member of the U.S. gold medal-winning Olympic team at the 1988 Summer Games in Seoul, Korea.
Coaching Experience
Northern Colorado, Head Coach, April 2014- April 2018
Kansas State, Associate Head Coach, 1996-2014
Vanderbilt, Assistant Coach, 1991-96
Northern Illinois, Assistant Coach, 1990-91
Northern Illinois, Graduate Assistant, 1989-90
Texas, Student Coach, 1987-88