Mystics confident heading into the season; Mike Thibault: "I think everybody is in sync about what we're doing"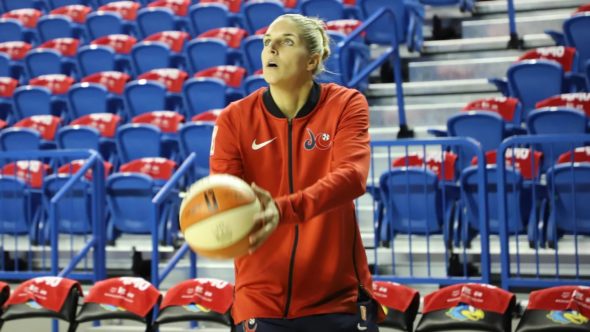 WASHINGTON – On May 18, the WNBA will kick off its highly anticipated 22nd season. Led by head coach and general manager Mike Thibault, the Mystics are ready to embark a new journey all while keeping lessons in mind from their previous season.
Through their spurts last season, the Mystics managed to finish 18-16 (.529) and third in the Eastern Conference. Their season ended in the semifinals of the playoffs against the Minnesota Lynx.
This season the Mystics are looking forward to being a dynamic, destined and determined team. Last year served as a team chemistry icebreaker season. Six new players were getting acclimated to Thibault and squad's style of play.
Health was the main concern for the Mystics last year. The injury bug affected prominent players including Elena Delle Donne. Shooting guard Tayler Hill went out with ACL in mid July. Absences from forward Emma Meesseman to compete in the FIBA World Cup affected Mystics' post play.
Lack of chemistry kept the Mystics from exceeding their potential last season, but a next-woman-up mentality throughout the injuries shed light on one player's potential stardom . Kristi Toliver stepped up to the challenge, averaging 11.9 points per game and Ivory Latta reminded the league of her veteran impact.
New additions had positive impacts on the team. Powerhouse forward Delle Donne, in her first season with the Mystics, became the leading scorer at 19 points per game. Shatori Walker-Kimbrough, a stellar shooting rookie out of Maryland helped keep the Mystics afloat.
Leadership is the biggest chemistry component for the Mystics. Delle Donne will serve as the guiding light for rookies and new additions. With her second season approaching, she said she's comfortable enough to lead.
"We've been able to flow into things a lot quicker," Delle Donne said. "We had a lot of brand new players last year with a lot of people playing out of position. Now that we know each other's game, I feel like we've settled in a lot better."
Even with an injury setback, center Krystal Thomas became opportunistic. Thomas used games Delle Donne and Meesseman sat out to shine and implement her own leadership on and off the court.
"The minutes (on the court) were there," Thomas said. "I just wanted to make the best of that opportunity. I put in the work in practice and translated game after game."
Thomas played important minutes in games in July, helping the Mystics tie with the Connecticut Sun for first place in the Eastern Conference at the time. Instead of falling in love with past potential, Thomas knows this year will be about the responsibility of making sure rookies progress quickly.
"We have to put the work behind it or potential is nothing," Thomas said. "I think it helps us have an understanding. We have to open it up in practice."
Leaving college as one of the best three-point shooters in the NCAA and Maryland history, Walker-Kimbrough is now responsible for unboxing her gift beyond the three while being around other veteran shooters.
"I want to work on my consistency from the three," Walker-Kimbrough said. "I want to build that trust with coach knowing that he can put me in and I can be versatile. I want to fit wherever he needs to be."
Walker-Kimbrough understands her tasks the second time around. Her goals this year are to chase consistency, show versatility and do whatever it takes to fit in the Mystics system.
"I just want to make an impact," Walker-Kimbrough expressed about her season goals. "That could be defense or offense. I want to make a presence and not just be there on the court. I want to be a bigger piece of the puzzle."
Thibault and the Mystics coaching staff have taken initiative, preparing for upcoming season. Washington will be without Meesseman for the entire WNBA season. During her hiatus, the Belgium forward will beg preparing for the 2018 Basketball World Cup with her country's national team. Since her debut in 2013, she has averaged 10 points and 5.4 rebounds.
Even with her absence from May 24 to July 2 last season, she contributed 14.7 points and 5.7 rebounds on the season.
With Meesseman and Delle Donne on the court simultaneously, the Mystics meshed and pushed through competition. Delle Donne can now play the four position and settle into her dominance. Her presence at the four opened plenty of Mystics scoring opportunities and will be the highlight of their offensive schemes for the season.
"We looked back and watched tape from the 11 games that Emma wasn't here," Thibault said. "We were 8-3 at that time so that was encouraging. It does put Elena back at her original position on the floor. Now we can design what we do around Elena at the four on the court."
The two preseason game wins this month boosted the Mystics' confidence. The vision of a balanced and poised team is becoming a reality.
"The chemistry is really good right now," Thibault said on the team's preseason progress. "I think everybody is in sync about what we're doing. New and young players have fit in seamlessly. The veterans have bought into teaching them how we do things. I've seen great leadership and that's been nice to see."
The Mystics will kick off the season hosting the Indiana Fever on Sunday, May 20 at 1 p.m. ET The game will air on NBCSWA and Monumental Sports.