Mystics piece together a full game for 88-60 win over Sky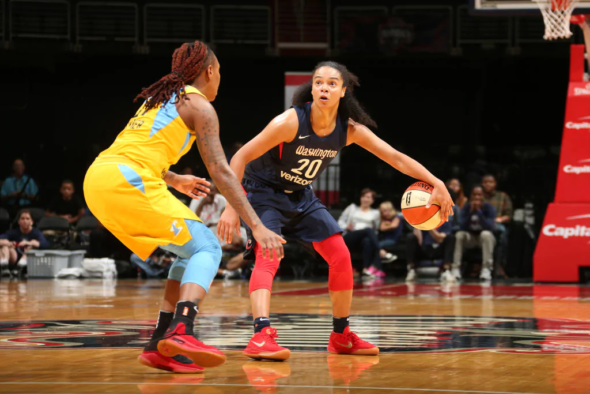 WASHINGTON – The Washington Mystics (7-5) pieced together a complete performance to defeat the Chicago Sky (3-8) in front of a crowd of 4,206 fans at Capital One Arena Tuesday night.
"It was nice to be able to sit down in the fourth quarter," Mystics head coach Mike Thibault said. "We did a lot of really good things tonight, particularly moving the basketball. I think that was our season high in assists. Our execution was much better. We needed that kind of a win tonight. It was really nice to get everybody involved."
The teams opened the quarter trading runs as Sky forward Cheyenne Parker left the bench to contribute six points. Mystics guard Kristi Toliver led the Mystics with eight points in the first quarter. Washington seemed to get their chemistry moving at the end of the quarter. They led a tight 24-21 lead over the Sky.
"We just played better," Thibault said on team adjustments. "Just made a few more shots. Elena [Delle Donne] struggled a little bit early. Toliver came in a little after that, then the bench came in."
Chicago had trouble pulling points in the second quarter. Shooting droughts allowed Washington to go on two runs. Chicago shooting fouls put Washington at the charity stripe, pouring in seven free throws in the second quarter. Delle Donne found her first points at the free throw line with 3:18 left before halftime. All Mystics were able to get their feet wet as the bench contributed 21 points to lead 46-32 at halftime.
Toliver continued her hot shooting performance, sinking in 11 third quarter points as Delle Donne added eight more. Washington was able to find good looks through guard Natasha Cloud who was able to dish out four assists and four rebounds in the third quarter. Ball movement and shooting efficiency separated Washington from Chicago as they outscored them 24-11.
Washington continued their dominance through the final quarter, earning an 88-60 win over Chicago. Defense paved the way for the Mystics win.
Chicago guards Allie Quigley and Courtney Vandersloot weren't able to find their usual tempo to meet their combined average of 18.2 points per game. A smothering defense from Cloud and Toliver spoiled their performances as Quigley finished with nine points, going 3-of-11 from the floor, and Vandersloot finding just three points in the loss. Vandersloot had a team-high of six assists. The Sky's shooting percentage plummeted to 29 percent, stopping the momentum and rhythm in their ball movement.
"[We must] score," Chicago head coach Amber Stocks said. "We need to increase our field goal percentage as well as our shots on goal, and that will happen when we decrease the turnovers."
Kahleah Cooper and Parker were the only players on Chicago to reach double-digit point totals. Parker finished with a team-high 18 points and nine rebounds as Cooper slipped in 13 points herself. Parker touched on the difference on team ball for Chicago and Washington.
"They capitalized every time we turned the ball over," Parker said. "We just struggled scoring. Our leading scorer [Quigley] struggled and that hurt us a lot."
Chicago's second leading scorer and handy rookie forward Diamond DeShields, who usually contributes 13 points and five rebounds, finished with four points. The Sky clouded their chances of winning by turning over the ball 18 times which led to 26 Mystic points and helped them to the free throw line 18 times finding 16 points there too. Toliver finished with a team-high 19 points and eight assists while Delle Donne contributed with 14 points and seven rebounds.
"I wanted to be aggressive from the start," Toliver said. "That's what happens when I do. Teams were able to pick their poison when we put each other at certain position. We were able to do that for forty minutes."
As a team, the Mystics finished with 26 assists that helped them find Toliver and Delle Donne with good looks and clear offensive spacing. Cloud finished with a team-high eight assists, four rebounds and two points.
"It means were moving the ball," Cloud said. "Our offense is together and panning out more shots and finding out where we're more effective to score."
Cloud's contributions in different aspects helped get every Mystic on the board as their injured player returned from last June's injury.
Mystics guard Tayler Hill checked in for the first time this season after recovering from an ACL tear last June. She was welcomed with a standing ovation with 8:27 remaining in the game. She confidently sunk in her first three-pointer of the season with 6:28 left to go. She also hit another one, ending with six points in her return.
Hill expressed having faith while fighting to return to the game. Her process of grinding off the court and having a supporting, encouraging system during her recovery eased the ten-month healing process. Teammate and close friend Cloud wrote her a note pregame to express her support for Hill's heartfelt return to the court.
"It was an emotional day, but it felt good," Hill said. "I have so many great supporters. Through this whole process, they've been my rock. They've pushed me through the days I wanted to quit."
The Mystics are a full threat now with Hill healthy. Thibault now has the chance to rotate all 12 players which poses the question of who will play when, how many minutes, and in what circumstance will players perform best.
Washington and Chicago will have a rematch in Chicago on Friday. Thibault said the team will take the win with a grain of salt as the Sky will build Friday night's game plan from their loss tonight.
"They're gonna be geared up to play us," Thibault said. "When you get beat like they come with a different attitude. I'm not worried about anything past Friday."
Notes
Points in the Paint: Sky: 20 Mystics: 30
2nd Chance Points: Sky: 10 Mystics: 15
Fastbreak Points: Sky: 6 Mystics: 6
Biggest Lead: Sky: 2 Mystics: 33
Technical Fouls: – Mystics:None  Sky: Vandersloot 0:06 3rd quarter
Washington recorded a season-high 26 assists, with Kristi Toliver's eight and Natasha Cloud's six leading the way.
The Mystics also had a season-high 15 offensive rebounds, leading to 15 second chance points.
Washington held Chicago to just 29.7 percent shooting (19-64) from the field, the lowest by a Mystics' opponent this season.
Washington held Chicago's starters to 26 points on 9-31 shooting (.290) from the field. The Mystics' starters recorded 48 points on 18-38 shooting (.474).
Washington had just 14 turnovers, leading to just 10 Chicago points, while forcing 18 Chicago turnovers leading to 28 points.
Kristi Toliver went 7-of-15 from the field, tallying 19 points and eight assists to lead the Mystics in both categories.
Cheyenne Parker (18) and Kahleah Copper (13) each came off the bench to lead the Sky in scoring.