Breland nears a triple-double as Atlanta records a season-high in points to top the Mystics 106-89 in D.C.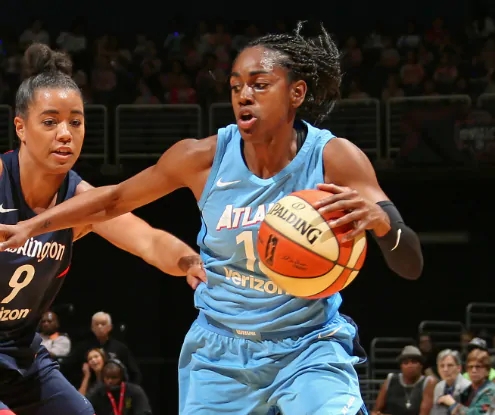 WASHINGTON- The Atlanta Dream spoiled the Washington Mystics' return to Capital One Arena with a 106-89 win in front 11,534 fans on Camp Day Wednesday afternoon.
"When you score 89 points, you should probably win, but when you play defense as badly as we did, you don't give yourself a chance to do that," Washington head coach Mike Thibault said. "That is as bad as I think we have played defensively. Give Atlanta credit – they took a timeout after we got off to a good start, regrouped and they took it to us."
Washington started hot, going 5-of-5 before center LaToya Sanders missed a mid-range jumper. The Mystics had an 18-10 advantage at 5:08 in the first quarter before Dream forward Jessica Breland and starting guard Tiffany Hayes took over with eight apiece to tie the game at 20. Atlanta guard Alex Bentley came off the bench to dish out five first quarter assists and ended the period with a buzzer beater to give her team a 29-27 lead.
Atlanta found hot spots on the perimeter during the second quarter. Breland and Hayes were effective in crowding Mystics star forward Delle Donne and starting guard Kristi Toliver.
"As many sets as they run, they seem to finish with Delle Donne and Toliver," Atlanta head coach Nicki Collen said on the game plan. "We have really good matchups with Breland and [Hayes] with those two and then we switched some to contain [Delle Donne] in the front."
The Dream's successful efforts to silence Washington's duo enabled Atlanta to blow open a 48-36 lead with 4:13 left to go in the second quarter. They held onto their lead after a Washington 5-0 run and went into the half with a 59-50 advantage.
Washington guard Natasha Cloud was the only player for the Mystics in double-digits with ten points. Hayes and Breland tied for 13 points for Atlanta.
Atlanta maintained their steady rhythm from the perimeter in the third quarter. Dream forward Angel McCoughtry dominated the third period, contributing ten points and shutting down Washington's usual points in the paint.
Mystics forward Tianna Hawkins and Delle Donne's efforts helped piece together 20 points during the third quarter. However, Washington shot just 28 percent compared to 58 percent by Atlanta. The Dream entered the fourth quarter with a 14-point lead, 84-70.
Atlanta fought off Washington as the Mystics narrowed their deficit to nine but Breland's two-way game cut down any chances of a home team comeback.
Four of Atlanta's starters earned over 20 points. McCoughtry finished with 24 points while fellow forward Breland finished with the only double-double, claiming 23 points, ten rebounds, and seven assists. She tied for second-highest points with Hayes.
"For [Breland] to almost be at a triple double tonight, that's what I thought I was getting from her when I signed her in the offseason," Collen said. "I think she's capable of being the offensive presence that she was today."
No Washington player broke the 20-point mark. Delle Donne neared a double-double with 16 points and nine rebounds. Cloud contributed 17 points plus four rebounds. Washington's 41 percent shooting and lack of ball movement with just 18 assists limited their chances against Atlanta. Their lack of defense allowed Atlanta to fearlessly press, shoot and decide their offensive schemes to record a season high in points.
"If I could grade ourselves on defense, today was a complete F," Cloud said. "We had our defensive scheme, but we need to take pride in our defense. There is no reason – the last two games our opponents have scored 106 and 97 points. We're scoring the basketball. That's the scary thing. We're scoring the basketball and still losing games. Something has to switch for us as a team. We have to take pride individually and as a team. We need be able to put together consecutive stops, because our offense is there. But our offense can't show if we're not getting stops on the defensive end."
Atlanta pushed their record over the .500 mark at 10-9 with the win over the Mystics, moving into ninth place in the league. Washington falls to 12-8 and drops to fifth place. Both teams are set for Friday night home games. The Mystics host the Chicago Sky and the Dream will take on the Indiana Fever.
This was Atlanta's season high of points at 106, breaking their previous 86 points against Indiana July 1.
It was the first time that Atlanta had four players notching 20+ plus points and 5+ assists, and the first time in a regular-season WNBA game.
Atlanta tallied a franchise-high of 30 assists.
Points in the paint: Dream 44 (22/33), Mystics 24 (12/32)
2nd chance points: Dream 12 (5/6), Mystics 24 (8/15)
Shot charts (Source: wnba.com)