Washington's Delle Donne and Atkins score 25 points apiece for 88-72 win over Chicago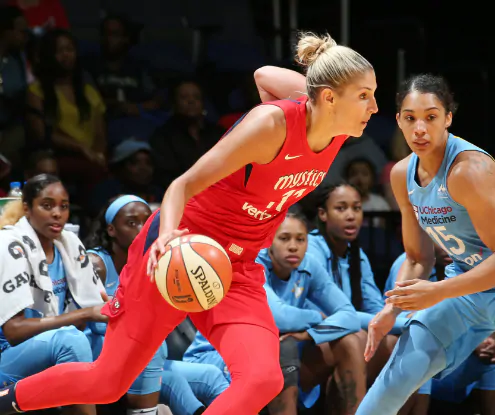 WASHINGTON – The Washington Mystics (13-8) defended Capital One Arena against the Chicago Sky (7-14), defeating them 88-72 in front 5,858 fans Friday evening.
"A win is a win," Washington head coach Mike Thibault said. "I thought that that was really sloppy for that stretch at the end of the third and the first part of the fourth quarter. I thought we had bad offensive possessions. I thought the defense looked a little like it did the other night against Atlanta for a couple minutes. We made mistakes that we're not supposed to make. You know, for 70 percent of the game was really good but I'm trying to find 100 percent of the game right now, on the defensive end."
Both teams started with fluid ball movement. Washington's shooting on the perimeter helped them maneuver around Chicago's backcourt defense led by forward Cheyenne Parker and center Stefanie Dolson. The Mystics went a combined 4-of-9 on threes to begin the game.
Chicago guards Courtney Vandersloot and Allie Quigley worked to keep the Sky's tempo upbeat. Vandersloot's five assists helped her team play catch up after an early six-point deficit. The game was tied game at 25 at the end of the first quarter.
In the second quarter, Washington star forward Elena Delle Donne and rookie guard Ariel Atkins took full control to outscore Chicago 20-8. Washington went into halftime leading 45-33.
The Mystics came out hot on a 11-2 run after the break. However, Chicago's points in the paint and a fresh defensive identity helped them adjust. The Sky's 22-point deficit was cut to eight after guard Diamond DeShields' two transition baskets from Washington turnovers.
The Mystics' five costly turnovers and foul trouble allowed Chicago to gain momentum closing the gap to 65-54 in the third quarter. Dolson scored eight points and grabbed three rebounds for Chicago in the third period. The Sky outscored Washington 21-20 in the third quarter.
"Our defense did a good job of getting stops, but unfortunately, we weren't able to capitalize on all of their stops with a rebound, securing the rebound and pushing on offense." Chicago head coach Amber Stokes said. "The offensive rebounds from Washington were a key factor in the outcome of this game."
Chicago continued to pressure Washington on defense to distract guard Kristi Toliver and close-in on Delle Donne. Atkins became present again for five points, snapping Chicago's late run.
The Mystics took charge in the final quarter to outscore the Sky 23-18. Atkins recorded a career-high of 25 points and seven rebounds. She tied with Delle Donne for points.
"This team allows me to be exactly who I am," Atkins said. "When the night shows up and it's my opportunity it's mine to take. It's different players on different night. That's such a plus."
Quigley scored 17 team-high points and four rebounds for Chicago. Vandersloot dished a team-high of nine assists. Washington defeated Chicago in all three regular season meetings this season.
The Mystics begin a five-game road trip that starts in Atlanta. Chicago continues their visit to the East coast with a road matchup against the New York Liberty. Both teams play July 15.
"We'll see how we do Sunday," Thibault said. "Any win that kicks off a road trip's gotta feel good."
Notes
Ariel Atkins' recorded a career-high 25 points accompanied with seven rebounds and three assists.
Washington totaled 39 total rebounds and 16 offensive rebounds, tying season highs in each category.
Points in the Paint: Mystics: 44 Sky: 22
Fast Break Points: Mystics: 9 Sky: 14
Second Chance Points: Mystics: 15 Sky: 12
Biggest Lead: Mystics: 22 Sky: 3