Washington's midseason homestand showcases LaToya Sanders' growth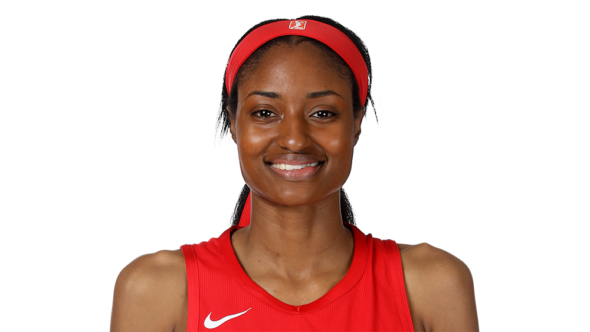 WASHINGTON – Washington Mystics center LaToya Sanders has battled illness, personal woes and a competitive team atmosphere to fight for an opportunity to become an asset to Washington's success.
In the last weeks of June, Sanders received her biggest challenge of the season, fighting for three wins at home against conference rivals and playing the number one team in the league. It was her chance to prove her importance with key wins and seasonal milestones on the line. Sanders hit each team with her best shot, proving her worth to  the Mystics.
The Phoenix Mercury selected Sanders as the 13th overall pick in the 2008 draft. The former North Carolina star's most prominent year was 2015 when she recorded her then-career highs of 17 points, 12 rebounds and six blocks. The Mercury traded Sanders to Washington after that season. Sanders had to integrate herself back into the Mystics system after her overseas stint with Russian pro team UMMC Ekaterinburg before this season.
She was struck with a sudden illness in the middle of training camp causing her to miss the team's first six games. Her absence stunted the Mystics growth. A guard-heavy team was missing a center like Sanders to help manage the backcourt.
Sanders made her season debut in a Mystics rematch contest in Las Vegas June 1. She found eight points and three rebounds in her 19-minute performance. She recorded her first double-double of the season in a loss against the Los Angeles Sparks on June 15 finishing with 12 points and 11 rebounds.
"I'm not even at 100 percent yet," Sanders said on her progress. "It feels good to get back on track but I know I have more work to do."
She's playing her best basketball to date. She had a career-high points performance to open up the three-game homestand with 18 points along eight rebounds against the Connecticut Sun on June 26.
Teams usually attack the Mystics perimeter and star forward Elena Delle Donne. Sanders makes teams pay with tenacity and talent. She gave Washington offense rhythm with an additional four assists and cut Connecticut's possessions short with five defensive rebounds.
Sanders jogged to the middle of the court for a post-game interview following Washington's 92-80 win over the Sun after playing her eighth-straight game of the season.
"I had a lot energy today and I credit that to my mom's pregame meal today," Sanders joked while waving at her mother who fed her smoked chicken, zucchini and broccoli. "Her sole mission was to beef me up."
Sanders sprouted into full strength to become the powerful center Washington needs throughout the game against Connecticut to hold weight to the win, securing the top spot in the Eastern conference.
"I just have to say 'hey, I can play basketball, I can score too,'" Sanders said. "It's not my first option but they gave [opportunities] to me and I'm going to take it. I just try to do anything to keep us aggressive and keep that pressure on teams. Our team is so versatile and we have different people that can score on different nights, so whenever it's your night, you know soak in the moment and just always be ready."
Sanders' showed versatility in the second game of the homestand. She needed to relieve offensive pressure and protect the rim against New York Liberty's dominant forward Tina Charles.
She still contributed despite not having the same scoring-explosive performance against New York like she did versus Connecticut. Mystics guard Shatori Walker-Kimbrough and Delle Donne led the team to give Washington an 80-77 victory.
Sanders' versatility helped them in tough stretches like when New York had an 8-0 run in the second quarter. She became visible where the stats sheets couldn't show. Her long arms and 6-3 stature came in handy, creating Washington's fluid ball movement in times of stagnation and defensive stoppage against Charles and Liberty forward Shavonte Zellous.
She set successful screens for Washington's guards, creating good looks to trouble New York's defensive cohesion. Sanders' biggest play occurred for Delle Donne's game winner. Mystics guard Tierra Ruffin-Pratt assisted the shot as Sanders set the crisp screen to clog up the paint, tricking New York to assume a Kristi Toliver winning go-ahead shot. Sanders finished with eight points, six rebounds and three assists on her own.
The Mystics faced the Phoenix Mercury in the final game of the homestand on June 30. At the time, Phoenix had the best record in the league. The Mercury capped a three-game win streak with an 84-74 win as Mercury center Brittney Griner and forward DeWanna Bonner combined for 47 points.
Sanders still showed up in the loss. Her six points came at times where Washington's momentum teetered. Mystics head coach Mike Thibault split up her 17-minute performance to help refresh the offense and relieve Delle Donne of double and triple teams.
Sanders' cutting layup in the third quarter tied the game at 43 at 8:17 to fluster Phoenix and keep the game competitive. Her steals helped the Mystics manage Phoenix's fiery offense before sitting out in the fourth quarter after the team built momentum with Tianna Hawkins in her place. Sanders finished with six points, four rebounds and an assist.
There is still a half of the season left for the WNBA. Sanders, who has shown growth over the past month, is now becoming one of the dynamic bigs Washington needs. Her development will be an important piece of the Mystics blossoming into the dominant team to fill one of the top four spots to earn a bye in the first round of the playoffs.
"I just try to do anything to keep us aggressive and keep that pressure on teams," Sanders said on taking on roles after the Connecticut game. "Our team is so versatile and we have different people that can score on different nights, so whenever it's your night, you know to soak in the moment and just always be ready."