Elena Delle Donne's superb season in review: "I just want to win a championship"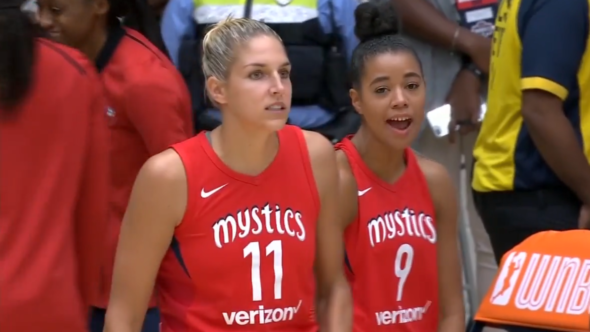 WASHINGTON – Washington Mystics forward Elena Delle Donne had a regular season full of successes while leading her team. She is among the top five in the league in free throw percentage. She tallied five thirty-point games., thirteen twenty-point games, eight double-doubles and a buzzer beater. She averages a team-high 21 points per game and is the league's third-leading scorer behind two other MVP candidates, Seattle forward Breanna Stewart and Dallas center Liz Cambage.
The selfless leadership and spectacular talent of the 2018 All-Star captain continues to keep her among the elite in the WNBA. But, her plan isn't to smash record each year. She simply wants to play the game she loves. This season is Delle Donne's best since 2014 when she was with the Chicago Sky. She comfortably led the Mystics during her second consecutive season with the team. Washington has built a culture led by Delle Donne.
"I just wanted to build a really great culture here," Delle Donne said on her mission for the season. "I feel like we have it all in the locker room and on the court. We've really been able to do that one year."
She grew beyond her standards of a versatile forward.  The progression makes her a top contender as the league's Most Valuable Player.
Washington kicked off the season with a four-game win streak. Delle Donne struggled in the season opener, shooting 27 percent and going 20 percent on three-point shooting. She did not find her footing until the second game where she defended Rookie of the Year contender, Las Vegas Aces forward A'ja Wilson, recording the team-high 23 points in the 75-70 win.
Naturally, Delle Donne had lapses through the season. Her biggest came late May as she battled a stomach flu. She missed three consecutive games, but her leadership was apparent on and off the floor. In Washington's red warm-up suit Delle Donne stood in the center of the pregame huddle talk and chanted with her team. She stopped at nothing to support her teammates.
"I've had a chronic illness for eight years now so I'm kind of used to knowing how to push and knowing when I need to rest," Delle Donne said on her bout of flu and her history of Lyme disease. "I know I have my teammates to fall back on. They're going to be okay until it's time for me to get back on my feet."
Washington went 1-2 without her, missing the long defender and offensive centerpiece. She returned to "100 percent" before a game against Connecticut Sun. It decided the Eastern conference leader at the time. Delle Donne dominated, scoring 36 points and pulling down six rebounds. From there, she didn't look back.
She caught her second wind since the season's midpoint on July 13. She's playing into her strengths as forward and guard. Her duality helps balance attacks in the paint and beyond the arc for a diverse shot selection. She led the Mystics in five of the eight straight wins.
She seemed to gain even more strength after the All-Star break. She raised her shooting percentage, earning back-to-back 30-point games (one against fellow MVP candidate Stewart) plus a 16-point, 10-point rebound double-double to help out on a thin 69-67 win over the Los Angeles Sparks in the final regular season home game at Capital One Arena. She's a big piece of Washington's winning streak as postseason play gets underway.
As a team, Washington is hitting their stride for the postseason. LaToya Sanders has silently emerged as one of the best forwards in the league. Guard Natasha Cloud could easily be crowned as the WNBA's Most Improved Player. Delle Donne's wingman and Washington's sharp shooter guard Kristi Toliver continues to use experience and raw talent to add another weapon.
Season additions like rookie Ariel Atkins plus Aerial Powers, who was acquired through a July 23 trade between the Dallas Wings for former guard Tayler Hill, have become crucial to the Washington's success of using their versatile weapons against teams.
"We've been able to add so much to this court and build a family atmosphere," Delle Donne said on the Mystics' group. "We trust one another and we communicate better on the court."
Washington entered the postseason as the third seed and earned a one-game bye. The time off helped prepare them for the Los Angeles Sparks, who defeated their bitter rival the Minnesota Lynx 75-68 in the first round of the playoffs.
Washington showed no signs of slowing down in their victory over the Sparks Thursday evening. Six players landed in double digits to defeat Los Angeles 96-64, making history as the first team to have all five starters score ten or more points and shoot above 50 percent from the field in the playoffs. The Sparks shot just 34.3 percent for the game, their worst shooting performance of 2018.
Delle Donne led the Mystics with a double-double, finishing with 19 points and 12 rebounds. Sanders and Atkins weren't far behind, earning 14 points apiece. Sanders contributed seven rebounds. Delle Donne credited Sanders for helping lock down the back court.
"She does it all," Delle Donne said. "She always has to defend the best big. She's all over the boards. She's so efficient on offense where players like us, we get high touches and we get to shoot a lot. LaToya doesn't get as many touches, but when she does, she knocks them down and she's super efficient. She's been so big for us this entire season."
Washington's distinctive identity is flowing through their offense and defense. When the five on the floor work in sync, they become unstoppable. Delle Donne's strengths of tough shots and sticky defense has kept her and the Mystics at their best.
The chances of Washington reaching their first-ever WNBA Finals appearance is becoming closer to reality while Delle Donne's role playing and leadership continue to lift Washington higher. The MVP discussion highlights Delle Donne's hard work and distinctive athleticism but the 2015 MVP did not find much to say about it.
"I just want to win a championship," Delle Donne said.
The Mystics now gear up to face No. 2 seed Atlanta Dream in a best-of-five series for a spot in the Finals. The game against the Dream  Sunday at 3 p.m. ET on ESPN 2.