USA to face Australia in World Cup gold medal game after beating Belgium, 93-77: "We are right on that doorstep, knocking"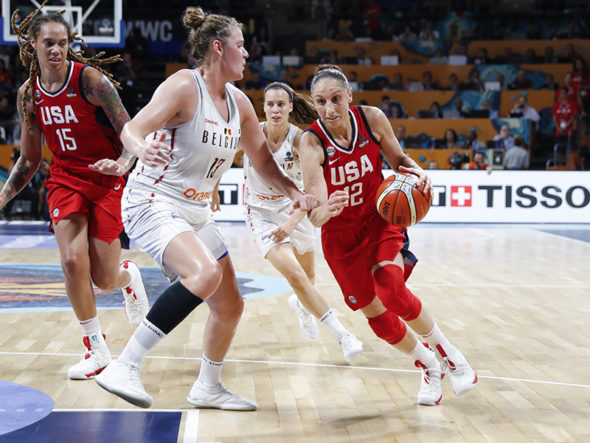 SAN CRISTOBAL DE LA LAGUNA, TENERIFE, SPAIN – "We are right on that doorstep, knocking," Team USA women's basketball captain Sue Bird said of the Americans' goal of winning an historic third consecutive world championship. Her comments came after the United States capitalized on a mid-third-quarter scoring explosion to defeat Belgium, 93-77, on Saturday, and advance to the gold-medal round of the 2018 FIBA Women's Basketball World Cup in Tenerife, Spain.
Belgium shocked the world last year when they finished third in EuroBasket 2017, thereby winning their first-ever trip to the World Cup. They had never before finished atop the podium in major international competition, having gotten no farther than the final round of EuroBasket, Europe's continental qualifier for major international competitions, and they hadn't made it even that far since 2003.
Belgium has continued to surprise here in Tenerife. Their 72-63 defeat of Spain, the European champion and No. 2 team in the world according to FIBA's global ranking system, to take top spot in Group C and earn a bye into the quarterfinals, astonished some to the point of speculation that Spain had decided to lie down in order to switch sides of the bracket, where they would face Australia, rather than the United States, should they make it to the semis. (That's a charge that Spanish coach Lucas Mondelo steadfastly denies, though he joked yesterday that perhaps the extra play-in game Spain had to win in order to get to the quarterfinals had left his team more fit and ready to play than the teams who had won byes.)
Belgium's 86-75 dismantling of Europe's No. 2 team, France, in Friday night's quarterfinal, a game in which the Belgium led start to finish, seemed to surprise even the Belgians themselves. Their bench players flew onto the floor in palpable elation as the final buzzer sounded on their victory, and team leaders Ann Wauters and Emma Meesseman seemed positively giddy from their spots on the dais at the post game press conference.
"Look at us," exclaimed Waters of the historic win. "This is our first time to play in the World Cup, and now we are into the semifinals. I don't know if any team has ever done that before. But look at us – we are here!"
Indeed, they are, and the USA could not afford another slow start if they were to achieve their goal of defending their title as reigning world champs. For one thing, whatever its team might lack in experience on the world stage, Belgium owns the height to battle toe-to-toe with the United States in the paint and on the boards. Anchoring the middle for Team Belgium are the 6-5 Wauters and 6-4 Meesseman, two Belgian bigs with WNBA experience.
The Belgian roster also boasts a strong supporting cast, including point guard Julie Allemand, who tied FIBA's all-time record for assists in a game Friday with 13 in the quarterfinal victory, as well as small forward Hanne Mestdagh, who has been averaging 16 points per game to date in the tournament. Belgium also fields Kyara Linskens, their 6-4 back-up to Wauters at center, who at times plays alongside Wauters at power forward, and Antonia Delaere, a small forward often featured as a member of Belgium's starting five, depending on whether head coach Philip Mestdagh decides to go big or go small with his line up.
Belgium proved that not only is it here, but that it belongs here, as the two teams battled each other evenly throughout the first period, with Belgium reeling off a7-0 spurt to grab a 7-2 lead in the opening minutes, and the United States answering with a 7-0 run of its own to make the score 14-9 advantage, U.S., midway through the segment.
A Julie Vanloo three-pointer tied things up at 14 apiece with 4:26 remaining, and the two teams traded baskets over the next two minutes until another Vanloo trey gave Belgium a 19-16 lead with 2:40 to go in the period. For the U.S., Nneka Ogwumike converted a conventional three-point play in the final 19 seconds, but Meesseman returned the favor once again to close out the opening frame with Belgium once against on top by five points, 26-21.
The difference in the score can be chalked up to superior three-point shooting by the Europeans in the early going, as Belgium landed 10 of its 18 (56 percent) shot attempts from the field in the opening period, but also netted three-of-its seven attempts from beyond the arc as Vanloo knocked down two of her five long-ball attempts and Allemand added another.
Meanwhile, the U.S. found the bottom of the cylinder on a slightly better nine of its 16 attempts from the field (56 percent) in the quarter, but went just one-for-three from long range.
Both teams like to run, and that's exactly what they did as the game entered its second stanza. Jewell Loyd nailed a three-pointer on an assist from Diana Taurasi to get the party started just 30 seconds into the frame.
The U.S. had an immediate opportunity to tie the score when Breanna Stewart picked off a bad pass from Marjorie Carpreaux, but Stewart blew her layup, and Meesseman secured the rebound for Belgium. Still, Taurasi restored the lead for the Americans (27-26) when she nailed a three-pointer on a feed from Kelsey Plum roughly a minute later.
Mestdagh answered with a hook shot seconds later, and roughly a minute afterward, Delaere knocked down a trey to put Belgium back on top, 31-27, less than three minutes in, but Brittney Griner cut it to two with a put-back of her own missed layup, and Elena Delle Donne tied things up at 31 each just inside the six-minute mark. Belgium called a timeout, and from there, the two teams traded buckets and misses, and with them the lead, for much of the rest of the way.
A Delle Donne trey with just under three minutes to go put the Americans back on top, 36-33, with a little less than three minutes remaining, but Mestdagh responded in kind a little more than a minute later. Griner dropped in two from the charity stripe, but Linskens tied things up at 38 with a long two-point jump shot in the waning seconds of the period.
Back-to-back whistles against Vanloo and Linskens caused a robust Belgian cheering section to erupt in boos and catcalls, but Taurasi netted both penalty shots to give the U.S. a 40-38 edge with five seconds to go in the half. Less than two ticks of the clock later, Kelsey Plum was blown for an unsportsmanlike foul, Linskens sank the penalty, and with the final possession had the opportunity to go ahead once again. However, Layshia Clarendon deflected the throw-in, and time ran out on the opening half with the U.S. still clinging to a hair-thin 40-39 lead.
Belgian coach Mestdagh had been more realistic than optimistic at Friday night's press conference. Asked about his expectations for Saturday's match against the United States, he had shrugged as if to indicate that anything might happen, but said that it was more likely that Belgium would be playing for the bronze, not the gold, come Sunday night. Now, in the locker room, down by just one at the half, and with his team in position to pull off another huge upset, he focused on shoring up his team's confidence.
"I had the feeling at times in the first half, they [i.e, the Belgian players] didn't believe in our chances. At certain times, we were not at the level we need to play with the U.S. They needed to believe we could win," and so he encouraged them.
However, when the Americans came out of the locker room with so much energy, as they had repeatedly done over the course of the tournament, Mestdagh said he had to be realistic.
Taurasi opened the third period with a pair of back-to-back three-pointers sandwiching a trey from Kim Mestdagh. Still, Belgium refused to let the USA pull away quite yet, answering with two-point jumpers from Mestdagh and Linskens, but Taurasi put the U.S. back on top, 49-46, with her third triple in less than two minutes after Mestdagh tied things at 46.
Meesseman shaved the U.S. lead to a single point with two free throws, but Stewart found her mark from beyond the arc on an assist from Bird to make it 52-48 for the Americans. Meesseman quickly responded to shave the margin back to two. Both Griner and Tina Charles missed bunnies deep in the key, and Charles picked up her third foul in the scrum for the loose ball, with neither team able to change the scoreboard over the next minute and a half.
Meesseman tied things up once again, 52-52, near the midway point, but Griner immediately knocked in a turnaround jumper on an assist from Jewell Loyd to put the U.S. back on top, 54-52, with 5:10 on the clock. Over the next three minutes, the Americans would hold Belgium scoreless from the field, while mounting a 17-3 run, with most of the American points also coming at the penalty stripe until Loyd drained a trey with an assist from Bird at the 2:12 mark, midway through the U.S. spurt.
In the final minute and change of the quarter, with the U.S. run still under way, Griner dished off to Stewart who knocked down a jumper and Donne picked off a bad pass from Vanloo, Stewart took it in for a layup, on a feed from Loyd.
Carpreaux finally stopped the hemorrhaging for Belgium, sinking a hook shot with 34 seconds to go in the period. By that point, much of the damage had been done, as the score stood at 69-57 in favor of the United States. Stewart responded with a jumper, on an assist from Griner. In the final three seconds, Loyd picked off a bad pass by Carpreaux, and when Vanloo fouled Loyd a second later, dropped in a pair from the charity stripe to give the United States a 73-57 lead heading into the final frame.
"I think we were really pushing it in transition," Stewart said of the Americans' third-quarter explosion. "We knew that without depth, [Belgium was] going to get tired."
USA head coach Dawn Staley agreed that depth made the difference. "I thought we were challenged by a really good Belgian team that didn't want to go away," she said after the game. "I think that they played an incredible game on both sides of the ball. I just thought our depth really allowed us to open the game up over a 40-minute period…. Our challenge was to keep them in front and to try to put a lot of points on the board, because defensively, they truly gave us a run for our money."
A minute into the final quarter, Delle Donne took an assist from Loyd to knock down a long two, but Mestdagh answered with a trey at the other end of the floor. Mestdagh blocked a Tina Charles jumper, but Charles grabbed her own miss and put it back for two points more. Delaere knocked down another trey for Belgium, and Charles responded with a fade-away jumper. Meesseman dropped in a layup, but there would be no Belgian rally, as Taurasi converted a conventional three-point play, and Charles took a dish from Loyd and put up a turnaround jumper to stretch the U.S. lead to 19, 84-65 with 6:31 remaining.
Carpreaux laid one in at the opposite end, but then Bird got into the action, draining a triple on an assist from Stewart to give Team USA a 20-point lead (87-67), its largest of the night, with nearly six minutes to go.
Meesseman knocked down a jumper, followed by two more from Linskens, to shave the deficit to 14 just inside the halfway mark. Though the American shooters were held silent from the floor for the next two minutes, Stewart dropped in two free throws, and Griner stretched the U.S. lead back to 18, with a put-back of her own miss, making the score 89-73, USA, with a little more than four minutes left to play.
Jana Raman responded with a layup a little less than a minute later, but Stewart answered with another put-back.
Staley emptied her bench as time ticked down to two-and-a-half minutes, with the United States atop a 93-75 lead. Both sides were largely silent over the remaining minutes, though the Belgians managed to shave two points of the margin on an Allemand layup in final seconds to set the final score at 93-77, United States.
Taurasi took home player-of-the-game honors after finishing the night with 26 points on 53.8-percent field-goal shooting, including five of her 10 shots from downtown. She iced the cake with three rebounds and three assists.
Asked by a reporter whether Taurasi had been trying to make a name for herself as a clutch player on the world stage, Staley quipped, "If the world doesn't know who Diana Taurasi is, I don't know what rock they have been living under."
Growing more serious, she added, "This is the type of situation which she thrives on. And she delivers, almost always. She has an impact like this on the game. Whether it's shooting the ball the way she did, or distributing. She came up with big plays offensively and defensively, getting deflections and steals. That's what you want a player like Diana to do in these types of situations."
Stewart added 20 points, plus a team-high seven rebounds (tied with Charles), two assists and a steal to the U.S. tally, while Griner chipped in with 16 points, six rebounds, three assists, a block and a steal.
Bird's team-high seven assists in the game pulled her to within a single dime of matching the U.S. World Cup career record of 103 assists. Staley, who happens to hold that record, joked, "She's not playing tomorrow," when a reporter asked Bird how she felt about being on the cusp of breaking her coach's assist record.
"Anytime you can break a record, it's one of those things that I believe, later, when it's all said and done, you're retired, you look back and you have a true appreciation," said Bird. "This one is a little bit different in that it is someone like Dawn who's holding it. We learned from the best, so if the record were to be broken, that would be an honor just to be up there amongst those names. It already is."
Loyd, who is just beginning her career with Team USA, passed out another six assists, to go with eight points, five rebounds and two steals.
As a team, the United States shot 45.7 percent (32-70) from the field, 40 percent (10-25) from beyond the arc, and a perfect 19-for-19 from the free-throw line to set a new World Cup record for the U.S.
The United States is a team known more for its dominance in the paint than for its three-point marksmanship. Asked whether its three-point eruption was part of its game plan or simply a response to what Belgium was doing, Staley opted for the latter.
"I think we take what the defense gives us," said Staley. "We tried to go inside early on, and they would collapse. So once we started moving the ball, it created open shots for Diana, for Sue, for all the players who hit outside shots."
"That was a team in which it was kind of a chess match to see who could outfox one another," Staley added. "I thought our coaching staff did a great job of getting suggestions out there in how we wanted to defend. And from an offensive standpoint, there is no other general in the game like Sue Bird. Sue Bird takes care of the offensive end to make sure we're getting in the right things to make us look good out there on the floor."
Meesseman led Belgium with 23 points, to which she added six rebounds, two assists, a steal and a block. Mestdagh added 12 points and two assists, while Linskens pitched in 10 points, three rebounds, two assists, two steals and three blocks.
Allemand once again proved generous, passing out a game-high 12 assists to go with her eight points.
Wauters, the Belgian great, is 37 years old and likely reaching the tail end of her playing career, logged only a single point in her 4:36 of action. She pointed to a bright future for the Belgian team, however, noting the youth of many of her teammates.
Team USA will face Australia in the gold-medal game at 8 p.m. local time on Sunday, renewing a long rivalry between the two teams. Belgian will face the Spanish hosts at 5:30 p.m. in a battle for the bronze.