Social media recap: 2018 Big 12 Women's Basketball Media Day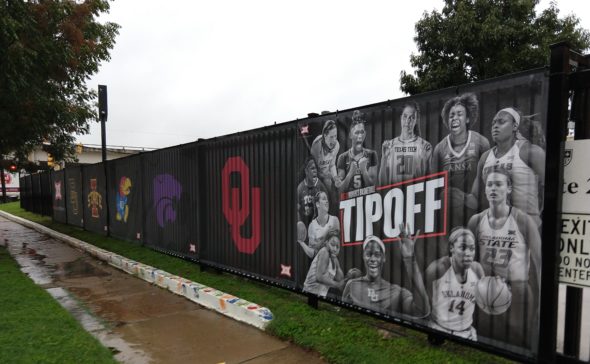 DALLAS – While it was a rainy day in Dallas on Tuesday, inside St. Philips School and Community Center in South Dallas, it was all smiles, giggles and sunshine as the Big 12 held their 2018 women's basketball media day in partnership with the student journalists.
A media team consisting of youngsters from the school's technology class, worked alongside sports writers in conducting interviews, video segments and more to preview the 2018-19 season. The Big 12 is a partner of the school in helping to renovate the St. Philips media center.
Earlier in the week, the conference announced the preseason awards with Baylor topping the preseason poll. Lady Bears senior center Kalani Brown was voted the Preseason Player of the Year.
Below is a social media recap of the fun day at St. Philips.
.@Big12Conference WBB media day on tap at St. Philips School & Community Center in Dallas. The kids will participate in media day conducting interviews and more! Teams will also read to classrooms! Great idea by the Big 12 to get kids involved in the day! #ncaaw pic.twitter.com/L9x1SHjEmy

— Hoopfeed.com ? (@hoopfeed) October 16, 2018
Looking forward to a fun day in Dallas with our friends from the Big 12! #okstate pic.twitter.com/PAYe4W0Reu

— OSU Cowgirl Basketball (@OSUWBB) October 16, 2018
Starting #Big12Tipoff with a little Rock Chalk! pic.twitter.com/J6Vdp4Ck06

— Kansas Women's Bball (@KUWBball) October 16, 2018
.@Big12Conference WBB coaches posing for a group pic as media day begins #ncaaw pic.twitter.com/ojI1kD7MFR

— Hoopfeed.com ? (@hoopfeed) October 16, 2018
We have some new Lady Raider fans from Big 12 Media Day in Dallas! pic.twitter.com/2ZwQYwAtSZ

— Marlene (@Stollings) October 16, 2018
I've had the honor of being an announcer on the TV broadcasts of @Big12Conference WBB games each year since 96-97. Today I'm excited for the return of the pre-season Big 12 Media Day I'll be talking to coaches & players on the Big 12 Podcast https://t.co/yQqnyslvHP @Big12DN

— Brenda VanLengen (@BrendaVanLengen) October 16, 2018
.@BaylorWBB's @KimMulkey on her team this season: "I'm excited about our depth, we didn't have that luxury last year." #ncaaw Baylor's non-conference schedule includes Arizona State, South Dakota State at the South Point Shootout in Vegas, South Carolina, Stanford & UConn! #ncaaw pic.twitter.com/VKhVgFjGS1

— Hoopfeed.com ? (@hoopfeed) October 16, 2018
Baylor WBB's non-conference slate features meetings against UConn, 2017 national champion South Carolina, and two Pac-12 opponents in Stanford and ASU.

Here's HC Kim Mulkey on the rise of the Pac-12 and SEC:#Big12WBB #Big12WBBTipOff pic.twitter.com/DvUF5orZmy

— Alexa Philippou (@alexaphilippou) October 16, 2018
.@CycloneWBB coach Bill Fennelly says his players, Bridget Carleton & Ashley Joens, were really excited to come to media day at a school, especially for the reading in the classroom segment: "We're always telling players 'you can be a role model'…It's fun to be here!" #ncaaw pic.twitter.com/hEkbz1LOqC

— Hoopfeed.com ? (@hoopfeed) October 16, 2018
.@KUWBball's @CoachBrandonKU on his team: Says increased depth "will really give us the opportunity to have a good year. It's been something that has really hurt us the past few years, just the lack of quality depth, something that we've worked hard to fix." #ncaaw pic.twitter.com/2myuH9j7UP

— Hoopfeed.com ? (@hoopfeed) October 16, 2018
.@KStateWBB's non-conference schedule includes Syracuse, DePaul, Princeton, Vanderbilt, Lamar, Little Rock, Arizona State & Northern Iowa. Coach @JeffMittie: "You can tell a lot about a coach & how they feel about their team by how strongly they schedule non-conference." #ncaaw pic.twitter.com/4bxReS58Qu

— Hoopfeed.com ? (@hoopfeed) October 16, 2018
.@OSUWBB coach Jim Littell on sophomore star Braxtin Miller, voted to the Preseason All-Big 12 team: "She's very explosive, we're going to need her to be very good on both ends of the floor….She's going to be called up to score a lot of points for us this year." #ncaaw pic.twitter.com/yvwW0Mff8B

— Hoopfeed.com ? (@hoopfeed) October 16, 2018
.@OU_WBBall coach @SherriCoale on how to face teams that are taller, with big posts. It's not just physical: "I think you have to be flexible….Basketball is game of speed, physical speed yes, but decision-making speed." #ncaaw pic.twitter.com/KmlZT1CYNm

— Hoopfeed.com ? (@hoopfeed) October 16, 2018
.@TCUWbasketball coach @RaeganPebleyTCU on senior Amy Okonkwo's takeways from a @DallasWings internship: "She understands the importance of being a great teammate & taking care of your body, of attention to detail, and what a rookie needs to do & look like." #wnba #ncaaw pic.twitter.com/X25cPPUgHA

— Hoopfeed.com ? (@hoopfeed) October 16, 2018
.@TexasWBB coach @KarenAston on her first-years: "The freshmen quickly gained the respect of the elder players. That's always very telling…it's a reflection of who they are. One of the better classes that I've been around as far as just showing up & being ready to go" #ncaaw pic.twitter.com/Ai9G1U7OcQ

— Hoopfeed.com ? (@hoopfeed) October 16, 2018
New @LadyRaiderWBB coach Marlene @Stollings on the key to rebuilding successfully: "[B]eing able to get your current student-athletes to believe in something bigger & better than they have achieved thus far in their career, individually and collectively as a team…" #ncaaw pic.twitter.com/DmMNHGC024

— Hoopfeed.com ? (@hoopfeed) October 16, 2018
.@WVUWBB coach Mike Carey on team chemistry: "This group of players has done a terrific job, better than last year's team or the year before as far as team chemistry. They all get along, they all hang out. We don't have to make them do it." #ncaaw pic.twitter.com/waZVYtZa18

— Hoopfeed.com ? (@hoopfeed) October 16, 2018
On the @big12conference Podcast, we interview Jaden Hobbs and Braxtin Miller of Oklahoma State #Big12Pod @ Dallas, Texas https://t.co/Ykwcl2JPJu

— Brenda VanLengen (@BrendaVanLengen) October 16, 2018
On the Big 12 Podcast, Ron Thulin and I spoke to Amy Okonkwo and Jordan Moore of @TCUWbasketball about the upcoming season and other fun things#big12pod @ Dallas, Texas https://t.co/0qyNZej7ds

— Brenda VanLengen (@BrendaVanLengen) October 16, 2018
It is always great talking to Sherri Coale of @ou_wbball — listen in to the @big12conference podcast if you want to learn the names and personalities of their 7 new freshman. #big12pod @… https://t.co/ZsIo3dJbcX

— Brenda VanLengen (@BrendaVanLengen) October 16, 2018
Ron Thulin and I caught up with @texaswbb Head Coach Karen Aston on the @big12conference Podcast today at Big 12 Media Day. Listen in as she talks about toughness. #big12pod @ Dallas, Texas https://t.co/USXFBm0PKL

— Brenda VanLengen (@BrendaVanLengen) October 16, 2018
At Big 12 Media Day, Ron Thulin and I interviewed @wvuwbb Coach Mike Carey and Tynice Martin — she's back! A lot of laughs in this session of the @big12conference Podcast @ Dallas, Texas https://t.co/xMCX6yjy1F

— Brenda VanLengen (@BrendaVanLengen) October 16, 2018
For the @big12conference Podcast, Kayla Goth and Rachel Ranke of @KStatewbb stopped by with some good information about their boot camp and their feelings about their pre-season ranking. @… https://t.co/N2qsVmkGIb

— Brenda VanLengen (@BrendaVanLengen) October 16, 2018
High expectations in Lawrence this year as Jessica Washington returns to join the talent and depth established for @kuwbball — Head Coach Brandon Schneider and I discussed on the… https://t.co/TRUMN9lDPx

— Brenda VanLengen (@BrendaVanLengen) October 16, 2018
The St. Phillips School Library was the location of our @big12conference podcast recording today. @ladyraiderwbb Coach Marlene Stollings discussed her plan of action for rebuilding the… https://t.co/m45ufjEJ63

— Brenda VanLengen (@BrendaVanLengen) October 16, 2018
Shoutout to the St. Philips School media team! They worked hard today conducting interviews with players and coaches at @Big12Conference media day! #ncaaw pic.twitter.com/n6xfQHj3Ag

— Hoopfeed.com ? (@hoopfeed) October 16, 2018
One of the highlights of @Big12Conference WBB Media Day was when the kids from St. Philips came around to media tables to ask questions to sports writers. So adorable and a lot of fun! #ncaaw pic.twitter.com/FQHNHpYJup

— Hoopfeed.com ? (@hoopfeed) October 16, 2018
So Big 12 WBB media day is at St. Philip's School, and some of the kids came over to the media workspace and started asking us questions. When I told them that I was a journalist, one kid was like, "that's SO COOL!" and looked so excited it truly melted my heart

— Alexa Philippou (@alexaphilippou) October 16, 2018
Having a great time at the @Big12Conference #WBBTipoff! pic.twitter.com/BttExA4GFw

— TCU Women's Basketball (@TCUWbasketball) October 16, 2018
Always learning… ? & ?#KStateWBB #Big12WBB pic.twitter.com/n77jicAjnH

— K-State Women's Basketball (@KStateWBB) October 16, 2018
Zuri & Brittany started the day off reading to the PK4 class. #Big12WBBTipoff pic.twitter.com/tfdzunPbHY

— Lady Raider Basketball (@LadyRaiderWBB) October 16, 2018
Answering the tough questions from St. Philips students at #Big12Tipoff! pic.twitter.com/XxFdBia0QX

— Kansas Women's Bball (@KUWBball) October 16, 2018
Best interviews of the day! The students at St. Philip's School brought the ? with their amazing questions. pic.twitter.com/bJHZIdRnfb

— TCU Women's Basketball (@TCUWbasketball) October 16, 2018
Fun day thanks @Big12Conference ! pic.twitter.com/bdGsZkWSDb

— Mike Carey (@CoachMikeCarey) October 16, 2018
We loved getting to read to this kindergarten class today at St. Philip's School as part of #Big12WBB Tipoff. #OneMore pic.twitter.com/zh7d8Nw4Yd

— Texas Women's Basketball (@TexasWBB) October 16, 2018
Photo shoot with @Big12Conference social media. #OneMore #Big12WBB pic.twitter.com/ZUG0KFjJT1

— Texas Women's Basketball (@TexasWBB) October 16, 2018
'What happens at conference media days' featuring @TCUWbasketball's @RaeganPebleyTCU and @AOkonkwo43 pic.twitter.com/4yftoyIWdg

— Alexa Philippou (@alexaphilippou) October 16, 2018
We had a great time reading to Ms. Stevens' fourth grade class at St. Philips School & Community Center! pic.twitter.com/vcZoovmRSR

— WVU Women's Basketball (@WVUWBB) October 16, 2018
Learned so much from this incredible fifth-grade class at St. Philip's School! What a thoughtful and inquisitive group. pic.twitter.com/SI9bObZIGM

— TCU Women's Basketball (@TCUWbasketball) October 16, 2018
? | Spending time with our friends at St. Philips School and answering questions about ???? pic.twitter.com/TTWK507cIQ

— Oklahoma Basketball (@OU_WBBall) October 16, 2018
Thank you to the @Big12Conference for an unforgettable day in Dallas! #okstate pic.twitter.com/MD3lgT9Cop

— OSU Cowgirl Basketball (@OSUWBB) October 16, 2018
These guys made @Big12Conference Tip Off complete today ??? pic.twitter.com/KKicfGzD97

— Karen Aston (@CoachKarenA) October 17, 2018