Eight teams get ready to rumble in Las Vegas: 2018 South Point Thanksgiving Shootout overview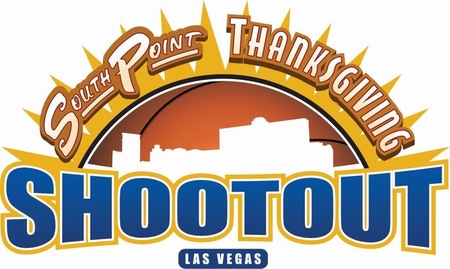 South Point Thanksgiving Shootout, Nov. 23-24, Las Vegas |Tickets | Live Stats | Live Stream
Set in balmy Las Vegas, the fan-favorite South Point Thanksgiving Shootout features a diverse field of teams from mid-major and Power Five conferences. Teams began arriving Monday. Wednesday and Thursday included a full schedule of practices for the eight participating squads. Action kicks off Friday at noon. Several WNBA scouts are expected to attend the tournament.
Day One, Fri., Nov. 23
All games are Pacific Standard Time
12:00 pm – Southern Illinois Salukis (2-2) vs. Hartford Hawks (2-3)
This will be the first-ever meeting between the two teams.
The Salukis finished the 2017-18 season with a 17-14 record and advanced to the Missouri Valley Conference semifinals, where they fell to Drake, 68-59.
Southern Illinois is led by sophomore Abby Brockmeyer, who is averaging a double-double with 12.3 points and 10.5 rebounds per game.
The Hawks went 19-13 a year ago and advanced to the American East Championship game.
Hartford was picked to finish second in the America East Preseason Poll. Hartford senior Lindsey Abed was selected to the American East's Preseason All-Conference team.
2:30 p.m. – Louisville Cardinals (3-0) vs. Arizona State Sun Devils (2-1)
Louisville is 0-2 all-time against Arizona State and both games have been played on neutral courts.
Louisville senior guard Asia Durr is averaging 25.7 points per game through three games, which leads the ACC and ranks fifth in the country.
Last season, Arizona State went 22-13 overall and 10-8 in Pac-12 play. They advanced to the NCAA Tournament as an at-large as a 7-seed.
The Sun Devils return all five starters from last year and have opened the season with a 2-1 record, falling to another South Point Shootout participant Baylor, 65-59, earlier this month.
5:00 p.m. – Georgetown Hoyas (4-1) vs Buffalo Bulls (2-1)
This will be the first meeting between the squads.
The Hoyas enter Friday's game against the Bulls with a 4-1 record on the year as they are coming off a 70-41 victory on Monday night against the Pittsburgh Panthers.
Georgetown has three players averaging double digits as senior Dionna White and graduate student Mikayla Venson lead the team with 14.0 points per game, respectively. Graduate student Dorothy Adomako is third with 13.5 points per game.
The Bulls had a historic 2017-18 campaign which saw them earn a school record 29 victories while collecting a pair of wins in the NCAA Tournament and moving onto the Sweet 16 for the first time in program history.
Buffalo senior guard Cierra Dillard is the MAC East Player of the Week after scoring 32-points against Oregon on Sunday. She is also on the watch lists for the Naismith and Wade Trophy awards.
7:30 p.m. – South Dakota State Jackrabbits (3-1) vs. Baylor Lady Bears (4-0)
The game will be the third meeting between South Dakota State and Baylor. The Lady Bears lead the series 2-0.
Baylor senior center Kalani Brown and junior forward Lauren Cox are on the Wade Trophy and John Wooden Award watch lists.
South Dakota State enters the tournament with three-straight victories with wins over Florida Gulf Coast (Nov. 9), Central Michigan (Nov. 12) and Creighton (Nov. 15).
Jackrabbits senior guard Macy Miller leads the team with 19.5 points per game on 30-of-56 shooting.
Day Two, Sat. Nov. 24
12:00 p.m. – Hartford vs. Louisville
2:30 p.m. – Arizona State vs. Southern Illinois
5:00 p.m. – Buffalo vs. South Dakota State
7:30 p.m. – Baylor vs. Georgetown