Mississippi State raises National Finalist banner before cruising to 110-38 win over Coppin State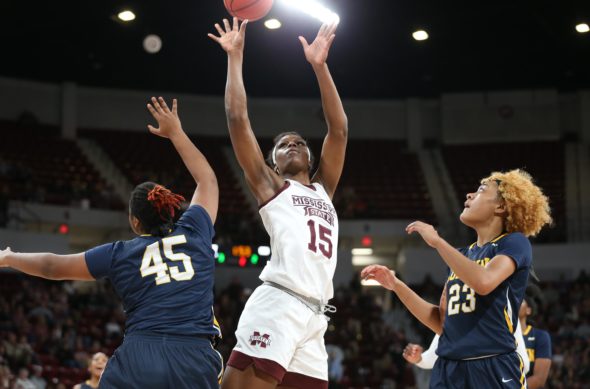 STARKVILLE – Mississippi State (4-0) defeated the Coppin State Lady Eagles (0-4), 110-38, Sunday afternoon at Humphrey Coliseum. Before the game, the Bulldogs honored their 2018 NCAA Tournament stint by raising their National Finalist banner.
"This team is really special, it took everybody doing their job" Schaefer said of last season's squad during the pregame ceremony speech. "During the course of the season, everybody played a big role."
Schaefer's high standard of ball movement, balance and hard-nosed defense became a physical manifestation Sunday.
"We were talking in pregame about standard," Schaefer said. "I was really proud of how we started the game. I've been looking for consistency 'cause we haven't had it. I was pleased with our energy level."
Mississippi State's punch-first mantra helped them to a 41-6 lead in the first quarter. The Bulldogs' shooting percentage skyrocketed to 74 percent in the first quarter, as they capitalized on a fast-paced, efficient offense. A fluid offense led to a season-best 29 assists as Mississippi State shot 63 percent from the field overall. The Bulldogs earned 19 points from fast breaks while 68 points came from inside the paint.
In addition, a strong defensive performance helped the Bulldogs cash in 50 points from Coppin State's 31 turnovers while holding them to 19 percent from the floor.
Senior center Teaira McCowan lived up to the team standard. She notched the team-high of 23 points and six rebounds though her domineering performance landed her in foul trouble. Her successful resume puts her just 42 rebounds behind the school-record of LaToya Thomas' 1,108. This was her tenth-straight game scoring in double figures.
"It's all in the mindset," McCowan said, "What we do here is we play hard, work hard. If you're supposed to beat them by sixty or seventy, you go out there and do that."
Seven Bulldogs scored in double-digits. Freshman center Jessika Carter emerged after McCowan's third foul, Carter finished with 16 points, eight rebounds and five blocks. Sophomore guard Andra Espinoza-Hunter finished with another 16 points and three rebounds after watching the banner rise. She shot 4-of-6 from beyond the arc.
"It was definitely motivating," Espinoza-Hunter said of the banner raising. "Especially seeing that finalist, hopefully this year, knock on wood, we can change that to champions."
Junior forward Chance Graham paced Coppin State with 16 points and 10 rebounds. She was the only Eagles player in double figures.
Mississippi State's set standard is not far fetched to reach abundant success, but it has yet obtained as two national finalist banners hang instead of a championship one. Schaefer works to master full completion of his hustling team, though the full circle of success hasn't quite made its way into Starkville.
"Yeah, it's definitely my motivation," Schaefer said. "It's my ultimate goal. I've been in that last game now two years in a row. I want to win it… I think the biggest thing is, they want to please. They want to be good. That's a really important piece of the puzzle, wanting to be good, that whole mindset of "Hey, I got to get better. I got to develop some toughness. I gotta do what they do around here."
Schaefer will get another chance to apply his standard Wednesday, as Mississippi State takes on Furman for their second matchup of a four-game homestand.
Coppin State's next matchup is a road challenge against Marshall on December 1.