Q&A with Lindsay Whalen: The former WNBA star is ready for her coaching era to begin at alma mater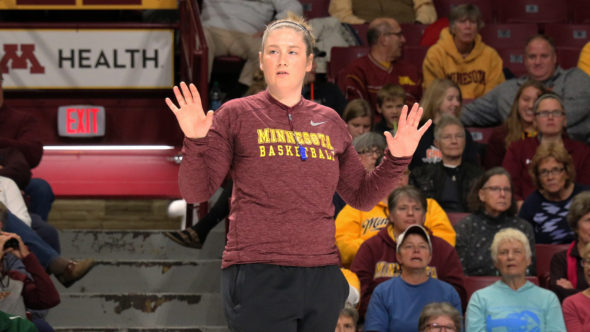 New Hampshire at Minnesota
9 PM ET/8 PM CT

Series: Teams have never met
TV: BTN Plus || Radio 96.7 KFAN Plus
Minnesota picked third by Big Ten media members in preseason rankings.

Gophers projected starters:
No. 3 Destiny Pitts, Soph. G/F
No. 5 Taiye Bello, Jr. F
No. 21 Jasmine Brunson, Jr. G
No. 23 Kenisha Bell, R-Sr. G
N0. 41 Annalese Lamke, Sr. C
A year ago this time Lindsay Whalen was basking in the afterglow of winning her fourth WNBA championship on the same collegiate floor she once starred a couple of decades earlier.  A year later Whalen returns to University of Minnesota' Williams Arena in her first year as the school's head women's basketball coach.
Whalen, hired in April to replace Marlene Stollings, who accepted the Texas Tech head coaching position, is only the second former WNBA player to head a Big Ten program. Penn State's Coquese Washington said during a preseason conference call with reporters, "I thought it was a positive transition from being a player to being a coach.  It helped connect with the players because were in their shoes not that long ago."
Minnesota opens the 2018-19 season November 9 at home against New Hampshire.  It has been a sellout for almost a month.
Hoopfeed.com recently sat down with Whalen, who retired in August after a 15-year pro career, the WNBA's all-time leading winner with over 300 victories with Connecticut and Minnesota, a five-time all-star and four league titles.  She quipped that her corner office in the school's new Athletes Village on the eastern edge of campus resembles a large living room found in a plush condo.
Hoopfeed: You were named head coach in a whirlwind search process that less than a week in April and just days before training camp.  You retired as a player in August and now just days away from your first game ever as a coach at any level.  Have you adjusted to being the new face of Gopher women's basketball?
Whalen: It has taken a little bit of adjusting. When I was in college, you weren't thinking about that kind of stuff.  Your first years in the WNBA you are trying to make it.  Then when you see your career come and go at different stages I think you are prepared for different things.  But I think over the years in the WNBA and on the (U.S.) national team, I understand a little more of my role and my place, so to speak, on sports and women's sports.  I've been able to feel comfortable in that role…more now than when I was younger.
Hoopfeed: Minnesota Athletic Director Mark Coyle said he causally discussed with you over a year ago about your post-playing plans.  Was that when the idea of coaching first came to mind?
Whalen: I thought about it at times.  I couldn't say I wanted to be a coach, broadcaster or something – I knew I wanted to do something in sport.  When the opportunity came and presented itself, then it was a no-brainer after that.
Hoopfeed: "The Barn" on November 9 will be a madhouse and media frenzy.  Instead of 'Here's Johnny', it will be 'Here's Lindsay.'   Are you ready for opening night?
Whalen: I'm the head coach of the program.  But it's always what's best for the players.  I'm glad everyone is coming but I want people to come see my players, and not just me.  It's their time now.
Hoopfeed: The Gophers reached the NCAA tournament second round last spring.  A month later, they have a new coach.  Since you didn't recruit them, will some say you are coaching another coach's players?
Whalen: I can't remember who told me that but it's true:  the first good advice I was given is that when you take that program over, they are your players.  You might not brought them here or recruited them but they're your team.  That's your squad.
[Note:  At the time of our interview junior guard Gadiva Hubbard had not undergone foot surgery. She is out indefinitely. The 5-9 player along with senior Kenisha Bell and sophomore Destiny Pitts were expected to handle the bulk of the team's scoring this season.].
Hoopfeed:  Let's then talk about your players.
Whalen: I am still learning what is going to work for our team.  I think we have tremendous talented perimeter players, and we have some who are really dynamic and can do some things.
Hoopfeed: In what way?
Whalen: (Junior) Jasmine Brunson and Kenisha Bell are two of the quickest players I ever been around.  To me not having them on the ball using their pressure – that's the strength of our team.  I think we can be real successful with that – pressing the ball and being active.
Hoopfeed: The 5-9 Bell perhaps is the Big Ten's quickest if not one of the quickest guards in college basketball.
Whalen:  I think she can play at the next level.  Her mid-range (shot) is great.  I want to see her shoot more threes.  She's got a nice shot.
Hoopfeed:  Will moving Bell to play both the 1 and the 2 help in this regard?
Whalen: I think she will be able to do both.  She will have to.
Hoopfeed:  And Pitts, the unanimous Big Ten Freshman of the Year, and second-team all-Big Ten?
Whalen: She wants to improve on what she did last year.  She will be a huge focus this year.  I want her to get comfortable coming off pick-and-rolls, handling the ball.  I also want her to take a step on the defensive end, and she wants to.  (The Gophers) didn't play man-to-man last year so it's working on those principles, discipline and fundamentals of the defense.  I think she can be more like me as a defender – I looked at angles and more at denying. She got physicality at the '3' position.
Hoopfeed: And handing the starting point guard duties to Brunson?
Whalen:  She maybe is our best defender.  I have so much trust and faith in her.  She can calm us down…it's doing it more consistently. (She) has to work on her consistency, her efficiency.  I want to see her game take another level, and as for knocking down that 15-foot jumper, finishing in the paint and knocking down more free throws.
Hoopfeed: 6-2 junior Taiye Bello and 6-3 senior Annalese Lamke are the two experienced front line players  —  the former played in all 33 games last season and was fourth in offensive rebounds (121), and posted the eighth best shooting percentage (.576) in school history, and the latter played in 17 games, averaging 14 minutes.
Whalen: These two will be our front line.  I think rebounding will be huge for us, and figuring out ways to use our quickness and our strengths.
Hoopfeed: What do you want your Gopher teams to be primarily known as?
Whalen: I want us to be tough.  If we get hit, we are coming back.  If we get down, we are still coming back.
Hoopfeed: What have you seen thus far from her players that makes you smile?
Whalen:  When we learn something (new), you see them really play with a lot of confidence.  They respond positively in tough spots during practice and scrimmages.
Hoopfeed: You played for several great coaches throughout your playing career. What little or big things you picked up that you immediately incorporated into your beginning coaching philosophy?
Whalen: I think (from) Cheryl (Reeve, Minnesota Lynx coach) organization and her preparation, and how much she invests in her players. Coach (Mike) Thibault (her coach in Connecticut) on how to be a pro and take care of your body, and how to approach the game. Discipline and defense from Pam Borton (her coach in her final two seasons in college). Geno (Auriemma, her USA coach) was always so positive.  He ended every practice session and every shoot around positively. We left every session feeling like we were the best team (and) prepared like we were the best team.
Hoopfeed: You are relatively still fresh from being a player.  Gotten used to being called 'Coach'?
Whalen: I love to compete. Honestly I was a very good player but I made a lot of mistakes. I was good…but I made a lot of mistakes.   ere were a lot of times when I know I wasn't doing the right things on the court.
I don't know it all and never will. I come at it knowing that no one ever showed up here (not wanting to do well). Everybody wants to hit the shot, make the assist, get the rebound, and make a good play for a teammate.
played against (Lisa) Bluder at Iowa and played for (Maryland's) Brenda (Frese when she coached her in her sophomore year in Minnesota). We have so many legends in the conference. I will compete and learn from them.  I am looking forward to it a lot.