Rutgers coach C. Vivian Stringer on the cusp of 1,000 wins: "I just love the game"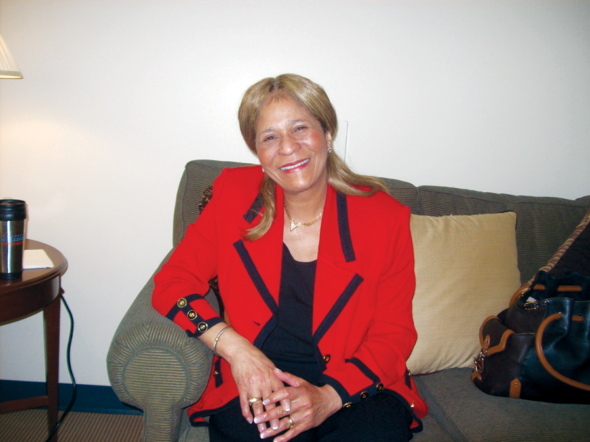 Rutgers head coach C. Vivian Stringer exclaimed during a late October Big Ten media call that she wanted to win her thousandth game as soon as possible.
"I want to get it done as I have a lot of family members that are coming from all areas of the country and I don't want them to come up here for nothing, and they can't get their money back for the ticket," she bemoaned.
Stringer said Monday on a teleconference, on the eve of possible notching her place on the elite 1,000 women's basketball career victory club that last Friday's 61-47 win over Stony Brook, her 999th career victory was more nerve wracking for her than Tuesday's upcoming home contest verses Central Connecticut State.
"I was so nervous about that second game" of the season last week, Stringer admitted.  "I don't want people to be disappointed."
She has a storied career that started in 1971. It includes three Final Fours at three different schools and two times as a national championship runner-up. Her career began at Cheyney State University just outside Philadelphia, the same city that also produced Dawn Staley and former colleague John Chaney – all three are in the Hall of Fame.
Stringer, who is not accustomed to giving sound-byte answers, was pensive about her career path on Monday's teleconference that lasted a half hour or so. She is as fired up and competitive now as she was when she began coaching decades ago.
"I've gotten the chance to coach pre-Title IX," Stringer recalled.  "I knew at a very early stage in my life that it wasn't just basketball" but to teach her players how to be successful off the court when their playing days were over as well, she stressed.
She reflected on her soon-to-be reached latest milestone and where it stands on her legendary status sheet such as in 2013 when she became one of five current active women's coaches to win 900 games.
"Wow, that was a lot of games," she said about reaching 900.
"It doesn't cement anything but that I've been blessed that people have trusted me and given me and my staff a chance (to coach)," she noted.
"I really appreciate people that appreciate the love that I have, and let me love this game as I have, and provided me this great opportunity. It started off with my husband, who was my number one fan; the great administrators and the players who believed in me. I am just happy and grateful that I had the opportunity, and the opportunity to continue somehow to shape the lives of these young women in this exciting age that we are in right now."
She tried to recall her very first win.
"I can't honestly say I can remember" she said.  "I just remember being happy.  "Who would know that I'd have the occasion to count that win among the many others I would have in the future.  It was a lot of games."  Rather she looked forward to the next practice "because I always wanted to look at the tape, make corrections…and they would be better the next time." Her teams at Cheyney (1972-1983) "were just driven to compete," she recalled.
Her mentors?  Stringer quickly pointed to her late husband, who died in 1993 midway through the season in which she guided Iowa to the Final Four.
"My husband (was) my biggest fan," she said proudly.  "He always made me feel I could do anything.  He would brag about me. Also ranked high is Chaney, Theresa Grentz, Cathy Rush, and Chuck Daly among many "great people" she credits for her success, and notwithstanding the countless players she coached in nearly a half-century of seasons.
"I just love the game and I loved talking the game," she remembers her regular talks with Chaney, who coached at Cheyney before he took over at Temple.  He was a "technical mentor" for her. "Me and coach Chaney would get into these heavy conversations. I wanted to be different than anyone have ever seen. We may be talking a half hour, 45 minutes on the floor before practice because he and I were doing x's and o's, challenging each other."
"I spent a lot of time studying the game, and spending time being around my colleagues," Stringer reiterated. "What I love about this game…you can find a way to overcome things that you might be fearful of trying due to the competition. I think this game teaches you ways how to be humble, how to be appreciative, how to be respectful of others…to do your best, and this is what you do if you lose. I have been able to teach a lot of life lessons."
"My mom and dad taught me years ago that nothing happens by accident. I have nothing but respect for people who accomplish things because I know what it is to do that," she said proudly. "None of us are creators of the game. We all may have a different twist and have different levels of athletes."
As she strives for 1,000 wins, she has a fan in the elite club that wishes her well. Stanford head coach Tara VanDerveer, who earned 1,000 wins in February 2017, joked when asked about Stringer's looming milestone Sunday afternoon, "It's a great club, come on in."
"Vivian is friend of mine and a colleague, an outstanding person, outstanding coach, someone that I'm really happy for and you know," said VanDerveer. "It'll be great. It'll happen for her. She's been at the game a long time, just loves the game of basketball and imparts that to her players."
Rutgers (2-0) hosts Central Connecticut State (0-2), Tuesday, 7 p.m. Eastern time.  The game will air on BTN and will be streamed on BTN2Go.
Notes
Rutgers head coach Stringer has compiled a 999-402 career record entering her the 48th season of coaching and is one win away from joining the elite 1,000 career victory club in women's basketball.
In 2013, Stringer became just the seventh coach – men's or women's – to reach the 900-win mark.
Stringer's 35 20-win seasons are second-best in women's basketball history. Former Tennessee head coach Pat Summit leads all coaches with 36 20-win seasons.
Stringer is the fifth active winningest Division I coach and sixth all-time in career wins in NCAA women's basketball history.
With a 75-51 victory over Tulane in the first game of the Paradise Jam over Thanksgiving weekend in 2015, C. Vivian Stringer became Rutgers' all-time leader in basketball victories – men or women.
Stringer was at the helm of the Iowa Hawkeye program from 1983-95 and holds the record for most Big Ten victories in conference history with 199 wins in league play. She won 169 games while at Iowa and 30 at Rutgers.