Mississippi State's West Coast trip includes a top ten matchup against Oregon; Graves "We're going to have to be really dialed in"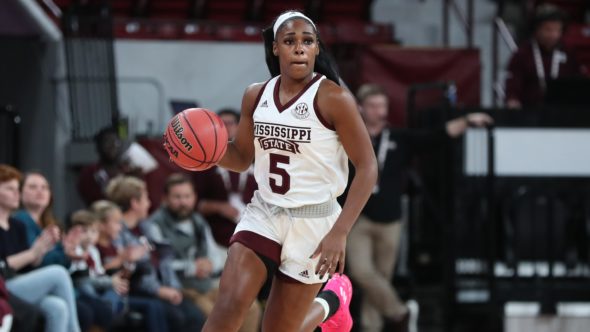 As Mississippi State travels to Oregon for one piece of their West Coast road trip, Oregon looks to stay ahead against one of the nation's best. This is their third matchup and ultimately, the same skills will be put to the test for the timely top ten matchup Tuesday night.
"I think any time you play Mississippi State, they test your toughness," Graves said. " They come at you for 40 minutes. Plus, you're getting a team that's defensively always on point. They make you work for everything you get and that's not easy to play. We're going to have to be really dialed in on both ends of the floor."
The last live look of the Oregon – Mississippi State matchup came December 9 2017. Mississippi State took off in the second half for a 90-79 over then No. 9 Oregon. Teaira McCowan had her breakout game of her season with 35 points and 19 rebounds.
Both teams have a high-caliber performances on both ends of the floor. Oregon has the highest rankings in the Pac 12 at seven while Mississippi State leads the SEC at number five. Oregon's center Sabrina Ionescu and Mississippi State's Teaira McCowan are two of the nation's top-50 scorers. McCowan stands at a three-way tie with the most double-doubles this season at eight and Ionescu is tied for first in the nation with two triple-doubles.
A tenth of a point separates Oregon from Mississippi State as the nation's leading points per game at 92.4. Teams have more success against the Ducks with 63 points compared to the Bulldogs' 50 points they allow. Mississippi State leads the nation in blocks and assist-turnover ratio.
The top ten matchup is a test of sticking to your guns instead of creating new identities for the opposing teams. Identity, each team's goals of the season, is emerging. This is will the perfect opportunity to see where they stand on their journey to solidifying identity.
"We're the best shooting team in the country, percentages back that up," Graves said. "That's what we've got to do. We're not going to reinvent ourselves against these guys. We've got to spread the floor, use screens well and knock down shots for high percentage shots."
Oregon dusted themselves after Michigan State stunned them with a 88-82 loss. They got back on track with a 87-79 win over South Dakota State December 12, behind Satou Sabally's 27 points while she grabbed six boards.
Ionescu's wasn't far behind with 26 points and eight rebounds. Graves sees this opportunity as a barometer of team toughness and consistency.
Oregon's Ionescu, Ruthy Hebard, Sabally create a three-way threat for teams but Ionescu and Hebard have their own rhythm for their third year together. Their success at the pick-and-roll helps with offensive spacing to create the best looks.
"I think it's a modern day Stockton-Malone," Graves said. They're so good in the pick-and-roll and they read each other so well. I think that's the key to their game. They just play off each other so well."
Sabally is crafting her own narrative. The sophomore guard using her 6'4 height to her advantage at the perimeter while Ionescu locks down the paint. Her two-way play has become crucial to Oregon maintaining their offense as her improvements draw defenders to her and away from Ionescu and Hebard.
Her versatility isn't consistent yet, but her appearances in Oregon's wins are notable in taking her team to the next level. Sabally's best game came in the win over South Dakota State. Her 27 points, going 4-of-7 from three-point range, showed bright spots in her career-high game.
"She's become our x-factor," Graves said. "When she's on and she's aggressive and can attack the basket, it gives us a whole new dynamic- a dynamic that not a lot of teams have. I think she really is the key to what we do and how far we're going to go ultimately."
The Bulldogs are coming off a 86-42 win against in-state foe Southern Miss. All starters scored double digits points. Graduate transfer forward Anriel Howard led with 16 points and seven rebounds. Howard has become the difference for Mississippi State.
Mississippi State is forcing teams to pick their poison. Showing no signs of slowing down, McCowan's senior season has been her best yet. She's averaging a double-double of 18 points and 13 rebounds this season.
McCowan's height and efficiency is a no-brainer to the Bulldogs' success. If not McCowan, a tough, driving offense looks to attack in the paint, a big part of Mississippi State's high functioning offense. McCowan leads the SEC in rebounding, field goal percentages and (of course) blocked shots.
Howard's best all-around game was against No. 18 Marquette. Mississippi State walked the tight-rope in the contest as Howard's 29 points,12 rebounds and three steals was the difference marker in the 87-82 win.
Her veteran leadership and versatility have become critical as the team works on being cohesive. Howard averages 15 points and eight rebounds. Senior guard Jazzmun Holmes has one of the best turnover ratios in the league at 49:9.
"I think the chemistry is definitely building," Howard said after the Southern Miss matchup. "Day by day, I'm learning more about the personnel on the court and even off the court."
Oregon and Mississippi State's game is set for 7 p.m. P.S.T. and will be broadcasted on ESPN2 Tuesday night. Mississippi State will continue their West Coast road trip with a stop at to the Hec Edmundson Pavilion for a duel with the Washington Huskies.
The two teams last met in the 2016 NCAA Tournament to advance to the Elite Eight. Mississippi State got the best of Washington, winning 75-64. Oregon will continue their homestand against Air Force Thursday night.