Alanna Smith has a career day and Stanford's Tara VanDerveer hits another career milestone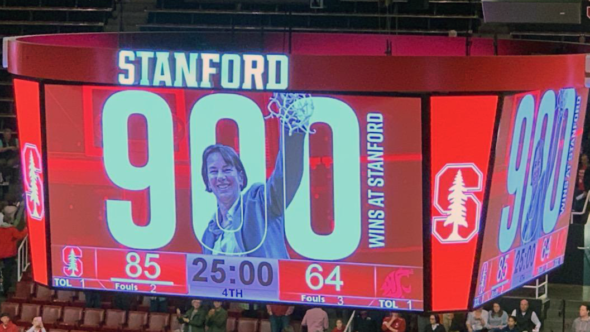 STANFORD, Calf – Hall of Fame basketball coach Tara VanDerveer reached a lofty milestone of 900 wins on the Stanford bench Sunday afternoon with an 85-64 defeat of the Washington State Cougars (7-11, 2-5 Pac-12). Stanford (16-1, 6-0) remains undefeated all-time against the Cougars with a 64-0 streak that includes winning the last 20 of 21 games by double digits.
The win came with a great deal of assistance from Australian senior forward Alanna Smith who earned a career-high 34 points and pulled down 15 rebounds. In addition, the game marked the program's first-ever Human Trafficking Awareness Game which Smith organized.
"I didn't plan to have it on this day just, I was just hoping to do it at some point in this season," Smith said. "But to have a big crowd and to win a huge game and to play well, it means a lot. I'm not just about basketball and that's our whole team too. Our whole team is really caring and we love to give back, and as athletes that's something I think is really important to do. I'm really happy this day kind of came together."
Smith took a class on the issue earlier in the school year, and had a chance encounter with Stanford PA announcer, Betty Ann Hagenau, who discussed the topic as a guest speaker in the class. Hagenau, a founder of the Bay Area Anti-Trafficking Coalition, collaborated with Smith to make Sunday's event come to fruition.
VanDerveer was not only impressed with her basketball pupil's career game  on the court but also her humanitarian work off the court.
"That's kind of Alanna as a quintessential Stanford student," VanDerveer said. "She's not just about basketball, she's not just about academics, she's into her studies and I think it's a great statement that she cares about more than just dribbling and shooting. And all of our team does. I think the Stanford athletes as a whole are very caring and passionate people. I know Alanna liked to be able to bring human trafficking to this kind of platform to be able to say, `Hey, it's not OK and we've got to do something about it."
VanDerveer, never one to make things about her, was amazed how fast the time seemed to have gone by in her career culminating in a staggering amount of victories.
"I never thought about it. It's a little mind-boggling just to think how quickly it's gone," VanDerveer said. "I just want to enjoy the day today, with our team with Alanna having a great performance."
She joins an elite group of coaches who have reached 900 wins with one team: Former Tennessee coach, the late Pat Summitt; UConn coach Geno Auriemma, Duke men's coach Mike Krzyzewski and Syracuse men's coach Jim Boeheim. VanDerveer reach the overall career milestone of 1,000 wins three years ago. Her overall record is now 1,052-243.
California head coach Lindsay Gottlieb expressed awe at VanDerveer reaching another career mark.
"How much more incredible could her career get," exclaimed Gottlieb who spoke after her team defeated Washington Sunday afternoon.
"It speaks to the commitment that that administration made to bring her there and then keep her there and continuing to value her," Gottlieb said. "I've been so impressed with the job she does. She always has good players, but whether she's had the best player in the country or not with an Ogwumike, they do the right thing. They play well and I think it's something for all of us to admire you know and to also take on the challenge of competing against them."
Although it appears that Smith did everything on game day, with the double-double, four three-pointers, three assists, two blocked shots, and a steal, her teammates did chip in to the party.
Sophomore guard Kiana Williams, had 19 points and three assists, while junior guard DiJonai Carrington, offered 11 points, four rebounds and three assists.
The Cougars had three players in double figures.
Junior guard Chanelle Molina earned 18 points, seven rebounds and six assists. Senior guard, Alexys Swedlund put in 12 points, while redshirt-junior Borislava Hristova dropped 11 points and gathered seven rebounds.
The Cardinal travel to the Centennial State next, taking on Colorado, Fri., Jan. 25.  Washington State returns home to host Oregon on the same day.