Mississippi State's Australian phenom Chloe Bibby breaks loose to give her team edge over Georgia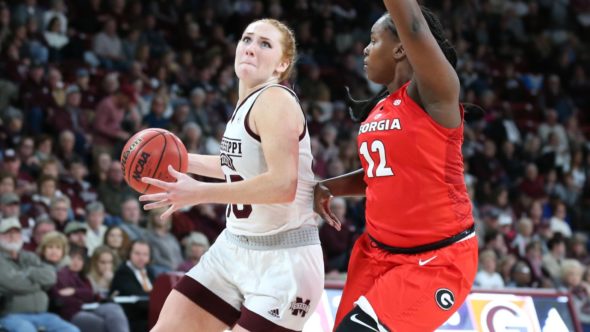 STARKVILLE, Miss – They say it's a dog eat dog world and the Mississippi State Bulldogs (15-1) bested the Georgia Bulldogs (11-5), fetching an 80-71 win in the Humphrey Coliseum Thursday night.
"Boy, Georgia's really good," Mississippi State head coach Vic Schaefer said postgame. "Wasn't our best night. They came in here and they didn't flinch but when it got done to crunch time for us, we didn't blink either."
Mississippi State displayed grit in the win after Georgia took over in the second half. The visitors went 13-of-17 to outscore Mississippi State 24-17 in the third quarter. They erased a 14-point deficit to rally for a late 68-65 advantage with 7:26 left in the game but gave up a late 11-0 Mississippi State run that squandered a chance at an upset.
Georgia senior forward Caliyah Robinson notched a team high of 26 points while junior guard Taja Cole had 16 points and six assists. Sophomore center Jenna Staiti's important role of stagnating Mississippi State center Teaira McCowan was not fruitful for a portion of the game and the Staiti earned just five points and five blocks.
"I just think we went cold," Georgia head coach Joni Taylor said. "I don't know if they were bad shots, just quick shots. We had good looks but they just didn't fall and to their credit they go down and attack us for and-1s."
Teamwork came in handy for a 11-0 run to close out the win, but sophomore forward Chloe Bibby got the biggest bite out of Georgia. Bibby earned a career-high of 24 points and two steals, going 4-of-6 from deep, for a breakout game.
Bibby usually gives Mississippi State momentum defensively, keeping guards and forwards away from offensive schemes. Her impact began early as she scored the first eight points for Mississippi State.
Bibby smothered her opponent was a momentum starter and getting it done on both sides of the ball effortlessly, using quick windows to her advantage. Mississippi State led Georgia 42-33 at halftime as Bibby led all scorers with 17 points.
"Chloe started on a house of fire," Schaefer said complimenting the Australian phenom. "She made some big shots early and got us going."
Bibby proved her shooting skills will be her biggest weapon while McCowan and graduate transfer forward Anriel Howard handled the frontcourt. Howard scored 18 points while limited to just four rebounds. She also collected three assists and four steals. McCowan ended with her 52nd career double double of 21 points and 18 rebounds. Bibby has scored double figured points in 13 of 16 games this season. She's raised her shooting percentage from 37 to 48 percent and took her 3.9 points per game to 12.
"We had four seniors leave and I had to step up," Bibby said. "Coach Marci [Hopps] has really helped out a lot all that condition and practicing we go through in the summer helped. My teammates have been helping me and I was able to make that transition."
At 6-1, Bibby continues to make notable changes for whichever role she serves. She's shown her knack for doing what needs to be done, either putting Mississippi State in front with her three-point shooting or stacking the tall defense and defending the glass.
Bibby finished 1-of-7 against Kentucky on Jan. 6 (still cashing in 18 points) and improved to 4-of-6 beyond the arc against Georgia on her way to her goal of becoming a prominent weapon in Schaefer's artillery.
The problem isn't getting Bibby to work or produce, it's putting her in places where she'll shine and become consistent rhythm with teammates. It's the best-case scenario for Bibby as she finds her place each game. Her next chance to showcase the shot will be against the Auburn Tigers at Auburn Arena Monday night.
"I still need to be more consistent," Bibby said. "I just gotta get to the gym and try to get off those game shots. My teammates helped with the confidence piece and now I just gotta keep that going."