Fans enjoy rivalry antics and nods to history as Mississippi State routs Ole Miss, 80-49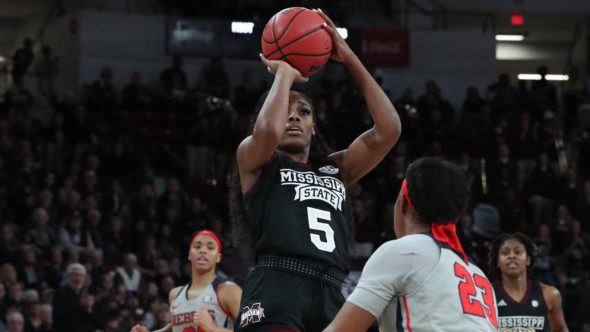 STARKVILLE, Miss – The Mississippi State Bulldogs (19-1, 7-0 SEC) defeated archrival Ole Miss Rebels 80-49 Sunday, improving to 7-0 in the SEC. The in-state foes battled for the 96th meeting in history. The contest included classic bantering.  
Bully the Bulldog brought out the Egg Bowl football trophy, which Mississippi State won over Ole Miss 35-3 on Thanksgiving. The Famous Maroon Band performed "Baby Shark" to mock Ole Miss' Landshark on-field mascot. The rivalry antics entertained the 10,337 fans in attendance, the fourth largest in Humphrey Coliseum history.
The all-state affair started with honoring the roots of Mississippi. Students of Standing Pine Elementary, a school near Carthage under the Mississippi Band of Choctaw Indians Tribal Charter, performed the national anthem in native Choctaw, the first language of Mississippi.
"It was really nice," Glenda Bell, chaperone of the students and graduate, said. She graduated from Mississippi State Meridian campus in 2016. "It's my first time ever coming here. [Mississippi State and Ole Miss] brings everybody closer. I think it's fair enough to say they're bringing all the people together."
After the anthem, Mississippi State started the game shooting 53 percent from the floor. The Bulldogs got work in the paint early with 14 points, leading Ole Miss 18-10 in the first quarter.
Defense ballooned in the second quarter for Mississippi State. Perimeter guards performed a full court press which put Ole Miss (8-13, 2-5 SEC) at a standstill. It brought life into the Bulldog offense helping outscore Ole Miss 25-12, opening a 14-0 run to lead 43-22 at halftime.
Teetering momentum helped Ole Miss zero in on Mississippi State's weak spots. Mississippi State's shooting percentages tumbled while Ole Miss' benched became involved with fresh energy. Ole Miss came close trailing Mississippi State 34-30 in the second half, but the comfortable first half dominance helped Mississippi State cruise to an 80-49 win.
Four starting Bulldogs landed in double-digits. Senior center Teaira McCowan and grad student forward Anriel Howard recorded double-doubles in the win. McCowan's 33 points and 13 rebounds were team highs in both categories while Howard earned 16 points and 11 rebounds. The two complement each other on the court. Schaefer called it a special time to have both in Mississippi State jerseys.
"Before I got here, I noticed she was getting better," Howard said of McCowan.  "I know coming here we'd compete for the boards and that's good for us because we want to compete. Her game has grown even since I've been here."
McCowan's all-around game anchored Mississippi State with combinations of turn-around jumpers, defense, and holding Rebel senior forward La'Karis Salter to 5-of-15 on field goals. Her performance limited Ole Miss' points in the paint to 14. In addition, McCowan was near perfect from the line, making 11-of-12 of free throws.
"T's got a beautiful shot," Schaefer said. "Today you saw her lifting, extending, and squaring up, but her free throws have really improved."
Guards Jazzmun Holmes and senior Jordan Danberry were two important components of the second quarter run. Both combined for 13 of the 15 recorded assists of the game.
Ole Miss' bench contributed 32 points in the loss. Junior guard Shannon Dozier came off the bench for 15 points and three rebounds.
Former Mississippi State forward Salter scored 14 points with four rebounds in her first return to MSU.
Ole Miss head coach Yolett McPhee-McCuin enjoyed her first installment of the rivalry as Ole Miss' head coach.
"I think they do a great job here," McPhee-McCuin said. "I remember when Vic got the job and I remember who was in the stands when he was there, and to see it now is incredible. Hopefully when we turn the program around, which I'm 100 percent sure we'll do, we will have the same environment in Oxford and how great it'd be great not only for the rivalry, but for women's basketball."
Ole Miss travels back to the Pavilion to host Auburn January 31 and Texas A&M February 3. Mississippi State will hit the road for two conference games against the LSU Tigers and the Alabama Crimson Tide before returning home for another Sunday afternoon showdown against the Tennessee Volunteers.