Led by McCowan and without Bibby, Mississippi State prevails in latest round of rivalry vs. South Carolina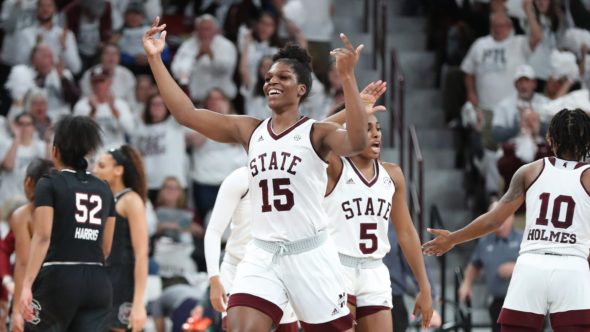 STARKVILLE – The Mississippi State Bulldogs (17-1, 5-0 SEC) hosted South Carolina Gamecocks (12-5, 4-1) in front of a sellout crowd Thursday night and earned an 89-74 victory. For the Bulldogs, it was a bittersweet victory as head coach Vic Schaefer announced the day after the game that sophomore forward Chloe Bibby will miss the remainder of the season after sustaining a left knee injury in the game.
With the first quarter underway, Bibby started in her usual spot. With just 35 seconds into the game, she twisted her left knee which sent her to the ground. Schaefer called on sophomore guard Bre'Amber Scott to replace her.
"Chloe has worked so hard to be where she is today," Schaefer said. "My heart is broken for her. If I know Chloe, she will come back bigger, faster and stronger than ever before and will be tireless in her pursuit of excellence."
She played in 18 games this season and went into the contest as MSU's fourth-leading scorer, averaging 12.6 points per game. She led the squad with 36 three-pointers, making 45 percent of her shots from beyond the arc.
During the game, senior guard Jordan Danberry sunk the first six points for the Bulldogs. Her impact only grew while incorporating Scott into the lineup early on. Scott had nine first half points and two rebounds.
South Carolina responded in the second quarter with big threes and an aggressive defense to lead 36-30 on a 11-0 run. Senior guard Teaira McCowan found her usual tempo to lead all scorers before the break with 15 points after fueling Mississippi State's 48-43 halftime lead.
"She's been real interesting the last two ball games." Schaefer said of McCowan. "She's been very focused on technique, determined and I thought her teammates found her."
South Carolina turned the tables in the third quarter, outscoring Mississippi State 21-17. Schaefer's peculiar choice of zone defense matched South Carolina's intensity from the perimeter. Zone defense helped limit South Carolina offensive time and space. Schaefer's personal distaste for zone was overridden by the will to win.
"[The players] like it, they probably enjoyed it." Schaefer said. "At the end of the day you have to do what it takes to win. As the game went on, we got more comfortable. Funny, we worked on it more than we have all year long and it turned out we sure needed it."
Mississippi State put away the game, stopping South Carolina's scoring with four minutes left to go. The Bulldogs outscored South Carolina 24-10 in the fourth quarter for to seal the win.
Twenty bench points kept Mississippi State afloat after Bibby's abrupt departure. Scott provided the biggest lift with 11 points and two rebounds off the bench.
Schaefer praised his bench: "Proud of them."
"I think we grew a little bit. I think those kids responded. It's an incredible crowd on a national stage and you're putting kids in that moment. I've been trying to build them up to a point where they can come and do what they did tonight. You gotta play and you gotta function. They were ready, and they did a good job."
Overall, five Bulldogs mounted double digits points for a win and tribute to Bibby. McCowan matched South Carolina's total rebounds and earned her 54th career double-double with a game-high 26 points and 24 rebounds.
"I had a lot going into this game," McCowan said. "When Chloe went down, I knew my teammates needed me extra. I stood up. "
Danberry added 20 points, six rebounds and seven assists. Senior guard Jazzmun Holmes contributed 12 points and five rebounds. Graduate forward Anriel Howard finished with 11 points and six rebounds.
For the Gamecocks, junior guard Te'a Cooper earned a team-high of 27 points and five rebounds. Fellow junior guard Tyasha Harris added 17 points and four assists. Junior forward Mikiah Herbert Harrigan finished with 12 points.
Times have changed since the top two SEC teams first battled. Player-by-player, win-by-win, Schaefer and Staley built personal kingdoms on their program's hardwood floors. Since Schaefer's arrival, the Bulldogs have earned an undefeated regular season, an SEC championship and back-to-back national championship appearances.
Staley led South Carolina to four SEC tournament championships, and a national championship in 2017, fittingly against Mississippi State. The inevitable rivalry between the teams grew from their conference backyards to the national spotlight.
Fans fuel the fire, flipping stadiums into ear blistering gauntlets. The Humphrey Coliseum has sold out twice since the National Championship game. Gamecock fans pack stadiums in time for the rivalry as well. Colonial Life Arena was sold-out with 13,201 fans for the last matchup on South Carolina's home court on January 26, 2017. Thursday night, 10,006 fans filled the Humphrey Coliseum.
"It's great," South Carolina head coach Dawn Staley said. "What it does is helps us. This road loss helps us. That's playing in the SEC does. On any given night, that's only going to help us strengthen our ability when it's NCAA time."
The legacy of Mississippi State and South Carolina is etched in history forever. Schaefer will keep all but three of his players from this roster next year while Staley marches into the 2019-2020 season with the number one recruiting class.
"They provide an unbelievable atmosphere for player for the country to see for the nation to see what our university is about and how special this place is. It was a great atmosphere. Proud of the team, kids"
South Carolina goes home for a tough matchup, hosting the Missouri Tigers led by Sophie Cunningham Monday night. Mississippi State moves on to visit the Florida Gators January 24. Mississippi State visits South Carolina for a rematch and SEC conference finale March 3.