Starters cover missing pieces in Mississippi State's win over Kentucky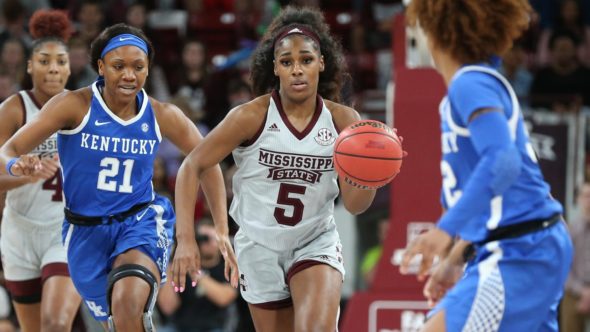 STARKVILLE, Miss. – It was a tough SEC matchup for Mississippi State and Kentucky, the top two SEC teams currently. The momentum pendulum swung, techs were called and players hit the floor.
The 86-71 win boosts Mississippi State's SEC record to 2-0 and the game showcased the importance of making adjustments and creating opportunities.
"It was a tremendous SEC basketball game," Mississippi State head Coach Vic Schaefer said. This team can play in a number of ways. It was a really physically game, no question."
MSU entered with a punch-first mentality to start the Bulldogs off right with a 26-11 first quarter run.
Kentucky presented man-to- man defense that smothered the Bulldogs in the second quarter. Unforced errors also contributed to Kentucky's second period rally and momentum swung again as Kentucky raised their shooting percentage to 46 and held Mississippi State to 21 points. Kentucky went on a 5-0 run and captured five steals while Mississippi State committed seven turnovers. The Wildcats outscored the Bulldogs 16-15 in the second quarter. Mississippi State's 15-point first quarter advantage enabled the Bulldogs to go into halftime with a 41-27 lead. A balanced third and fourth quarter helped Mississippi State come out on in the end.
Senior center Teaira McCowan finished earned her 51st career double-double with 13 points and 10 rebounds in 22 minutes of play. Senior guard Jordan Danberry, graduate forward Anriel Howard and senior guard Jazzmun Holmes anchored down and showcased their consistency for the Bulldogs.
"It's a confidence boost for us," Schaefer said. "She's sitting over there and you've got three seniors that can function and function at a high level. I'm really pleased with that but we have to make sure it doesn't happen."
Howard has a strong presence for the Bulldogs with an all-around consistent game. She was able to collect a team-high of 21 points and 12 rebounds while still maneuvering and spacing the floor for the Bulldogs. Howard's attention helps create opportunity for other Bulldogs too.
Holmes is a quick offensive piece while being a hard-nosed defender. As a guard, she created razor-sharp defensive performance helped create key moments in Mississippi State's runs. Holmes earned a career-high six steals, five assists with eight points. Though her four turnovers stood out, Holmes took responsibility for the performance despite the turnovers.
"Turnover wise we can be better and that starts with me," she said. "We have a lot of weapons on our team and for us to score [like that] that's a big jump for us. We can do a lot of things."
Danberry's upped her offense to adjust. McCowan's presence usually helps guards split the defense for points in the paint. Danberry drove for 17 points and five assists to finish 7-of-12 from the field. Sophomore forward Chloe Bibby also captured 18 points and seven rebounds.
"Howard is so dynamic, but she's making some threes," Kentucky head coach Matthew Mitchell said. "I was impressed with Bibby and her savvy and tenacity. They are a potent, powerful team. Especially if you let Holmes and Danberry get deep. They're really good, short-jumper shooters."
Mississippi State also committed a season-worst 24 turnovers and finished with the second lowest percentage beyond the arc at 27 percent. The Bulldogs found 48 points in the paint. Driving the ball and cashing in at the free throw line helped them pull out a win.
Against Kentucky, 48 of the 86 points came in the paint while finding 21 points at the stripe. Mississippi State created opportunities on the glass, out rebounding Kentucky 48 to 24.
Kentucky senior guard Maci Morris had team-high 20 points and four rebounds. Notable SEC freshman guard Rhyne Howard earned 15 points and team-high five rebounds in the loss.
Mississippi State extends their home game record to 28-straight games with their 12th largest crowd in history at 8,830. They face the Georgia Bulldogs at 8 p.m. on Thursday. The game will be on the SEC Network. Kentucky continues their road travels to face Tennessee the same day.