Mississippi State closes home slate with a 76-56 win over LSU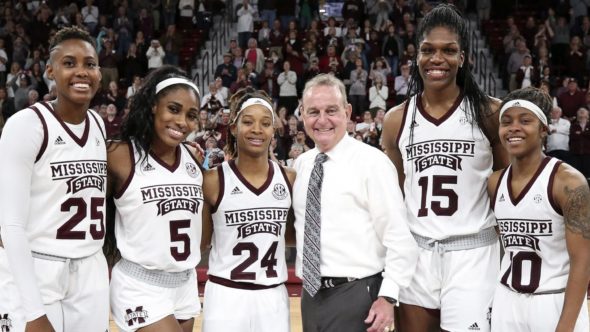 STARKVILLE, Miss.- The Mississippi State Bulldogs (26-2, 14-1 SEC) ended their home slate with a 76-56 Senior Night win over the LSU Tigers (16-11, 7-8 SEC) in front of 8,631 attendees Thursday night.
"I couldn't be prouder of 'em." head coach Vic Schaefer said. "They've been special all year long and tonight was no different."
Freshman guard Xaria Wiggins got the first start of her career against the Tigers. Easy opportunities the paint led to an early 7-0 run for Mississippi State. Two early fouls from transfer graduate Anriel Howard hindered the rhythm but senior center Teaira McCowan steadied the Bulldogs with 11 points and five rebounds.
Guard play from LSU sophomore Jailin Cherry led to her team's first points from a three pointer with six minutes left in the period. MSU led 23-18 after the high-paced first quarter.
Two five-second violations, turnovers and a five-minute scoring drought by LSU in the second quarter helped Mississippi State make an 8-0 run. The Bulldogs had a 36-26 advantage at halftime.
MSU opened the third quarter on a 6-0 run facilitated by McCowan and Howard while a shooting drought continued to plague LSU.  The Bulldogs' balanced performance on both sides of the ball helped them outscore LSU 23-13 in the third period.
Overall, LSU's shooting problems stifled their momentum throughout the game, shooting 37 percent from the field accompanied with 28 turnovers. Cherry finished with the team-high of 17 points while sophomore guard Khayla Pointer poured in 15 points.
Mississippi State's 50 percent shooting rate paced the Bulldogs. Dominant post play helped them score 54 points in the paint and 13 second chance points. McCowan earned a game-high 25 points and 13 rebounds for her 62nd career double-double. Senior guard Jordan Danberry added 18 points. Howard and senior guard Jazzmun Holmes scored 10 points each. Howard also pulled down six rebounds.
The team honored its seniors with a postgame ceremony. The 2018-2019 senior class tied the previous senior class with 125 wins.
With the victory over LSU, the Bulldogs earned a share of the 2019 SEC regular season title with their upcoming opponent and conference rival, the South Carolina Gamecocks under Hall of Fame coach Dawn Staley. Sunday's game will determine the regular season championship and the number one seed of the SEC tournament.
"You've got to play against 16 monsters in this league and these kids have done it again," Schaefer said on earning a share of it. "It's so hard to do and I'm really proud of them."
The battle to be an outright SEC regular season champion takes place March 3. The game will be aired on ESPN2 at 1 p.m. CT.
"Our program has been in these games with each other a lot," Schaefer said. "I'm glad I got my team and I know she's glad she's got hers. We're excited to be in that game on national TV on Sunday afternoon wearing maroon and white."