Mississippi State outlasts Vanderbilt 86-70 with big second half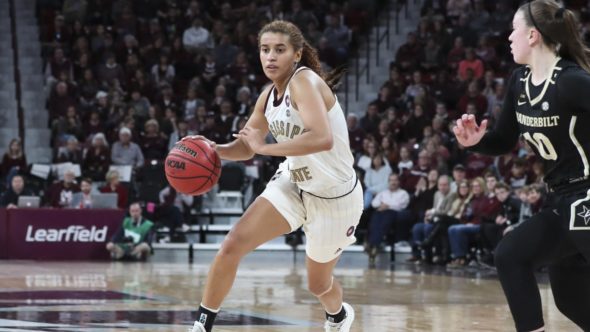 STARKVILLE, Miss. – The Mississippi State Bulldogs (25-2, 11-1 SEC) defeated the Vanderbilt Commodores 86-70 Sunday afternoon in front of a crowd of 9,566, MSU's 11th largest attendance in program history.
"These games aren't getting any easier," MSU head coach Vic Schaefer said. "We started a little slow and a little flat footed but picked it up by the end of the half. I'm certainly loving what we're doing offensively."
Vanderbilt (6-21, 1-13) found leeway through Mississippi State's relaxed defense. Shooting just 7-of-17 from the floor hindered the Bulldogs while Vanderbilt shot 53 percent from the floor. MSU led with a slim 19-17 lead to end the first quarter.
"Schaefer's teams are always outstanding defensive teams, so we kept the ball in the middle of the floor," Vanderbilt head coach Stephanie White explained as she discussed the first quarter. "We played with a sense of urgency and on the move."
Mississippi State centered their offense around and through senior center Teaira McCowan in the second quarter, increasing productivity and rhythm.
Vanderbilt post, redshirt junior forward Mariella Fasoula, worked in 14 points while sophomore guard Chelsie Hall scored eight in the first half. MSU junior guard Andra Espinoza-Hunter earned seven points in the first half and graduate transfer forward Anriel Howard scored 14.
McCowan utilized her height as Vandy defenders brought her to the line to sink four free throws. McCowan was also productive on the floor to finish and contributed 14 points in the first half. Perimeter work from Espinoza-Hunter and defense from Howard lifted Mississippi State over Vanderbilt to a 38-31 halftime lead.
Vanderbilt's quick 5-0 run to begin the second half sliced into their seven-point deficit. Howard's offensive performance evolved to stop the run. MSU senior guard Jazzmun Holmes scored her first points as a Holmes-Howard 6-0 run gave the Bulldogs a 44-36 lead. MSU's grounded defense led to a 9-0 run which ballooned into a 63-52 lead by the end of the third quarter.
Mississippi State's two 20-point quarters in the second half sealed the win over Vanderbilt. Three players scored 20 points or more for the first time this season. Espinoza-Hunter and Howard scored 20 apiece as Howard earned another double-double this season adding ten rebounds. McCowan expanded her role in the second half to capture a team-high of 23 points and eight rebounds.
As McCowan's dominance grows and Espinoza-Hunter provides another offensive weapon, it indicates MSU's potential to play the right kind of basketball at the right time as two regular season conference games remain before the SEC Tournament begins March 6, but Schaefer still worries about the team's defensive performances.
"I think these are great numbers, 86 points and only five turnovers, three kids with 20 plus is great, but I'd rather have five kids in double figures with more balance," Schaefer said. "It's defensively. When I look back and see how many points we scored but gave up, it's a trade off."
The Commodores' 23 turnovers led to 25 Bulldog points. Meanwhile, Mississippi State recorded a season-low of five turnovers.
For Vanderbilt, Fasoula earned a team-high 29 points plus four rebounds. Junior guard Cierra Walker scored 17 points and grabbed three rebounds. Hall finished with 12 points and four rebounds.
"This is the most confident game I've seen [Hall] play since her injury," White said. "When we get under duress, we tend to find difficulty in finding calm in that storm and I think that's gotta be the next growth process of our guards."
Two games remain for Mississippi State. The team has a senior night showdown against the LSU Tigers Feb. 28 at 8 p.m. ET (SEC Network+) before traveling to conference rival South Carolina Gamecocks on March 3. The Commodores conclude the regular season with two home games. Thursday night, they take on the Tennessee Volunteers, followed by Florida on March 3.