Oregon has big second half to hold off Cal for 105-82 win in Berkeley; Kristine Anigwe sets Bears scoring record
.@OregonWBB's Sabrina Ionescu on how her team stays composed when teams are bringing their A-game vs. Oregon: "We trust each other." She also said "we don't settle for being anything less than the best that we can be." #ncaaw pic.twitter.com/TO96CBYO7S

— Hoopfeed.com ? (@hoopfeed) February 9, 2019
Final Team Stats || Social Media Recap
BERKELEY, Calif. – With a large contingent of fans in the stands cheering them at an away game, No. 3 Oregon (22-1, 11-0 Pac-12) held off intermittent Cal runs Friday night to come away with a 105-82 victory over the Golden Bears at Haas Pavilion. Dallas Wings head coach Brian Agler attended the matchup as well.
While Cal (14-8, 5-6) had a reason to celebrate early in the game as senior forward/center Kristine Anigwe became the program's all-time leading scorer after a free throw at 6:38 in the first period, Oregon's offensive onslaught tempered the Bears' jubilation.
"I was upset because we only had scored one point at that time," Anigwe said about the moment when she entered Cal's record books.
The Ducks jumped out to a 12-0 lead and led for the entire quarter spurred on by junior guard Sabrina Ionescu. The nation's record-holder for triple-doubles went into the second quarter with 13 points under her belt that included 5-of-5 from the free throw line with her team ahead 26-17.
Cal had its best stretch in the second quarter when they fought back fiercely with a flurry of three-point shots from senior guard Asha Thomas, grad transfer guard Receé Caldwell and junior guard Kianna Smith. The trey from Smith a 5:12 gave the Bears their first lead of the game, 32-30. It was a back and forth contest for about a minute before Oregon stymied the momentum of their opponent to close out the half with a run of their own. At the break, Oregon led 44-36.
After falling behind by as much as 12 early in the third quarter, Cal mounted a short 7-1 run to get within six of Oregon at 6:14. However, Oregon responded with a 16-5 run to close out the period and headed into the fourth quarter leading 71-54.
The Ducks were in full control in the last ten minutes, adding to their advantage to earn a 20-point lead within the first two minutes and outscored the Bears 34-28 over the fourth period.
Overall, Oregon shot 60 percent from the field compared to Cal's 45 percent and earned a whopping 46 points in the paint while Cal had only 24.
The Ducks were also more successful at the free throw line, making 15-of-17 shots (88 percent) while the Bears had less opportunities and made 7-of-9 (78 percent).
Sabally led all scorers with 31 points plus nine rebounds. Ionescu added 27 points along with five rebounds and four assists. Senior guard Maite Cazorla scored 17 points and dished out nine assists while redshirt sophomore forward Erin Boley added 11 points.
Anigwe paced Cal with 23 points and 18 rebounds for her 23rd consecutive double-double, the most in the nation. She is just three rebounds away from breaking the program record for career rebounds.
Caldwell, who shot 54 percent from beyond the arc, finished with 22 points and seven assists. Sophomore guard Kianna Smith was also in double digits for Cal with 20 points.
Bears head coach Lindsay Gottlieb praised Oregon while summarizing what went wrong for her team.
"We had a terrific team come in here," she said. They are a legitimate national title contender. I think, save for the first three or four minutes where we just kind of took a few punches, I thought we competed from there."
While Oregon head coach Kelly Graves acknowledged that his team was dominant for most of the game, he also admitted that it was not an easy win.
"We played about as well as we can play offensively…but Cal was here to play tonight, they pushed us."
Oregon heads across the Bay to face Stanford on Sunday while Cal hosts Oregon State on the same day.
Stats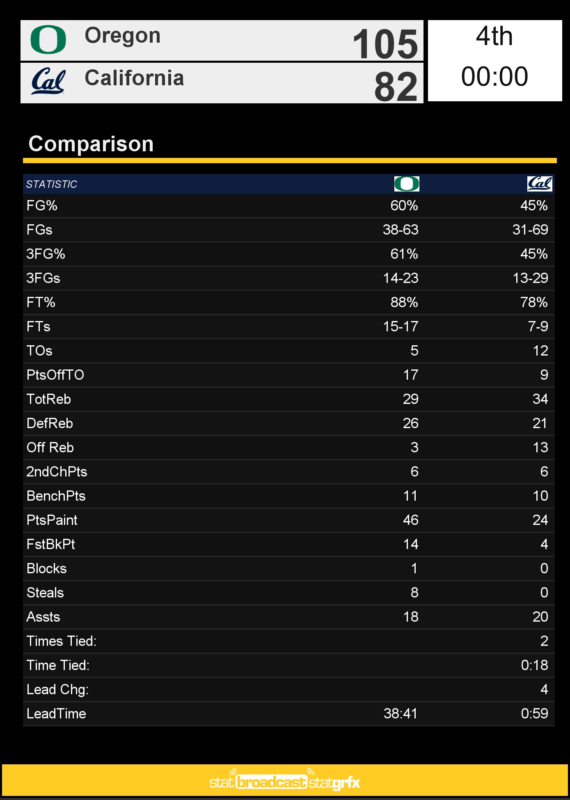 .@maitecazorla5 is playing in her 131st game with the Ducks today, breaking @lexibando10's program record for career games played! #GoDucks pic.twitter.com/lnw8zcD4cZ

— Oregon Women's Basketball (@OregonWBB) February 9, 2019
Oregon wins the tip and we are underway at Haas Pavilion! #GoDucks

— Oregon Women's Basketball (@OregonWBB) February 9, 2019
Live from Haas: @OregonWBB at @CalWBBall underway…lehhhhgo! #ncaaw pic.twitter.com/m7O1HvCml3

— Hoopfeed.com ? (@hoopfeed) February 9, 2019
1Q | Ducks on a 6-0 run to start here in Berkeley. #GoDucks

— Oregon Women's Basketball (@OregonWBB) February 9, 2019
Oregon off to a lightning fast start vs. Cal, 12-0 Ducks at 6:38 #ncaaw

— Hoopfeed.com ? (@hoopfeed) February 9, 2019
Records are meant to be broken ?@KristineAnigwe is now the all-time leading scorer in @CalWBBall history. #GoBears pic.twitter.com/LvBjGbMGUH

— Cal Athletics (@CalAthletics) February 9, 2019
Kristine Anigwe scores first for Cal with a free throw, that one point makes her the all-time leading scorer in @CalWBBall program history, 2321 pts, more than any player male or female for @CalAthletics #ncaaw pic.twitter.com/TuErvwgfnY

— Hoopfeed.com ? (@hoopfeed) February 9, 2019
Shoutout to @DallasWings coach @Brian_Agler, in the house for this power Pac-12 matchup, @OregonWBB at @CalWBBall ! #ncaaw

— Hoopfeed.com ? (@hoopfeed) February 9, 2019
1Q 2:52 | She's getting to WORK! 6-0 run by the Bears with 3 consecutive FG by @KristineAnigwe!

Cal 9-18 Oregon

— Cal Basketball (@CalWBBall) February 9, 2019
End of 1Q: @Oregon 26, Cal 17 #ncaaw Sabrina Ionescu with 13pts/3rebs already. Cal made up ground later in the period after the Ducks started out with a 12-0 run. pic.twitter.com/JrZyVcLwN2

— Hoopfeed.com ? (@hoopfeed) February 9, 2019
9:01 | A three by @ATeezy_ and a score by CJ! Bears back within 4

Cal 22-26 Oregon

— Cal Basketball (@CalWBBall) February 9, 2019
With some quick shots, including treys from Recee' Caldwell and Asha Thomas, plus some valuable defensive rebounds, Cal is on the move, now just down by 1, 30-29, vs. Oregon at 6:17 in 2Q #ncaaw

— Hoopfeed.com ? (@hoopfeed) February 9, 2019
With a trey from Kianna Smith at 5:12 in 2Q, Cal takes the lead over Oregon, 32-30 #ncaaw

— Hoopfeed.com ? (@hoopfeed) February 9, 2019
2Q | Tie game, 32-32, at the media timeout. Sabally will go to the line after the break, looking to finish off an and-1. Ducks just 3-of-12 shooting in the second thus far. #GoDucks

— Oregon Women's Basketball (@OregonWBB) February 9, 2019
With a layup from Oregon's Satou Sabally, the game is tied. Oregon at Cal, 32 all, 4:42 in 2Q #ncaaw

— Hoopfeed.com ? (@hoopfeed) February 9, 2019
That's more like it!

Bears open the second quarter on a 15-4 run, going 3-5 from beyond the arc to start the second ? pic.twitter.com/wYbzFXoZhA

— Cal Basketball (@CalWBBall) February 9, 2019
Oregon pulling away as time in the second quarter winds down, now with a double-digit lead again over Cal, 44-34 #ncaaw

— Hoopfeed.com ? (@hoopfeed) February 9, 2019
Time for @CalWBBall to hit a buzzer beater of its own. ?

The Jaelyn Brown jumper ends an 11-0 run by Oregon, and Cal goes into halftime down eight.

Watch #Pac12WBB on Pac-12 Now: https://t.co/ApfV91Gto2 pic.twitter.com/iN34M0SD2H

— Pac-12 Network (@Pac12Network) February 9, 2019
Halftime: Oregon 44, Cal 36. #ncaaw Jaelyn Brown hits a jumper for Cal with 2 secs before the buzzer. pic.twitter.com/uqYUDjL9yh

— Hoopfeed.com ? (@hoopfeed) February 9, 2019
Cal's halftime celebration of the Chinese New Year with the Cal VSA lion team #ncaaw #YearOfThePig pic.twitter.com/yUNnU2v75n

— Hoopfeed.com ? (@hoopfeed) February 9, 2019
Oregon still in control at Cal, 63-49, 4:46 in 3Q #ncaaw

— Hoopfeed.com ? (@hoopfeed) February 9, 2019
3Q 2:00 | @_naannna hits one to snap a scoring drought by both teams

Cal 51-63 Oregon

— Cal Basketball (@CalWBBall) February 9, 2019
Satou Sabally with a breakaway layup and Oregon leading Cal, 68-54 as 3Q winds down #ncaaw

— Hoopfeed.com ? (@hoopfeed) February 9, 2019
Sabrina buries a three to end the third quarter! She has 22 points as the Ducks lead by 17. #GoDucks pic.twitter.com/KNokwVDV9I

— Oregon Women's Basketball (@OregonWBB) February 9, 2019
End of 3Q: Oregon 71, Cal 54 #ncaaw The Bears lost their momentum in the latter half of the period after getting within 6 of the Ducks. Oregon outscored Cal 27-18 in 3Q pic.twitter.com/klpbyqbz9D

— Hoopfeed.com ? (@hoopfeed) February 9, 2019
Recee' Caldwell has back-to-back treys for Cal but Satou Sabally answers for the Ducks with one of her own, 83-64 Oregon at 6:49 in 4Q #ncaaw

— Hoopfeed.com ? (@hoopfeed) February 9, 2019
With 1:53 left, Oregon gives reserves some minutes, the Ducks lead 100-77 with 1:31 to go #ncaaw

— Hoopfeed.com ? (@hoopfeed) February 9, 2019
Final: Oregon 105, Cal 82 #ncaaw Satou Sabally 31pts/9rebs, Sabrina Ionescu 27pts/5rebs/4asts, Maite Cazorla 17pts/9asts, Erin Boley 11pts pic.twitter.com/RGXKHfy5jh

— Hoopfeed.com ? (@hoopfeed) February 9, 2019
.@OregonWBB's Sabrina Ionescu on how her team stays composed when teams are bringing their A-game vs. Oregon: "We trust each other." She also said "we don't settle for being anything less than the best that we can be." #ncaaw pic.twitter.com/TO96CBYO7S

— Hoopfeed.com ? (@hoopfeed) February 9, 2019
.@OregonWBB coach Kelly Graves @GoDucksKG on the win vs. Cal: "We played about as well as we can play offensively…but Cal was here to play tonight, they pushed us." #ncaaw

— Hoopfeed.com ? (@hoopfeed) February 9, 2019