Sophie Cunningham leads as Missouri stuns Mississippi State, 75-67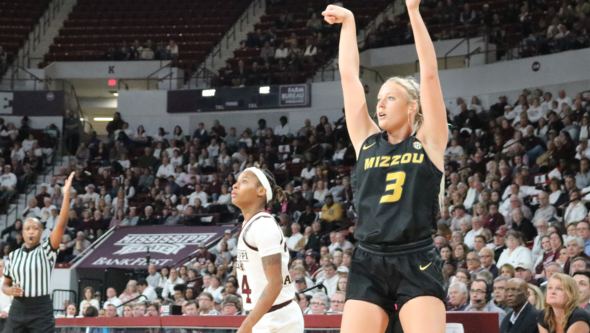 STARKVILLE, Miss.— The Missouri Tigers (19-7, 8-4 SEC)  broke hearts and records in the Humphrey Coliseum Thursday night at they stunned the No. 5 Mississippi State Bulldogs, 75-67, in a Valentine's Day showdown in front of 7,454 fans.
"I thought we really competed tonight," Missouri head coach Robin Pingeton said. "I thought we played in the present. There's been games where we've had a hard time letting go of mistakes or missed shots, but as of the last couple of weeks we've been doing a lot better job of playing in the present. I thought it was a tough, gritty performance by our kids."
Mississippi State (22-2, 10-1) took note of Mizzou's three-point prowess as guard play carried the Bulldogs. The four Tiger attack on MSU senior center Teaira McCowan kept her at the free throw line.
Missouri's smothering zone balanced the game as Mississippi State guards found small windows to score and feed McCowan. The Tigers' three point shooting eventually emerged. Mizzou redshirt junior forward Hannah Schuchts' first three gave her team their first lead of the game at 30-29 in the second quarter. However, Mississippi State led Missouri 35-34 at the half.
Things came crashing down for MSU as the Tigers found their footing from beyond the arc after the half.
Missouri's third quarter three-point shooting was outstanding, as they went 4-of-5 from the arc. Precise shot selection helped them finish 8-of-10 from the field and outscore Mississippi State 20-18 in the third quarter, which helped turned the tide for the upset.
Missouri rolled with their momentum, halting MSU's home streak at 33-games. The Tigers outscored the Bulldogs 20-14 in the final quarter. MSU head coach Vic Schaefer called the performance lethargic,  and said his team lacked energy and poise against Missouri.
"It's a lack of focus and commitment to taking care of the ball," Schaefer said of the loss. "I felt like our whole team had a lack of focus. We had it in shoot around. I noticed it in shoot around. You know, we have got some things happening. Obviously tonight, it showed."
In her final trip to Starkville, senior guard Sophie Cunningham earned 24 points plus six rebounds. Her curtain call was her best performance against Mississippi State as she also crossed the 2,000-career points milestone in the win.
"I think my team did a great job giving me the ball when I needed it," Cunningham said on the game and milestone. "The coaches put me in great positions. It's a team effort. I'm just the one that has it. It's a team effort, not one versus five."
MSU graduate student forward Anriel Howard fouled out with 1:47 remaining in the game. She contributed a team high 21 points plus six rebounds. McCowan recorded another double-double with 13 rebounds and 12 points.
"I don't think we weren't executing," MSU senior guard Jazzmun Holmes said. "I think it was being focused, for us. Like coach said, we weren't very focused coming out so I guess that will be a focal point for us the rest of the week."
Mississippi State travels to College Station to face Howard's alma mater and Schaefer's previous coaching stop where he was associate coach, Texas A&M, Sunday, February 17. Missouri stays on the road and faces the Tennessee Lady Volunteers on the same day.
? The numbers behind #Mizzou's big win last night! ?#MIZ #OurTownOurTeam ?? pic.twitter.com/2gosmt2g8L

— Mizzou Basketball (@MizzouWBB) February 15, 2019