Cal faces Stanford in Pac-12 quarterfinals knowing what to expect, with the Cardinal that may not matter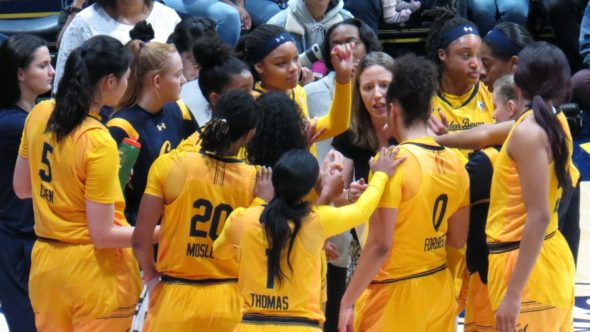 Pac-12 Quarterfinals
#7 California vs. #2 Stanford, 6 p.m. PT, Pac-12 Network
LAS VEGAS – After beating a determined No. 10-seeded Washington State squad Thursday night 77-58, No. 7 Cal has a huge task ahead in facing the No. 2 seed, Stanford, Saturday night in the Pac-12 quarterfinals.
The Bay Area's Pac-12 teams are very familiar with each other with a background that includes over a century of hallowed history. However, Friday night, none of that will matter.
Both teams ended the regular season on high notes, Cal with a four-game streak and Stanford with a six-game victory ride.
The Bears and the Cardinal split their season series, each team winning on their own floor. In a twist to the relationship, Cal actually played a game against another opponent on Stanford's floor back in November when Haas Pavilion shut down due to smoke infiltration from the catastrophic Camp Fire. Stanford's game that same week against Ohio State was cancelled because the smoke prevented the Buckeyes from traveling to Northern California.
When played Cal faced Pacific at Maples Pavilion, the Stanford squad showed up to cheer for their Pac-12 counterparts. But that camaraderie will be absent today when the two teams square off in the tournament quarterfinals.
Cal head coach Lindsay Gottlieb is well aware of what Stanford brings to the table. She addressed the matchup after the Washington State game.
"I think any Tara VanDerveer-coached team continues to improve as the year goes on. That's credit to her and them. They run the Princeton offense, and they do it as well as anybody in the country. They cut extremely hard. They put multiple shooters on the floor.
I know when we played them the first time, [Maya] Dodson was just coming back from an injury and had a setback and now kind of in and out. But they can mix up the lineups and go bigger or go smaller, and they challenge you in different ways.
But, you know, I expect them to have a great game plan. I expect them to run their stuff really well, and we have to be better. They're not going to be subpar. We're going to have to be great to get this thing done. But we'll hopefully get our players ready. It was nice to beat them, but we remember the sting of the second game at this point, I think."