Clemson's Amanda Butler named 2019 ACC Coach of the Year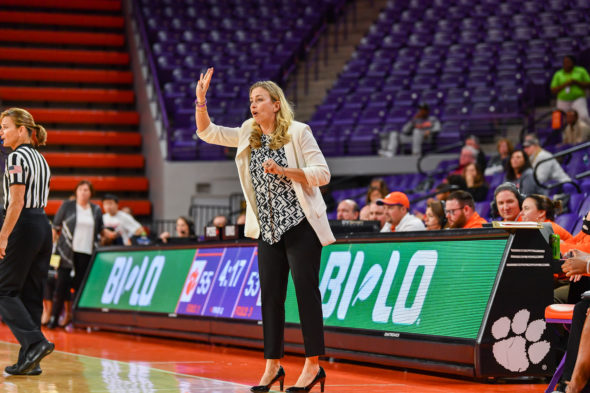 After orchestrating an impressive turnaround in her first year at Clemson, Amanda Butler received the 2019 ACC Coach of the Year award. She is the first Clemson women's basketball coach to receive this honor since Jim Davis in 1994.
"I'm grateful to each and every person that brought me to this point, from our tremendous administration to my fantastic coaching staff to our dedicated players and the rest of the Clemson family," said Butler. "I'm so humbled to have had all of this support as we have journeyed through this incredible season."
This season the Tigers earned some impressive wins to finish the regular season at 18-11 with a 9-7 record in conference play. The team enters the conference tournament ranked No. 7, eight spots ahead of where the team was predicted to finish (No. 15) in the preseason poll.
With nine ACC wins, eight victories over last year's mark, Butler has the largest turnaround in wins by a first-year head coach in ACC history.
Highlights of the year:
The Tigers are averaging almost 20 points more than they did a season ago (50.5 to 68.7).
Clemson ranks fourth in the nation (first in ACC) in total steals (345).
The Tigers tallied their first victory over a ranked opponent since 2012 after downing Miami, 76-67 on Jan. 10. Three days later the Tigers defeated Florida State, 57-45, marking the first time in program history that the Tigers posted back-to-back road wins over ranked opponents.
The Tigers look to make their first postseason appearance since 2004 (WNIT) or 2002 (NCAA). With a first-round bye, Clemson faces either Virginia Tech or Wake Forest on Thursday in the second round of the ACC Tournament.
The honor comes after Butler spent the previous year visiting several teams, including NBA squads, to enhance her basketball knowledge after getting fired from her alma mater Florida on her birthday in March 2017. She chronicled her journey in an essay in March 2018.