Statement from Tennessee on firing of Holly Warlick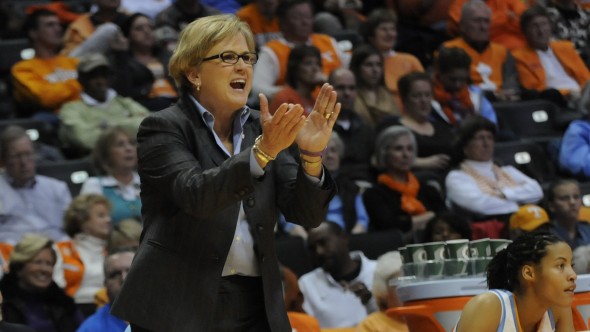 Tennessee announced that Holly Warlick, the Lady Vols coach for seven seasons, will no longer be the head coach Wednesday afternoon. Here is the official statement from the university:
Tennessee Director of Athletics Phillip Fulmer announced Wednesday that Lady Vols basketball coach Holly Warlick has been relieved of her duties.

"Holly and I met this afternoon, and I informed her of the decision to change leadership within the program," Fulmer said. "Holly has dedicated most of her adult life to the University of Tennessee and the Lady Vols program. She loves Tennessee, and Tennessee needs to always love her back. She was front and center as this program developed into the model for women's intercollegiate excellence.

"While it certainly stings to make this decision, I am charged with doing what I believe is best for this storied program. It's important to all of us that Lady Vols basketball maintains its status among the elite."

A national search for the next Lady Vols head coach is underway. Assistant coach Dean Lockwood will maintain operational oversight of the program until a coaching hire is made.

Warlick compiled a 172-67 overall record in seven seasons as Tennessee's head coach, guiding the Lady Vols to NCAA Tournament berths during each campaign.

Tennessee claimed three SEC trophies during her tenure as head coach, winning regular-season championships in 2013 and 2015 and capturing the SEC Tournament title in 2014.

She guided the Lady Vols to Elite Eight appearances in 2013, 2015 and 2016. And Tennessee produced 11 WNBA Draft picks during the Warlick era.

Warlick also continued the Lady Vols' longstanding 100-percent graduation rate for players who have completed their collegiate careers at Tennessee.

A Knoxville native and an All-America standout for the Lady Vols from 1976-80, Warlick served as an assistant and associate head coach at her alma mater for 27 seasons from 1985 to 2012 before spending seven seasons in the head coaching role. She has given more than three decades of loyal service to the University of Tennessee, having just concluded her 38th season of affiliation with the program she helped to establish as the standard bearer for women's athletic excellence.

As a player or staff member, she has played a role in 19 Tennessee trips to the Final Four and all eight of the program's national championships (1987, 1989, 1991, 1996, 1997, 1998, 2007 and 2008).

Warlick's association with the University of Tennessee began in 1976, when she joined the women's track program as a scholarship 400-meter runner. She ended up walking on to the basketball team and becoming one of the most prolific players in the storied history of the program—she was the first player in Tennessee athletics history (men or women) to have her jersey retired (No. 22) at the conclusion of her eligibility.

Warlick's coaching honors also are extensive. In 2013, members of the Women's Basketball Coaches Association named her the Spalding Maggie Dixon Division I Rookie Coach of the Year. She was selected by the AP and league coaches as the 2013 SEC Women's Basketball Coach of the Year, and members of the Tennessee Sports Writers Association also chose her as TSWA Women's Basketball Coach of the Year that season.

In May 2017, Warlick was recognized for her years of leadership, volunteer activities, philanthropic work and professional accomplishments that have contributed to improving the quality of life in Tennessee. She was named the Tennessee Woman of Distinction at the 32nd annual Chattanooga Women of Distinction Awards luncheon. In 2019, she became a member of the Pat Summitt Foundation Advisory Board.

She is a member of the Women's Basketball Hall of Fame (2001), the Tennessee Sports Hall of Fame (2004), the Greater Knoxville Sports Hall of Fame (1994) and the University of Tennessee Athletics Hall of Fame (2002).

Warlick's philanthropic efforts have yielded extraordinary benefit to the community throughout her tenure on Rocky Top. She and fellow Lady Vols legend Nikki (Caldwell) Fargas founded the "Champions for a Cause Foundation" in 2007 with the missions of advancing and supporting the cause of charitable organizations who advocate and act to better the quality of life and health for individuals at risk or in need.