Notre Dame adds a triumphant chapter to series vs. UConn, looks forward to Baylor challenge in title game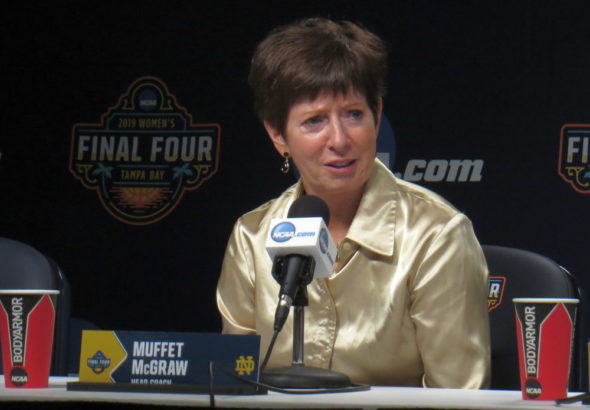 Tampa, Fla. – Notre Dame's return to the Final Four, this season as the reigning champion, also marked another chapter in the rivalry between the Fighting Irish and the UConn Huskies. While No. 2 seed UConn holds a significant lead in the overall series, 37-13, the No. 1-seeded Irish have the upper hand when it comes to NCAA contests, 4-3.
This past season, Notre Dame fell to UConn in early December, after starting the season 7-0. However, after the loss, the Irish recovered to go on a 12-game win streak. UConn suffered its first loss of the season to the Baylor Lady Bears on Jan. 3.
Baylor and Notre Dame will fight for the national title on Sunday while the Huskies head home after losing to the Irish Friday night, 81-76, in the national semifinals. It was the 50th matchup between the teams.
"They had more good players play better and contribute more than we did," UConn head coach Geno Auriemma said postgame. "That's just the way the world is. They deserved to win, and we didn't do quite enough to win. That's it."
The series record between Notre Dame and UConn will mean nothing on Sunday. It does not matter that UConn has 11 national championships compared to two by Notre Dame. The Huskies will have to watch the game from home while the Irish compete for a consecutive championship.
The rivalry between the teams is now the hottest in women's college basketball and gives fans and media plenty of fodder for conversation and content.
"I think it's very competitive and intense," Notre Dame head coach Muffet McGraw said. "I think it is the best rivalry in women's college basketball. I think it's one the fans and teams all look forward to."
Some notes on the series:
Notre Dame beat UConn nine times in the past 11 years. In contrast, all DI teams have combined for just eight wins over the Huskies in the same period.
The Huskies and Irish have faced each other in seven NCAA Final Fours with Notre Dame holding a 4-3 advantage.
UConn is 2-0 vs. Notre Dame in NCAA Championship games.
The teams have played four games in overtime.
Time for Baylor
With UConn in the rear-view mirror, the Irish turn their attention to Baylor. The Lady Bears lead the series, 4-2 (Home: 1-1, Away: 0-2, Neutral: 1-1). One of those wins for Baylor includes a national championship contest. The Lady Bears beat Notre Dame 80-61 to win the national title April 3, 2012 in Denver.
Baylor has two outstanding post players, senior center Kalani Brown and junior forward Lauren Cox, who will be a challenge for the Irish. Brown and Cox led the Lady Bears in toppling Oregon. Brown finished with 22 points plus seven rebounds. Cox earned a double-double of 21 points and 11 rebounds plus seven assists.
In addition, Baylor has a wily defensive specialist, sophomore guard DiDi Richards, who scored 15 points Friday night while limiting the production of Oregon's triple-double threat and this year's Wade Trophy winner, Sabrina Ionescu.
"This is the first time we've played a team that has two outstanding post players," said McGraw. "We've generally thought we had an abnormal advantage in the post. That would be our game plan, to go inside. We do not feel that way. They have terrific players inside with Lauren Cox and Kalani."
While Notre Dame will have their hands full, Baylor will also be challenged to find a way to stop Irish sharpshooter Arike Ogunbowale, a senior guard known for her game-winning daggers, not to mention senior forward Jessica Shepard and efficient junior guard Jackie Young. Also, the Irish has its own defensive specialist, forward Brianna Turner, who broke Ruth Riley's program record for career blocks Friday night ending the game with a total of 371.
Baylor will face Notre Dame for the national title on Sunday at 6 p.m. ET. The championship will be televised on ESPN.