How WNBA rookies performed during opening weekend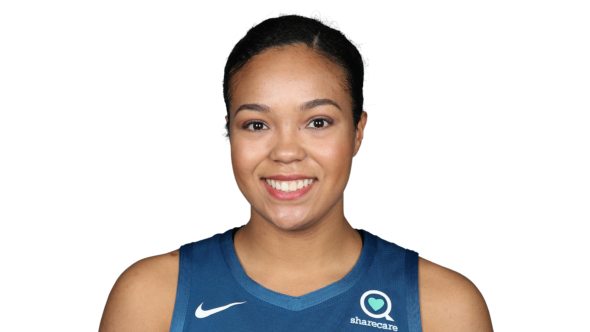 Minnesota Lynx forward Napheesa Collier outperformed all rookies during the WNBA's opening weekend with a 27-point, six-rebound outing in Saturday's home win against the Chicago Sky. Her teammate, rookie forward Jessica Shepard, had the most rebounds of any first-year pro over the weekend, pulling down 13. She also dished out six assists.
Indiana Fever center Teaira McCowan also had an impressive debut, scoring the game-winning points in the last seconds in a road contest at New York on Friday. She finished with 11 points and six rebounds. Dallas Wings guard Arike Ogunbowale was also in double figures with 12 points on Friday in a loss to Atlanta.
Of the 26 rookies, eight did not play. The Fever added guard Kennedy Burke on Saturday. The Dallas Wings waived Burke May 22 in advance of the team finalizing its roster for the season opener.
| PLAYER | MIN | PTS | FGM | FGA | FG% | 3PM | 3PA | 3P% | FTM | FTA | FT% |
| --- | --- | --- | --- | --- | --- | --- | --- | --- | --- | --- | --- |
| NAPHEESA COLLIER | 33.0 | 27.0 | 8.0 | 10.0 | 80.0 | 3.0 | 4.0 | 75.0 | 8.0 | 11.0 | 72.7 |
| ARIKE OGUNBOWALE | 21.0 | 12.0 | 5.0 | 16.0 | 31.3 | 1.0 | 6.0 | 16.7 | 1.0 | 2.0 | 50.0 |
| TEAIRA MCCOWAN | 14.0 | 11.0 | 3.0 | 4.0 | 75.0 | 0.0 | 0.0 | 0.0 | 5.0 | 10.0 | 50.0 |
| ASIA DURR | 25.0 | 8.0 | 3.0 | 8.0 | 37.5 | 0.0 | 2.0 | 0.0 | 2.0 | 3.0 | 66.7 |
| BROOKE MCCARTY-WILLIAMS | 29.0 | 8.0 | 3.0 | 7.0 | 42.9 | 2.0 | 3.0 | 66.7 | 0.0 | 0.0 | 0.0 |
| JACKIE YOUNG | 23.0 | 8.0 | 4.0 | 4.0 | 100 | 0.0 | 0.0 | 0.0 | 0.0 | 1.0 | 0.0 |
| MARINA MABREY | 20.0 | 6.0 | 2.0 | 4.0 | 50.0 | 2.0 | 3.0 | 66.7 | 0.0 | 0.0 | 0.0 |
| CHLOE JACKSON | 10.0 | 4.0 | 2.0 | 5.0 | 40.0 | 0.0 | 0.0 | 0.0 | 0.0 | 2.0 | 0.0 |
| KALANI BROWN | 16.0 | 4.0 | 1.0 | 4.0 | 25.0 | 0.0 | 0.0 | 0.0 | 2.0 | 2.0 | 100 |
| KATIE LOU SAMUELSON | 18.0 | 4.0 | 1.0 | 1.0 | 100 | 0.0 | 0.0 | 0.0 | 2.0 | 2.0 | 100 |
| ALANNA SMITH | 18.0 | 3.0 | 1.0 | 4.0 | 25.0 | 1.0 | 2.0 | 50.0 | 0.0 | 0.0 | 0.0 |
| JESSICA SHEPARD | 27.0 | 3.0 | 0.0 | 3.0 | 0.0 | 0.0 | 1.0 | 0.0 | 3.0 | 4.0 | 75.0 |
| KIM MESTDAGH | 4.0 | 3.0 | 1.0 | 2.0 | 50.0 | 1.0 | 2.0 | 50.0 | 0.0 | 0.0 | 0.0 |
| ARICA CARTER | 5.0 | 0.0 | 0.0 | 0.0 | 0.0 | 0.0 | 0.0 | 0.0 | 0.0 | 0.0 | 0.0 |
| BRIANNA TURNER | 3.0 | 0.0 | 0.0 | 0.0 | 0.0 | 0.0 | 0.0 | 0.0 | 0.0 | 0.0 | 0.0 |
| HAN XU | 1.0 | 0.0 | 0.0 | 0.0 | 0.0 | 0.0 | 0.0 | 0.0 | 0.0 | 0.0 | 0.0 |
| SHAO TING | 3.0 | 0.0 | 0.0 | 1.0 | 0.0 | 0.0 | 0.0 | 0.0 | 0.0 | 0.0 | 0.0 |
| SOPHIE CUNNINGHAM | 12.0 | 0.0 | 0.0 | 2.0 | 0.0 | 0.0 | 2.0 | 0.0 | 0.0 | 0.0 | 0.0 |
| PLAYER | OREB | DREB | REB | AST | STL | BLK | TOV | EFF |
| --- | --- | --- | --- | --- | --- | --- | --- | --- |
| NAPHEESA COLLIER | 1.0 | 5.0 | 6.0 | 0.0 | 2.0 | 3.0 | 2.0 | 31.0 |
| ARIKE OGUNBOWALE | 0.0 | 3.0 | 3.0 | 1.0 | 2.0 | 0.0 | 0.0 | 6.0 |
| TEAIRA MCCOWAN | 5.0 | 1.0 | 6.0 | 0.0 | 0.0 | 2.0 | 2.0 | 11.0 |
| ASIA DURR | 0.0 | 1.0 | 1.0 | 2.0 | 0.0 | 1.0 | 1.0 | 5.0 |
| BROOKE MCCARTY-WILLIAMS | 0.0 | 3.0 | 3.0 | 8.0 | 2.0 | 0.0 | 3.0 | 14.0 |
| JACKIE YOUNG | 0.0 | 1.0 | 1.0 | 0.0 | 1.0 | 0.0 | 0.0 | 9.0 |
| MARINA MABREY | 1.0 | 2.0 | 3.0 | 0.0 | 2.0 | 0.0 | 2.0 | 7.0 |
| CHLOE JACKSON | 0.0 | 1.0 | 1.0 | 2.0 | 3.0 | 0.0 | 1.0 | 4.0 |
| KALANI BROWN | 0.0 | 5.0 | 5.0 | 0.0 | 1.0 | 2.0 | 1.0 | 8.0 |
| KATIE LOU SAMUELSON | 0.0 | 1.0 | 1.0 | 2.0 | 1.0 | 0.0 | 1.0 | 7.0 |
| ALANNA SMITH | 2.0 | 2.0 | 4.0 | 1.0 | 0.0 | 0.0 | 2.0 | 3.0 |
| JESSICA SHEPARD | 5.0 | 8.0 | 13.0 | 6.0 | 0.0 | 0.0 | 6.0 | 12.0 |
| KIM MESTDAGH | 0.0 | 0.0 | 0.0 | 0.0 | 0.0 | 0.0 | 0.0 | 2.0 |
| ARICA CARTER | 0.0 | 0.0 | 0.0 | 0.0 | 0.0 | 0.0 | 0.0 | 0.0 |
| BRIANNA TURNER | 0.0 | 2.0 | 2.0 | 0.0 | 0.0 | 0.0 | 0.0 | 2.0 |
| HAN XU | 0.0 | 0.0 | 0.0 | 0.0 | 0.0 | 0.0 | 0.0 | 0.0 |
| SHAO TING | 1.0 | 0.0 | 1.0 | 0.0 | 0.0 | 0.0 | 0.0 | 0.0 |
| SOPHIE CUNNINGHAM | 0.0 | 3.0 | 3.0 | 0.0 | 0.0 | 1.0 | 2.0 | 0.0 |
Did not play
Maite Cazorla (Atlanta)
Kristine Anigwe (Connecticut)
Bridget Carleton (Connecticut)
Paris Kea (Indiana)
Kennedy Burke (Indiana) – Claimed off waivers on Saturday 5/25/19
Marine Johannes (New York) – Not with team, still overseas
Anriel Howard (Seattle)
Glossary
GP – Games Played
MIN – Minutes Played
PTS – Points
FGM – Field Goals Made
FGA – Field Goals Attempted
FG% – Field Goal Percentage
3PM – 3 Point Field Goals Made
3PA – 3 Point Field Goals Attempted
3P% – 3 Point Field Goals Percentage
FTM – Free Throws Made
FTA – Free Throws Attempted
FT% – Free Throw Percentage
OREB – Offensive Rebounds
DREB – Defensive Rebounds
REB – Rebounds
AST – Assists
STL – Steals
BLK – Blocks
TOV – Turnovers
EFF – Efficiency