Led by Jonquel Jones Connecticut tops Indiana, 88-77, moves to 2-0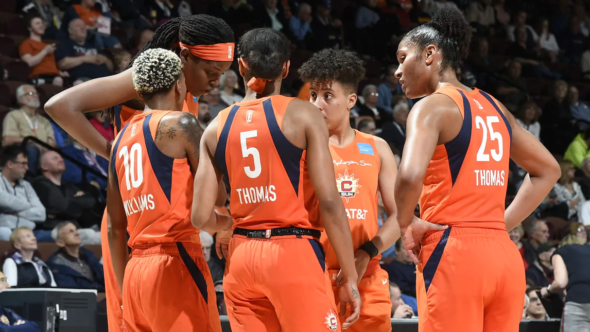 Shot Charts || Stats
The Connecticut Sun moved to 2-0 after topping the Indiana Fever 88-77 Tuesday night in a home contest at Mohegan Sun Arena in front of 4, 781 fans. Led by center Jonquel Jones, the Sun overcame a slow start in the first quarter when the Fever outscored the home team 23-21 with a balanced scoring effort.
"It was an important 2-0 homestand to start the season and important to get two early wins with us being the first Eastern Conference team to go on a West Coast trip," Connecticut head coach Curt Miller said. "To Indiana's credit, they attacked us all night and they did a nice job of attacking us downhill."
The Sun bounced back in the second period but never led by more than three points before the break. At halftime, Connecticut had a slim 40-37 lead.
Jones, along with Sun guards Jasmine Thomas and Courtney Williams, took over in the third quarter helping their team outscore the Fever 22-15. Connecticut hit five straight 3-pointers in the period as well.
With a ten-point lead heading into the last quarter, Connecticut held off the Fever. The visitors chipped away at their deficit to get within six points with 6:39 left in the game after a 3-pointer from point guard Erica Wheeler. After the trey, the Sun went on a 16-11 run to close out the contest.
"We were able to string together some stops, make some good baskets and Courtney (Williams) got going late. JJ (Jonquel Jones) carries us all night being consistent and staying on the boards," Thomas said. "We stayed confident till the end and closed out the game."
Jones finished with 25 points plus eight rebounds while Jasmine Thomas contributed fifteen points and seven assists. Williams scored 13 points, pulled down six rebounds and dished out four assists. The Sun's rookies, center Kristine Anigwe and guard/forward Bridget Carleton, have yet to see any minutes in regular-season action.
Wheeler led Indiana with 26 points and nine assists. Veteran forward Candice Dupree added 20 points, eight rebounds and five assists. Forward/center Natalie Achonwa was also in double figures with 10 points.
Overall, the Sun also outrebounded the Fever 37 to 26. In addition, Connecticut scored 16 fast break points compared to just two by Indiana.
Connecticut heads to the West Coast for a two-game road trip beginning with Los Angeles on Friday followed by Las Vegas on Sunday.
Indiana goes home for a four-game homestand that starts with a game against New York on Saturday.
Notes: For the second straight game Jonquel Jones finished in double-figures. Erica Wheeler came one assist short of her career-high, dishing out a game-high nine helpers and scoring a game-high 26 points for Indiana. Her 26 points were the second-most of her career.
Shot Charts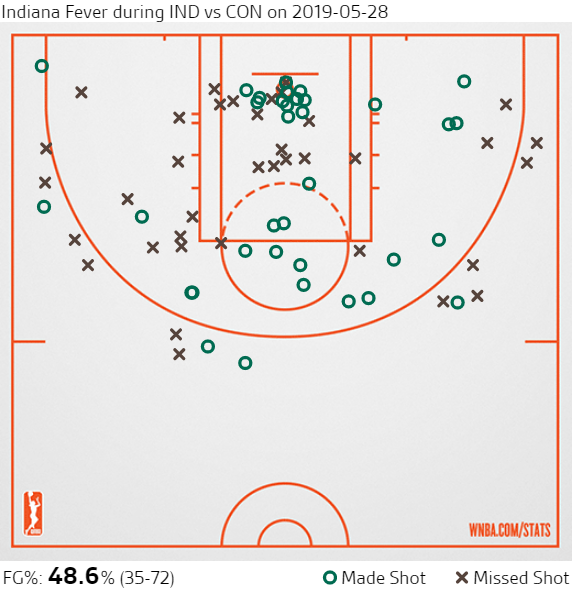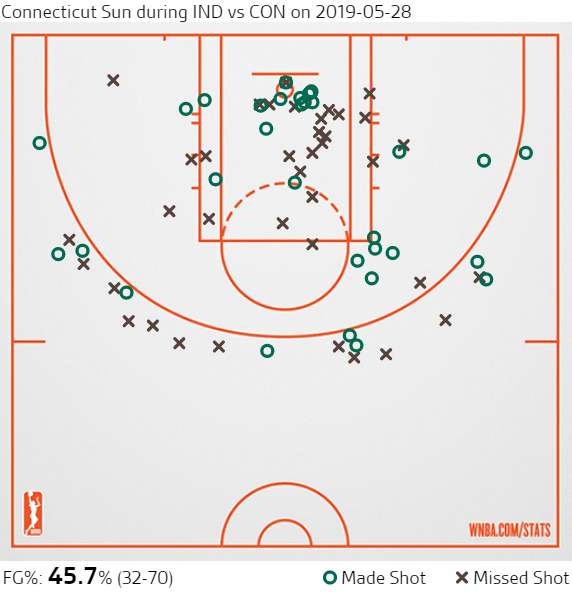 Stats
Points in the Paint: Fever 30, Sun 30
Second Chance Points: Fever 12, Sun 9
Fastbreak Points: Fever 2, Sun 16
Biggest Lead: Fever 3, Sun 15
Lead Changes: 13
Times Tied: 6