Roster announced for USA Basketball Women's U16 National Team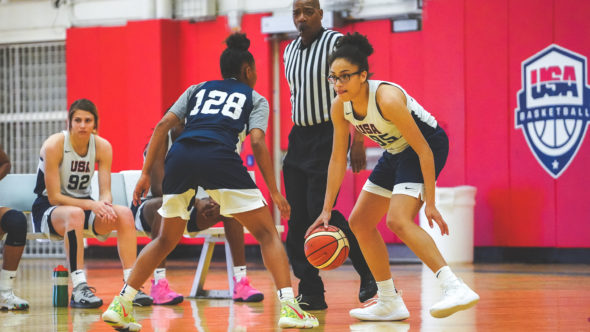 USA Basketball announced the 12-member roster for the 2019 Women's U16 National Team. The final roster cuts came after a four-day training camp that included 18 finalists at the United States Olympic Training Center in Colorado Springs, Colorado. Athletes eligible for the team must be U.S. citizens born on or after Jan. 1, 2003.
The team returns to Colorado Springs for training camp June 5-12, before leaving for the 2019 FIBA Americas U16 Championship June 16-22 in Puerto Aysen, Chile.
Janiah Barker (Tampa Bay Tech H.S., Fla./Marietta, Ga.)
Lauren Betts (Grandview H.S./Centennial, Colo.)
KK Bransford (Mount Notre Dame H.S./Cincinnati, Ohio)
Sonia Citron (The Ursuline School/Scarsdale, N.Y.)
Amari DeBerry (Williamsville South H.S./Buffalo, N.Y.)
Timea Gardiner (Fremont H.S./Ogden, Utah)
Londynn Jones (Santiago H.S./Riverside, Calif.)
Olivia Miles (Blair Academy/Phillipsburg, N.J.)
Aaliyah Moore (Moore H.S./Moore, Okla.)
Saylor Poffenbarger (Middletown H.S./Middletown, Md.)
Kiki Rice (Sidwell Friends School, D.C./Bethesda, Md.)
Payton Verhulst (Bishop Meige H.S./De Soto, Kan.)
Head coach: Mark Campbell (Union University). Assistant coaches: Kelly Carruthers (James Bowie H.S., Texas) and Ruth Sinn (University of St. Thomas, Minn.).
Competition Details
The USA will compete in Group B at the 2019 FIBA Americas U16 Championship, along with host Chile, El Salvador and Mexico. Group A includes Brazil, Canada, Ecuador and Puerto Rico. The preliminary round games are on June 16-18. The quarterfinals are on June 20, the semifinals will be played on June 21 and the gold medal game is set for June 22. The top four finishing teams qualify for the 2020 FIBA U17 World Cup in Cluj-Napoca, Romania.