Sensational 27-point output from rookie Napheesa Collier helps Minnesota top Chicago 89-71 in season opener
Napheesa Collier leads Minnesota Lynx in season opener against the Chicago Sky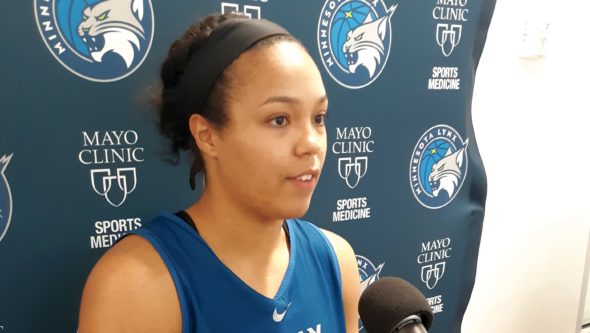 MINNEAPOLIS – She's no Maya Moore but Minnesota Lynx rookie forward and fellow UConn grad Napheesa Collier wasn't too bad in her regular season pro debut.
"I was really excited," said the 6-2 Collier, who learned a couple of days earlier that she'd be starting in place of 9th-year veteran Karima Christmas-Kelly, who didn't dress as she is still recovering from knee surgery of nearly a year ago.
The Lynx's first-round pick scored Minnesota's first points of the season, going 2-for-4 from the line early on.  She finished 8-of-10 from the field, 3-of-4 from behind the arc, and hit eight free throws in 11 tries for 27 points to lead all scorers in Minnesota's 89-71 season opening win against Chicago Saturday in Minneapolis.
Collier's 27 points is the most for a rookie since Los Angeles' Candace Parker scored 34 points in her pro debut against Phoenix in 2008.  She also led the winners with three blocked shots.
Minnesota head coach Cheryl Reeve said during the preseason that Collier's biggest adjustment perhaps will be playing on the perimeter away from the paint.
"She really worked hard on her shot," Reeve said. "Not a bad rookie showing."
"I am getting more comfortable," the rookie said of her transition from college to pro. "It is a learning curve to go out on the wing after being in the post.  But I have been working hard on my game to get as comfortable as I can. I felt really good tonight."
At times, Collier looked like a rookie – she got caught pushing a player while fighting through a screen, and at others like a seasoned veteran with a 24-foot step-back three-pointer in the fourth quarter, her final points of the night.
Her opening night performance impressed first-year Chicago Sky head coach James Wade.
"At UConn she was position-less – you saw her on the perimeter, you saw her on the wing, and you saw her in the post," Wade said. "She is a good basketball player. You saw that tonight. I think she is going to be good."
Saturday was the debut of the 'new look' Lynx – Moore is on sabbatical this season; former point guard Lindsay Whalen retired and forward Rebekkah Brunson is an unsigned free agent. Star guard Seimone Augustus also didn't play due to right knee soreness.
But with veteran point guard Danielle Robinson (13 points), forward Damiris Dantas (six rebounds, four assists) as starters, along with center Sylvia Fowles (16 points, 10 rebounds, three steals), and 11 points from guard Odyssey Sims in her first Minnesota start after arriving from Los Angeles in an April trade, Minnesota looked more like the same old Lynx, who "kicked our butts," Wade stressed.
After being only down by six, 46-40 at halftime, Minnesota, led by Collier, outscored the Sky 24-10 in the third quarter. The rookie had eight points in the third period. The Lynx outrebounded the visitors 46-29 overall.
Other new faces came off the bench for Minnesota:  Lexie Brown, another off-season trade acquisition, poured in 10 points in 22 minutes. Rookie forward Jessica Shepard from Notre Dame led all players with 13 boards in 27 minutes, and also led Minnesota with six assists in her pro debut.
I missed some bunnies that I won't miss again," Shepard said of her shooting – she went 0-3 and missed her only three-point attempt.
"Both of them were amazing tonight," Fowles said of Collier and Shepard.  "I think the fans got a good idea of what we are going to be like throughout the season."
Minnesota still must cut down on unforced turnovers – nine of their 20 miscues were of this variety, and tighten up its off-side defense. "We still have a lot of work to do," Sims surmised.
"It was a great first home game for us," Collier concluded.
Lynx notes: Sims scored her 2000th career point against Chicago, and joined Kayla McBride as the only 2014 draftees in this feat. Shepard's 13 boards are the most in a pro debut since DeTrina White's 13 boards for New York against Indiana in 2004.
Shot Charts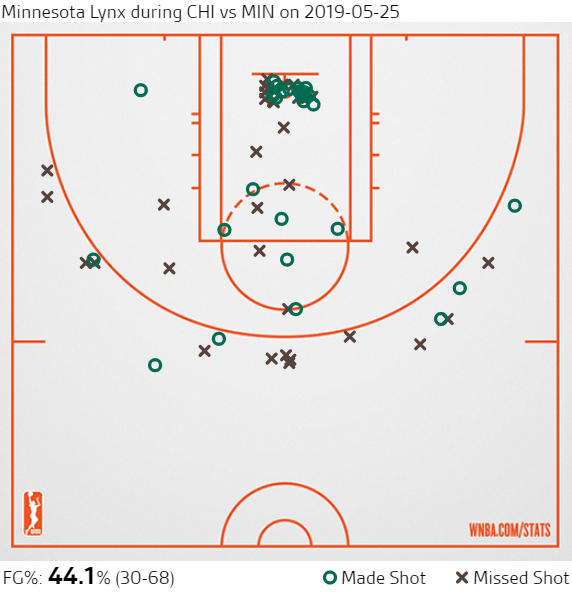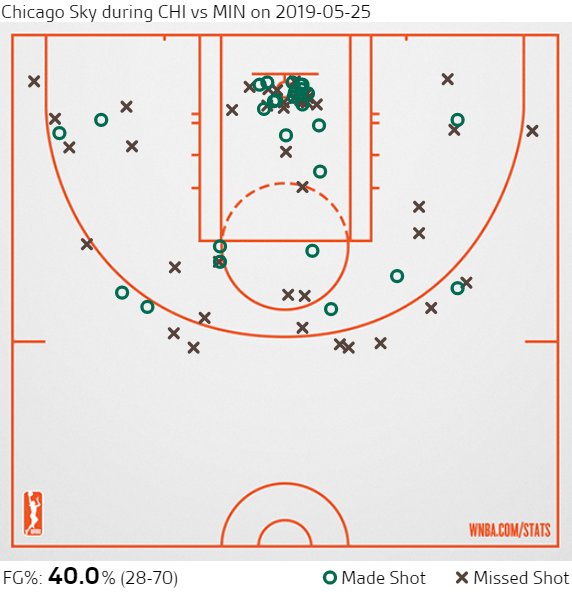 Stats