Leilani Mitchell leads five starters in double figures, Phoenix Mercury outlasts Los Angeles Sparks 82-72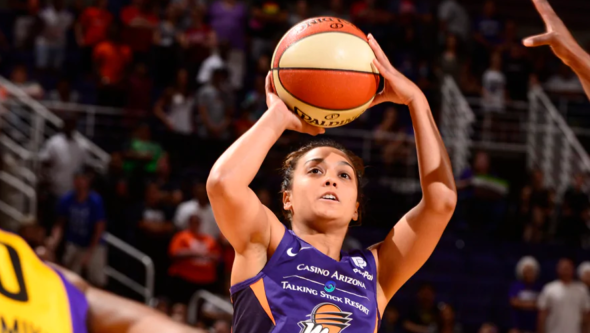 Stats || Shot Charts || Video
PHOENIX – Leilani Mitchell was the last player the Phoenix Mercury cut after training camp, before the team brought her back following the home opener. Sunday, the Australian point guard validated that decision, scoring a game-high 22 points in Phoenix's 82-72 win over the Los Angeles Sparks.
"We've been struggling lately, so we wanted to come out as a team and be more aggressive," Mitchell said. "We're really helping each other defensively and offensively. We were focusing too much on getting it in to BG (Brittney Griner), and that was getting too stagnant. That was our focus today. We all know how to play basketball."
Forward DeWanna Bonner and guard Briann January scored 15 points each for Phoenix, while center Griner collected 14 and plus nine rebounds, as the team ended a three-game losing streak and improved to 3-5. The Sparks lost for the fourth-consecutive game, dropping to 4-6, and had a pair of double doubles from forwards Candace Parker (12 points and 11 rebounds) and Nneka Ogwumike (11 and 13).
"We finally have the energy and focus together as a team," Mercury coach Sandy Brondello said. "We simplified how we wanted to play offensively. Any time you have five people in double figures – that helps us. We need to build on that. We need to get some consistency."
The Sparks were ahead by one, 26-25, at the end of the first quarter. A Mitchell three allowed Phoenix to grab a seven-point edge with one minute until halftime. The Mercury led 44-42 at the break, and Mitchell had 15 points.
Nine days earlier, Los Angeles outscored Phoenix 24-14 in the third during a 17-point road win for the Sparks. Sunday, the Mercury turned the table with an 11-point lead, although the Sparks cut it to 60-56 after 30 minutes. Bonner executed consecutive threes with just over six minutes to play to bring the lead back to double digits. Phoenix sustained its lead, even with Parker and guard Alana Beard back in the Los Angeles lineup. Star guard Diana Taurasi is still yet to play this season for Phoenix after back surgery.
"We're headed in the right direction," added Mercury forward Essence Carson, who scored 11 on Sunday. "We had a lot of people who were out at the start of the season, and we're getting used to the new lineups. We're going to continue to trust each other. When we move the ball, they can't tell who's going to score because we have those offensive weapons here."
Forwards Chiney Ogwumike (12 points) and Tierra Ruffin-Pratt (11) also scored in double figures for the Sparks, who scored 16 points off turnovers.
"I thought overall, we kept fighting," Sparks coach Derek Fisher said. "So that was a good sign. Players like Alexis Jones (eight points in 15 minutes), who haven't gotten many minutes, but have been working hard every day. Her attitude has been positive, she has been supporting teammates, and when her number got called tonight, she went out there and performed at a high level."
The Sparks host the Las Vegas Aces on June 27, while the Mercury host the Indiana Fever on June 28.
Stats
Points in the Paint: Sparks 30, Mercury 30
Second Chance Points: Sparks 12, Mercury 15
Fastbreak Points: Sparks 11, Mercury 9
Biggest Lead: Sparks 6, Mercury 11
Lead Changes: 9
Attendance: 10,132
Shot Charts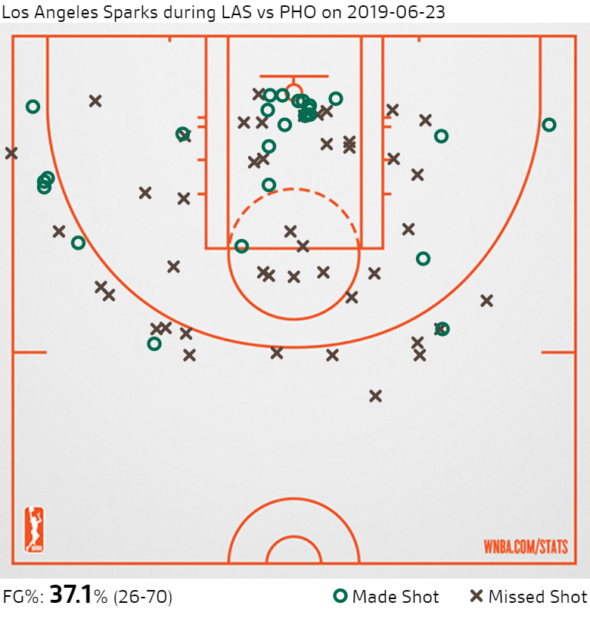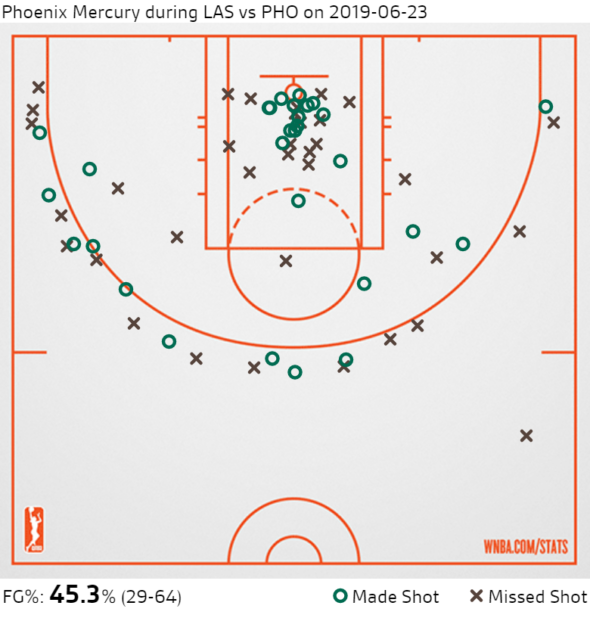 Video