Minnesota Lynx hang Lindsay Whalen's jersey in the rafters, fall to fierce rival Los Angeles Sparks, 89-85
This slideshow requires JavaScript.
Stats || Shot Charts || Jersey Retirement Video
MINNEAPOLIS – It appeared at first that the WNBA's most fierce rivalry had seen better days. No Candace Parker (left hamstring injury) and Alana Beard (left leg injury) for Los Angeles, and Minnesota's 'Core Four' were missing as well: Seimone Augustus recovering from recent knee surgery, Maya Moore on sabbatical, Rebekkah Brunson unsigned and Lindsay Whalen retired.
Nonetheless on Saturday afternoon it didn't matter as the two teams battled back and forth before the visitors finally snatched an 89-85 victory on the Lynx's home court.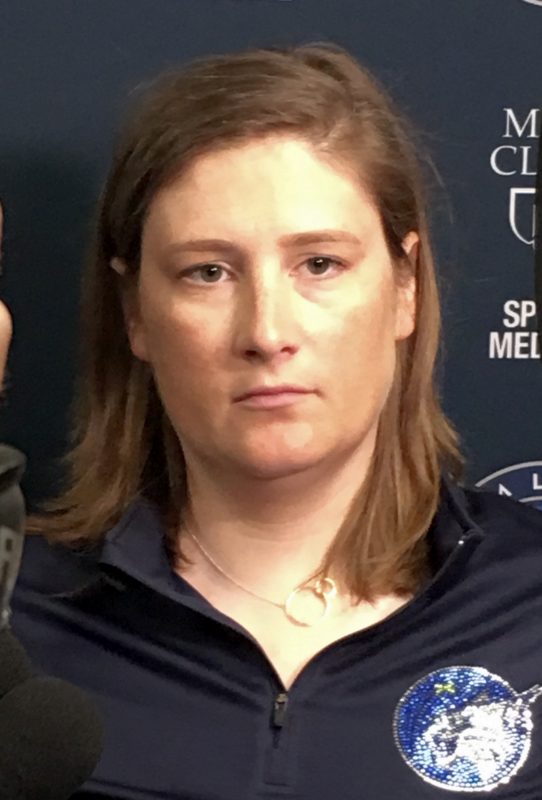 Beforehand, Whalen's jersey was hoisted to the arena rafters in a pregame ceremony.
"She's a first ballot hall of famer," former Minnesota assistant coach Jim Petersen said of Whalen, whom he coached as an assistant on three Lynx championship teams (2011, 2013, 2015). "Lindsay is deserving.  She brought so much to the state of Minnesota, first at (University of) Minnesota then the Lynx."
It wasn't Whalen's first time in the gym after she gave up her jersey for good at the end of last season, but it was the first time she saw it up on the ceiling.
There was a lot of hoopla, with video tributes from former teammates played before tip-off and during the contest. "I think I need a nap right now," the retired point guard told reporters at halftime in her usual deadpan manner.  Whalen added that she tried at all possible through it all to keep her emotions in check.
"It's great to be up there with Malik Sealy and Flip (Saunders), a coach I grew up watching and Malik was on all those teams," Whalen said of the late Sealy, who played for the Minnesota Timberwolves and Saunders, the former Wolves coach, general manager and vice president – both of whom the team honored with retiring their jerseys after their untimely deaths.
Danielle O'Banion, who coached Whalen as an assistant coach during her Gopher days and joined her last season as an assistant coach at the university said Whalen is the "most low-key superstar I ever met."
"She means a lot to the meaning and the history of (the WNBA)," Los Angeles coach Derek Fisher said of the retired Lynx guard.  "She'll never be forgotten, so congratulations to her."
Whalen said of the day's festivities as she headed back to her front row seat to catch the rest of the action, "I try not to have that be too much about me. Obviously it was about the jersey retirement but it always been about the team and about us doing this together."
As for the game itself, both teams took turns in trying to outdistance the other. In the first quarter, Minnesota guard Lexie Brown's three-pointer sparked the home team on a 11-5 run to erase an eight-point deficit. Guard Odyssey Sims' driving layup gave the Lynx its first lead of the game, 17-15 with 56 seconds left but Sparks rookie center Kalani Brown's putback tied it up at 17-17 at the end of one.
The Sparks outscored Minnesota 27-22 in the second to take a 44-39 halftime lead. Then the Lynx flipped the script, outscoring the Sparks 27-23 in the third, leading by as many as seven late but still trailed the Sparks 67-66 going into the final quarter.
Los Angeles kept their hosts at bay, mostly due to jumpers from Chelsea Gray in the last minute, to go home winners.
According to Sparks guard Riquna Williams, the heightened competitiveness between the teams still exists.
"The Minnesota-Sparks rivalry will always be there. It is just the nature of the two teams with championship titles and trying to get to the championship. I think it will always be there no matter what and who the players are on the teams."
"Candace Parker drives a lot of that rivalry, but the teams have changed so much," Petersen commented. "Without Brunson, Whalen, Seimone and the main cogs on the Lynx side, it is a different game. It's not the same as it was in my mind."
Williams led Los Angeles with 25 points plus four rebounds and four assists.
"We alerted our players as to Riquna Williams, what she was going to play like, and she sure did," Lynx coach Cheryl Reeve said on the Sparks reserve guard in her post-game comments.
Fisher added that playing Minnesota seemingly brought life into his club.
"I thought the history of the two organizations affected a core group of our players.  I thought that their competitive spirit was there from the start."
Gray, who typically kills Minnesota with her shooting, scored 21 points on 8-for-12 shooting for Los Angeles, including her 1,500th career point in Saturday's win.  "We were focused on us, trying to come in here and getting a win."
Sylvia Fowles had 20 points and a game high 13 rebounds for Minnesota, and rookie Napheesa Collier finished with 18.
"We still had a chance to win it at the end," Collier bemoaned.  "We just need to keep pushing through when it's close."
The Sparks shot 43.2% from the field (32/74), 36% on 3-pointers (9/25) and 94.1% from the line (16/17). The Lynx shot 43.3% from the field (29/67), 36.8% on 3-pointers (7/19) and 76.95% from the line (20/26).
Los Angeles center Maria Vadeeva was not with the team. She is overseas with the Russian National Team preparing for EuroBasket play June 27 – July 7 in Serbia and Latvia. The Lynx were also missing forward Karima Christmas-Kelly who missed the game for personal reasons.
Minnesota dropped to 4-2. Their next game is June 12 at New York. Los Angeles improved to 3-2. Their next matchup is June 14 at Phoenix.
Stats
Points in the Paint: Sparks 32, Lynx 40
Second Chance Points: Sparks 17, Lynx 16
Fastbreak Points: Sparks 6, Lynx 9
Biggest Lead: Sparks 13, Lynx 7
Lead Changes: 5
Times Tied: 7
Attendance: 8,834
Shot Charts